The Uganda Communications Commission (UCC) executive director, Godfrey Mutabazi on Thursday instructed all broadcast media Houses to register with the National Association of Broadcasters (NAB), or risk having their licences revoked.
Mutabazi made the call while addressing NAB Annual General Meeting (AGM) at Hotel Africana.
He was responding to concerns raised by NAB chairman Kin Kariisa that not more than 40 subscribed members are registered with NAB, yet Uganda has about 300 radio and over 40 television stations.
Kariisa, also the Chief Executive Officer for Next Media, pointed out that whenever any media house contravenes minimum broadcasting standard laws, UCC has been quick to point fingers at NAB, yet only a handful of media houses are registered and pay subscription fees to NAB.
"I want to put it clear that UCC will not renew licenses of media houses not registered with National Association of Broadcasters", said Mutabazi.
He called upon media houses to respect the 70 percent local content rule. This means that local programming should constitute 70% of their broadcasts.
He said this would promote Uganda's cultural and moral values. He in addition reminded broadcasters to include the voices of People with Disabilities (PWD) in their news content, saying only two media houses have complied with the rule.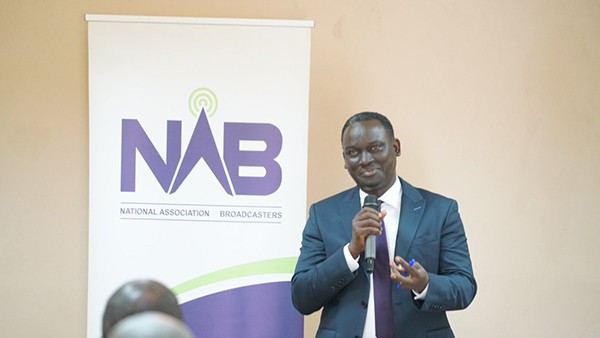 Frank Tumwebaze, the Minister of Information Technology, reminded broadcasters of their obligation to observe professional ethics.
He cautioned media owners against turning their stations into what he termed as; "political theatres", where various political party loyalists wage verbal war against one another.
He also called upon journalists to exercise professionalism during the cause of carrying out their duties.
"You should avoid being used by various politicians as their activists and instead concentrate on respecting your professional ethics, by reporting unbiased news," he said.
He said his ministry; together with UCC shall work hand in hand with NAB, Uganda Journalism Association (UJA) and other stakeholders to promote journalists' training in specialised fields of reporting.
These include reporting in the fields of Agriculture, ICT and digital migration among others.
Kariisa called upon media houses that are not registered with NAB to do so as soon as possible, to avoid having their licenses not renewed by UCC.
"By Monday, next week, NAB would have communicated to all media houses about what we have agreed upon during this AGM", he said.