In May, a month before the board of Uganda Investment Authority (UIA) suspended the authority's executive director, Jolly Kaguhangire, complaints of corruption against the board had surfaced.
The complaints were made by none other than Evelyn Anite, the minister of state for Investment in a stinging letter to Emely Kugonza, the UIA board chairman.
In a letter dated May 24, Anite pointed out that the board had overstepped its mandate by meddling into the affairs of management and some of its members had solicited bribes from people who were seeking jobs at UIA.
"The directors and the board connive to obtain bribes from investors, sell industrial park land and extort investors in exchange for facilitating their meetings with ministers and President Museveni," she wrote.
She claims that at one point, directors at UIA paid some board members Shs 50 million to stay in their positions.
She also stated that the board engaged in operational activities of interviewing lower level staff like cleaners, tea girls and drivers.
These revelations in Anite's letter give new perspective to the row between the UIA board and Kaguhangire.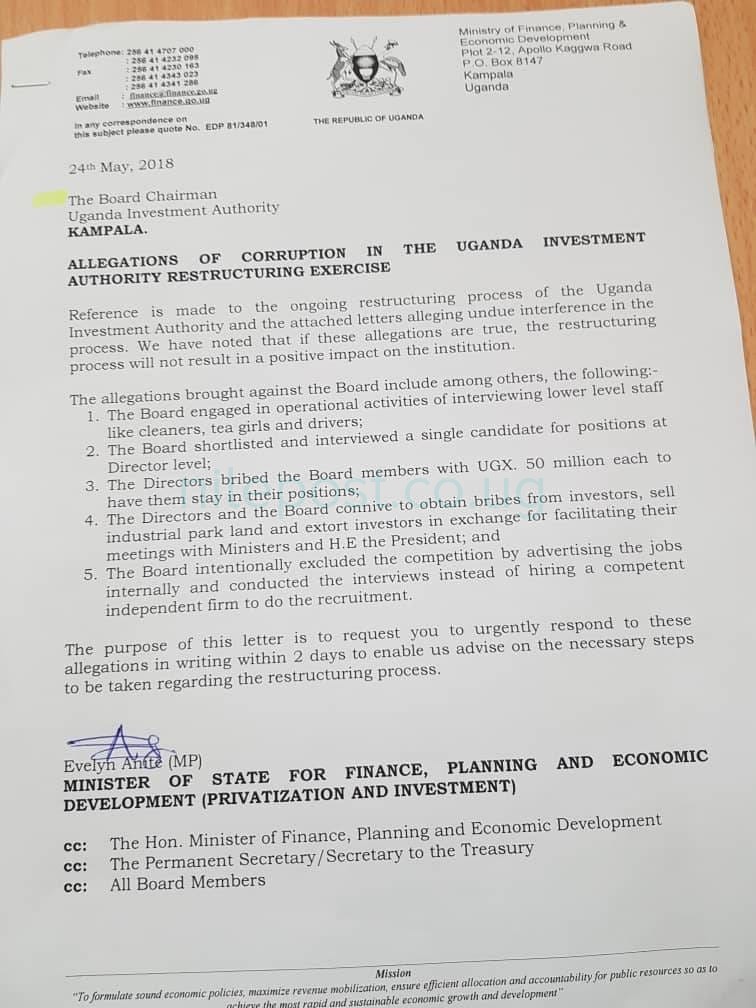 Anite, sources say has often sided with Kaguhangire who is said to be related to the First Lady, Janet Museveni. She has at times publicly expressed her support for Kaguhangire.
On the other hand, the board chair, Kugonza is said to have the backing of a senior minister.
The board suspended Kaguhangire on June 25 for three months, accusing her of corruption and disrespect.
But she shot back saying she is still the executive director because the meeting that issued the suspension was not lawfully constituted.