The Uganda People's Defence Forces,(UPDF) on Monday treated kickboxer Titus Tugume to a heroes welcome from his trip in the US.
Tugume, who is also at the rank of sergeant in the Ugandan army kickboxer won two gold medals and a silver one in the 2018 Pan American games held in San Antonio,USA.
On Monday , a procession led by the UPDF brass band welcome the kickboxer as he moved atop an open roof and waved his medals as the procession moved through the city centre to the National Council of Sports headquarters in Lugogo.
Speaking at a function held at Lugogo, Patrik Cheborion who represented the NCS chairman applauded the army for encouraging its members to participate in politics, a thing he said helps restore the country's glory in sports.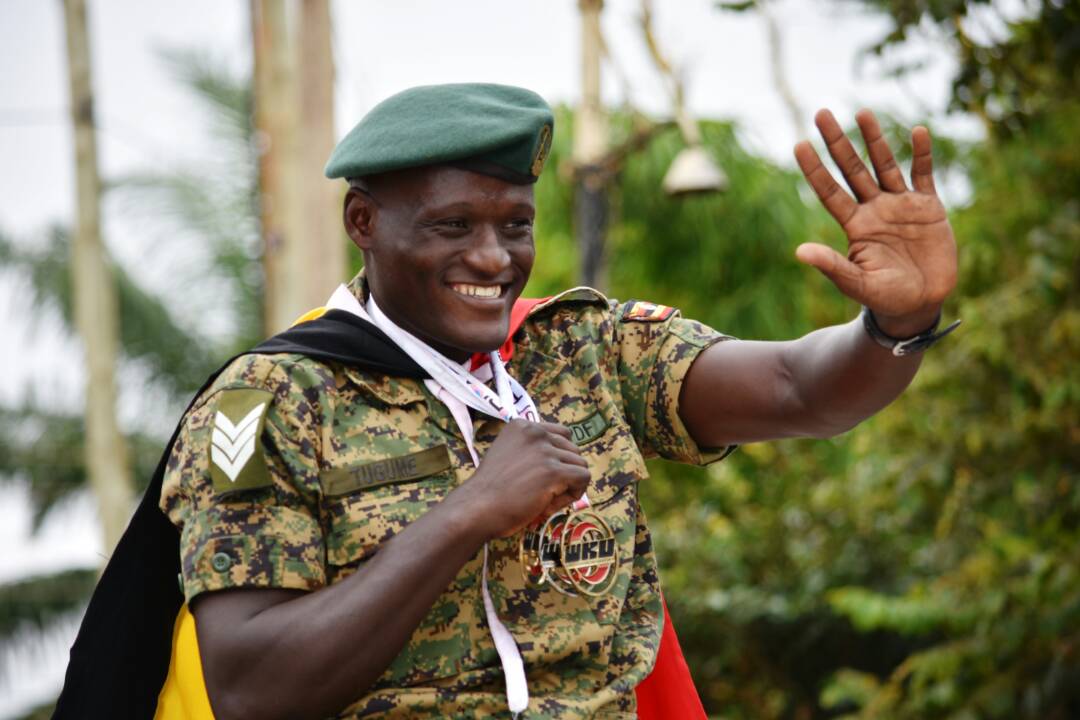 "This is only possible due to the peace and stability this country is enjoying that forces can engage in extra activities like sports,"Cheborion said.
The acting Secretary General in-charge technical at NCS David Katende said that the council is ready to continue giving support to sporting activities that have a "return on investment" and appreciated UPDF for starting up a kick boxing club.
Sgt. Tugume observed that it was a great honor for having represented the country well but was quick to note that the journey hasn't been smooth. He thanked UPDF and NCS for the support.
"I feel so great for challenging my opponents from USA, Columbia, Canada and Costa-Rica. If it wasn't the support of UPDF and NCS, I wouldn't have gone this far" he noted.
Tugume won two Gold medals in kick light and contact styles and one Silver in the point style in the 2rd world kickboxing and Karate Union Pan-American games respectively.