President Museveni has hosted religious leaders under their umbrella body, the Inter Religious Council of Uganda at his country home in Rwakitura.
In past few weeks, there has been an impasse between government and religious leaders after Kampala Archdiocese's Dr.Cyprian Kizito Lwanga accused government of spying on them.
On Friday evening, the religious leaders led by Archbishop Lwanga, toured farms in Ibanda and Kiruhura districts on Museveni's invitation before they were later hosted  to a luncheon.
Speaking to them, Museveni said they should not only preach about the Bible but also be able to preach the gospel of prosperity to their flocks to help them transform economically.
"The Bible says, "Let your light so shine before men, that they see your good deeds and praise your father who is in heaven". It is therefore sinful to live among poor people, and let them remain poor, when you have the knowledge to help them transform,"Museveni said.
"Now I appeal to the church to join hands with government to spread this gospel. Use the church platform to teach people how to create wealth even with small land holdings."
He informed the men of God that government has been able to extend a similar campaign to agriculturalists, teaching them to use the four acre model, which discourages subsistence agriculture and encourages farmers to engage in enterprises that generate income, asking them to also take the lead in their own areas.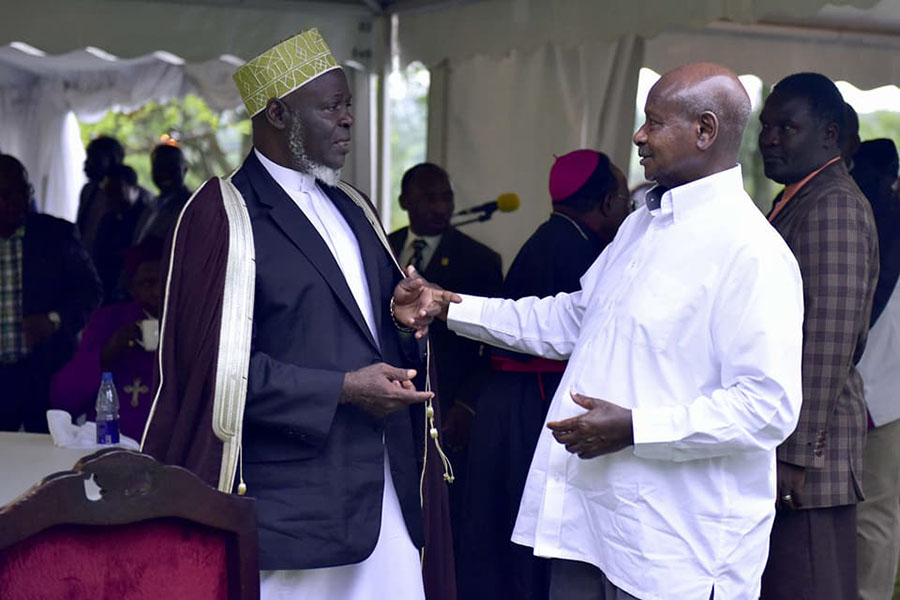 "Working with you, we shall transform the countryside and improve our people's income, even as we continue to deal with those in urban centres who have no jobs and no land."
In his New Year message last year, President Museveni referring to them as ''fake prophets'' said many religious leaders speak most authoritatively on all and everything, even when they have not bothered to find out the truth.
''Some of our religious people are so full of arrogance. They talk most authoritatively on all and everything even when they have not bothered to find out the truth. This is assuming they do not have evil intentions which would be worse. That would make them into the Kayaffas, the Chief Priest that betrayed Jesus. '' he said.
However, speaking to the flock on Easter, Archbishop Cyprian Lwanga insisted that government has recruited fellow priests and men of God to spy on religious leaders.
"Some of them (priests) have guns and come with them to church. They should stop or else we shall be forced to have everyone checked before coming here,"Lwanga said.
"Let government have courage to call Ntagali (for protestants ), myself or Mubajje (for muslims) and tell us the information they have about ourselves but some of those you recruit have been expelled from church and are only giving you false information. They will lead to your downfall."
Following the recent fallout between the two, this looks as one of the avenues meant to bring back the relationship between President Museveni and religious leaders.
Early this month, Museveni held a private meeting with Archbishop Lwanga at the Nakasero state lodge in Kampala.
These seems to be part of  a series of efforts meant to bury the hatchet both had over each other in the rent past.
Among the religious leaders at Rwakitura included Mufti Shaban Ramathan Mubajje,Archibishop Stanley Ntagali and Dr.Cyrpian Kizito Lwanga among others.