Today Saturday March 17, 2018, it is exactly one year since the then police spokesperson AIGP Andrew Felix Kaweesi was killed by unknown assailants.
On this date last year at around 9 am, assailants allegedly travelling on motorcycles sprayed Kaweesi's Toyota Prado TX series with a number of bullets as he left his home in Kulambiro, killing him instantly , bodyguard Kenneth Erau and driver Godfrey Mambewa.
According to eyewitnesses, it was a shower of bullets to the Assistant Inspector General of Police's vehicle which was found in the middle of the road with flash lights on.
"It was a shower of bullets. In estimation, the bullets were more than one hundred in number,'' said Kampala Central Division chairman Charles Musoke Sserunjogi, who is a resident in the area and was well known to the deceased police chief.
According to a statement issued by the then Inspector General of Police, Gen. Kale Kayihura, the assailants trailed Kaweesi's vehicle for some distance before spraying it with bullets.
"They first fired shots in the air and then shot at his vehicle through the hind windscreen and tyres deflating him,'' Kayihura said.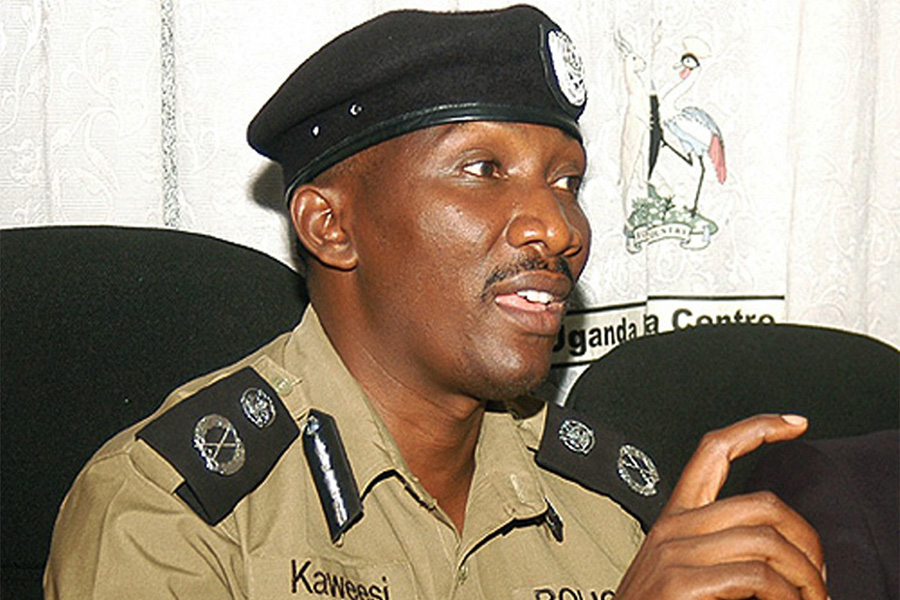 Another eyewitness said he heard the gunshots from about 500meters.
"I was in my garden and could clearly hear the bullets. I also heard dogs from the neighbours barking so loud, which meant that something wrong was going down,'' said George Mukasa.
According to the postmortem report, over 20 bullets were found in the slain police spokesperson's body whereas over 80 were recovered from his bodyguard's body.
Meanwhile, security agencies with the police in the lead begun the task of finding the killers of the late police director and in the wave, a number of people were arrested in suspicion to have participated in the gruesome murder.
Among those arrested included a number of people not less than 25 in connection to the murder.
Torture
All the suspects arrested confessed to courts of law for having been tortured by security agencies with police in the lead at the Nalufenya detention centre in Jinja.
Among them was Lt.Godfrey Musisi who was tortured so as to confess to having participated but was later released and some media reports have recently indicated he entered a deal with Gen.Kayihura to withdraw the civil case against him(Kayihura) for the torture.
Others are Godfrey Byamukama, the Kamwenge mayor who was arrested along parliamentary avenue in Kampala, dragged into a flying squad van from where he was badly beaten.
Later, photos of Byamukama with rotting knees and ankles made rounds on social media but was later released from Nalufenya where he had been detained.
While appearing before Nakawa magistrates court 22 people suspected of masterminding the murder of AIGP Andrew Kaweesi narrated how they had been tortured so as to confess to the killing.
Displaying burnt fingers, chests and others limping on clutches with bandages on their feet, the suspects broke down while narrating their ordeal while at Nalufenya detention centre.
Compensation
The High Court civil division would later order government to pay shs80 million to each of the 22 suspects for being tortured while in detention after suing through their lawyer Ladislaus Rwakafuuzi.
"They were arrested when they were well but now have various physical challenges. These people were mere suspects and presumed innocent. There was no need for torturing them," the no nonsense Justice Margret Oumo Oguli said in her ruling.
Meanwhile, 8 of the 22 suspects were later committed to High Court but six months after the committal, the trial has never kicked off.
For the rest of the group were released on bail but two of these were slapped with fresh charges of terrorism for allegedly being part of Allied Democratic Forces rebels.
Suspects speak out
In an interview with the Nile Post, some of the suspects in the murder of AIGP Andrew Felix Kaweesi expressed concern over the delayed trial.
"Many times the case has been adjourned by court because investigations have not been completed but this torments us psychologically that we always have to come to court even if we did not commit the crime, "Ali Mugoya, one of the suspects told this website.
The suspects say they have never returned to their normal health situation since their arrest and detention, almost a year back.
"The torture hit me hard and up to no, my body is still weak."
The suspects' lawyer, Anthony Wameli says the delay in committal and trial psychologically affects the suspects who have to always take most of their time thinking of the charges and possible punishments.
"Because the maximum penalty is the death sentence, they are always bothered psychologically because they have to think Wameli says.
Human rights lawyer Ladislaus Rwakafuuzi said it is a violation of the rights of the eight suspects committed for trial but for almost a year they have not been tried.
"In any case, justice delayed is justice denied. They country and the suspects might never get justice due to the long detention without trial,"Rwakafuuzi told this website in a phone interview.
"It will be difficult for them (suspects) to get witnesses for their defence and the victims will have moved on. They will end up being convicted over offences they never committed."
However, a number of questions on who and why was behind the gruesome murder of Assistant Inspector General of Police, Andrew Felix Kaweesi was killed.
Meanwhile, the family has organised a requiem mass for the late police spokesperson at his ancestral grounds in Kitwekyanjovu in Kyazanga, Lwengo district.