National Drug Authority (NDA) has unearthed and confiscated what they termed as fake Hepatitis B drugs being administered to patients during vaccination.
Hepatitis is an infection that targets the liver and is the commonest cause of cancer globally accounting for 83 percent of the cases globally.
In 2015, government rolled out a mass Hepatitis B vaccination exercise for people aged 14 and 30 years around the country targeting over five million people from over thirty districts around the country.
According to Hellen Ndagigye, the director in charge of product safety at NDA, various privately owned medical facilities including hospitals and pharmacies around the country were found in possession of hepatitis B vaccines that are believed to be fake.
"Following a tip off in Mbarara we rolled a surveillance and we encountered counterfeit vaccines from various health facilities,"Ndagigye said.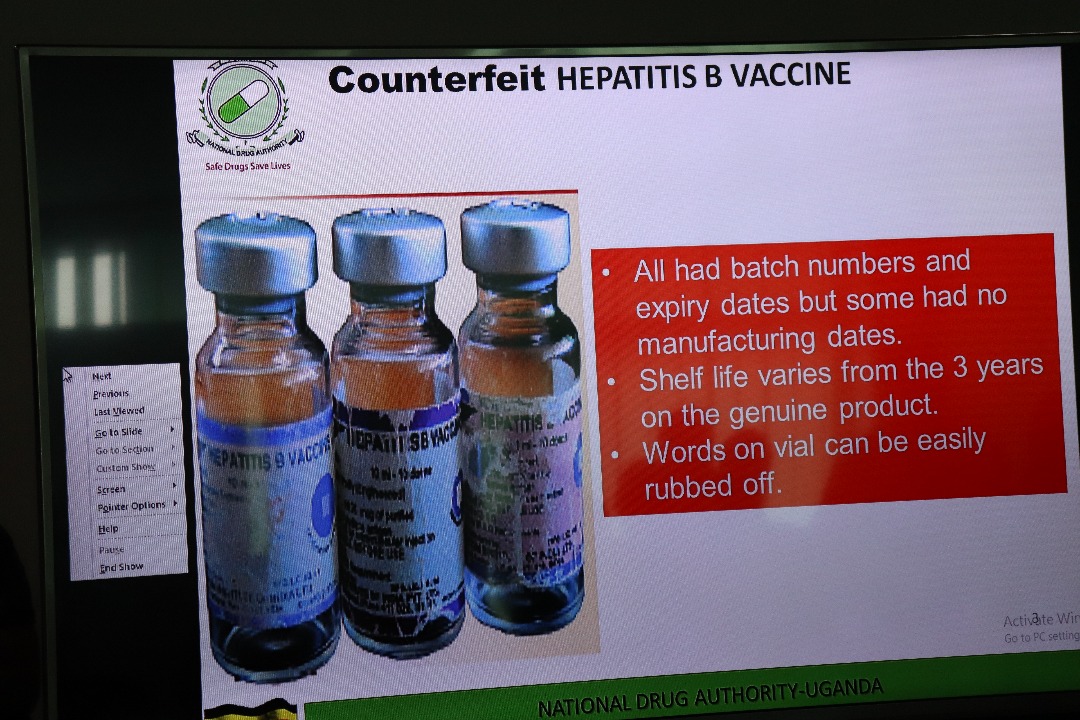 They singled out Mbarara Community hospital,Devine Mercy,Mayanja memorial hospital, Family doctors' clinic, Mbarara City Clinic, UMC(Bukoto),Malcom health care and Kampala medical chambers.
Norvik Enterprises Limited is the only authorised firm to import Hepatitis B vaccine to Uganda from Serum Institute in India but according to NDA, they discovered that all the fake vaccines impounded indicated they had been manufactured by the same company (Serum Institute).
"A genuine vaccine has a shelf- life of three years but most of the drugs recovered from the various private health facilities were meant to last for four or more years."
NDA officials says they are still investigating a possibility of unscrupulous people either repacking or putting water in the bottles to disguise as Hepatitis B vaccine.
Suppliers
According to some of the invoices recovered from private health facilities whose stores were raided by National Drug Authority, the phone numbers for the suppliers and their locations were non-existent indicating they were fake and could not be traced after supplying the vaccines.
Officials also said that they will be more interested in finding out how the fake vaccines got onto the market and the people before these vaccines.
The director in charge of product safety at NDA however said the fake vaccines have no harm onto the individuals injected but said they would not achieve the desired goal of vaccinating against Hepatitis B virus.
"Our advice is for all those people who recently were vaccinated especially from private health facilities to do the process afresh from government facilities."
Officials said government facilities get the vaccines from Norvik Enterprises which is eligible to import them from Serum Institute in India.
The public has also been warned of the various health camps by private health facilities against the fake hepatitis B vaccines.