A group of over 30 pilgrims that are currently traversing the holy land of Israel yesterday took most of their time to pray for Uganda ahead of the looming constitutional amendment.
The Pilgrims who are in led by Rev Medard Birungibya'Yesu of Church of Uganda, Nsambya Parish, visited the Wailing wall; The place where Abraham demonstrated his undying love for God by attempting to sacrifice his only son, and the place where the Holy Temple was built.
While at the wailing wall, the pilgrims interceded for Uganda, asking God to grant the country peace in the face of the ongoing age limit debate.
"As you know we are having a big constitutional problem which is bringing chaos and disunity, so we have prayed that God intervenes so that we peace and that the nation is not thrown into disunity and undue turbulence," Rev Birungibya'Yesu said.
The group are sponsored by Africa One Tours and Travel company. They were chosen on recommendation from their churches.
The prayer comes at a time when parliament is expected to pass Raphael Magyezi's constitutional amendment to lift the age limit for President Museveni.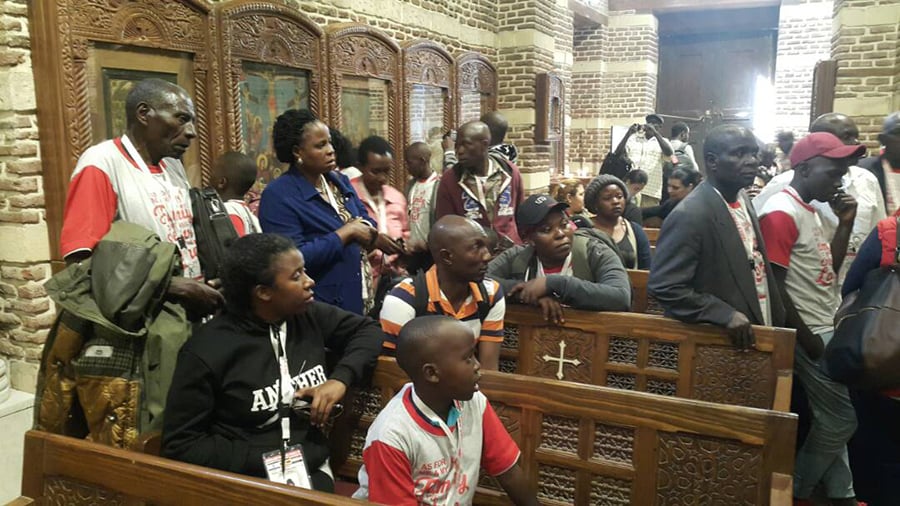 About the Wailing wall
Three thousand years ago, King David purchased Mount Moriah and made Jerusalem his capital. His son Solomon built the Holy Temple, and the entire Jewish nation gathered together three times each year on the pilgrimage festivals.
Jerusalem became the focus of the non-Jewish world as well. Ancient maps show Jerusalem at the epicenter of Asia, Europe and Africa. Non-Jews, drawn by a magnetic spiritual power, brought offerings to the Temple. When King Solomon built the Temple, he specifically asked God to heed the prayers of non-Jews who come to the Temple (1-Kings 8:41-43). In the words of the prophet Isaiah, this was "a house of prayer for all nations."
The service in the Holy Temple during the week of Sukkot featured a total of 70 bull offerings, corresponding to each of the 70 nations of the world. In fact, the Talmud says that if the Romans (who destroyed the Temple) would have realized how much benefit they received from the Temple, they never would have destroyed it.
During the 1,900-year exile, Jews would travel to Jerusalem at great expense and danger, just to have the chance to pray at the Wall. In the face of disease, lack of water, and marauding bandits, the Jews refused to abandon Jerusalem. Barred by law or wiped out by Crusaders, the Jews always returned.
The Talmud teaches that when the Temple was destroyed, all the Gates of Heaven were closed, except for one: the Gate of Tears. At the Wall, Jews have always poured their hearts out to God. Thus it became known as the "Wailing Wall" because of the centuries of endless tears, shed by Jews yearning to rebuild Jerusalem.