Uganda-UK convention proprietor, Mr Willy Mutenza has been awarded for his services towards community development.
Mr Mutenza was presented with the African Diaspora Award for the Services to the Community Development at the prestigious Conrad London St. James hotel, Broadway, Westminster, London UK.
Willy Mutenza (WM) has lived in London for the better part of three decades and in that time established himself as a suc­cessful businessman and an advocate for Africa-UK trade. But what brought him to the UK and how has he succeed­ed where many of his fellow Africans in the diaspora have struggled to grasp their dreams in their adopted countries?
We caught up with him on the award and his activities in bringing together Ugandans in the diaspora.
Firstly, who is Willy Mutenza and where were you born?
I was born in Uganda and I'm a successful entrepreneur, philanthropist and community activist who has turned his community hobbies into a successful business. I've lived and worked in London for the last 27 years. I graduated in 2002 with a BA in Digital Arts and Multimedia Computing from University of West London.
In 2003 I founded The Promota Group and have expanded its business interests in magazine publication, events management, private equity bridging, printing and real estate development in Uganda.
Personal journeys into the diaspora are as diverse as they're also common. You've lived in the UK for nearly three decades now; what initially brought you here and what has kept you domiciled in London?
I moved to the United Kingdom from Sweden in the early 90s for studies, and after university I decided to stay in the UK to pursue my business interests.
You launched The Promote Group with interests closely related to your university qualifications in digital arts and multimedia computing. Can you tell us more about your early steps in the world of business?
After my graduation from university I put to good use the skills I learnt in digital art computing and established Avidfx, a print and design agency which has so far expanded its business interests as I've said earlier. I run one of the biggest ethnic marketing agencies with headquarters in the UK and operations in Denmark, Sweden, Uganda and Norway, with clients including some blue chip companies such as Western Union, MoneyGram, Brussels Airlines, Lebara and WorldRemit. Over the past 15 years, I have also engaged the UK business community as a trade and investment consultant and advisor for the Ugandan Government and Uganda Private Sector.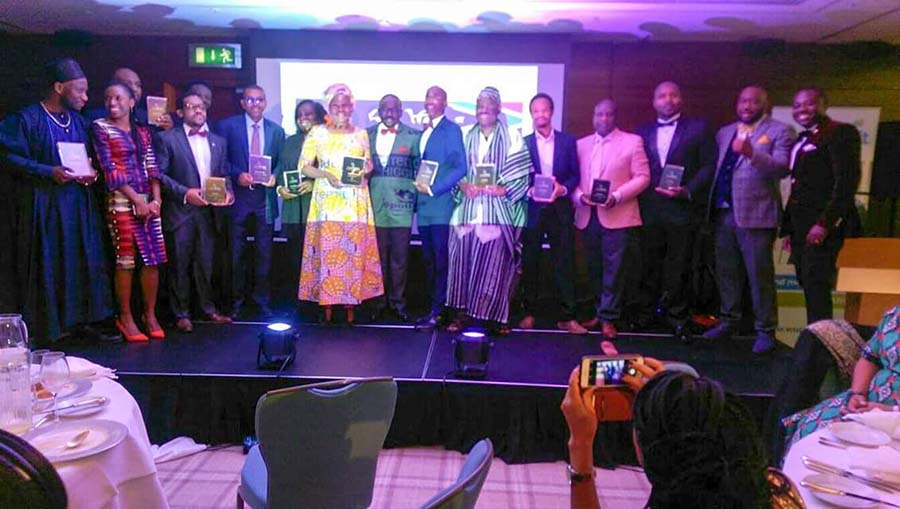 What were your main motivations in getting into business; in short, what was your "Why"?
One of the driving motivations to get into business was my childhood dream to become a successful entrepreneur and ethical businessman emulating my father who was a successful industrialist and businessman during the 70s. I have managed to reach a level of success but I would have done better if my father was not killed during the second Milton Obote regime in Uganda in the 80s. I was left with no role model to shape me into the man I wanted to be. But with the grace of God, I managed to struggle through the hassles of life to become a responsible global citizen.
You've obviously overcome some teething problems in your journey as an entrepreneur; how did you drive past these early challenges and maintain your motivation to persevere with your vision?
I have been through a lot of challenges but persisted to become a successful businessman. I was lucky to have good mentors who shaped me to respect two values – "Integrity and Patriotism" – to live by day by day, and success will come. My name has been associated with integrity in my circles and I have tried to do the right thing at all times and in all circumstances, whether being watched or not. I am man of integrity, honest with my words and actions to people, and this takes courage.
Building a reputation of integrity takes years, but it takes only a second to lose it, so never allow yourself to do anything that would damage your integrity – that is my message to fellow Ugandans. We live in a world where integrity isn't talked about enough.
We live in a world where "the end justifies means" has become an acceptable school of thought for far too many.
Contrast that with the person who cannot be trusted as a person of integrity. Warren Buffet said it best: "In looking for people to hire, look for three qualities: integrity, intelligence, and energy. And if they don't have the first one, the other two will kill you." A person's dishonesty will eventually catch up to them. It may not be today, and it may not be for many years, but you can rest assured that at some point there will always be a reckoning.
You're an active advocate of diaspora-home engagement and in 2011 you initiated and championed the annual Uganda UK Convention, a trade and investment event that has turned out to be highly successful. Can you explain the reasons behind this initiative and how it has impacted the business sector especially in Uganda?
In 2011 I championed the Uganda Convention, the main objective was to offer authoritative insight on development trends and opportunities in Uganda through a forum that bring together experts, senior government officials, business leaders, professionals and representatives from prominent organisations based in Uganda, the UK, Africa and internationally.
Due to negative media coverage of Africa in the west, I felt it is also a duty for us African Diasporas to control the narrative and promote a counter one: "Africa is the Land of Opportunity", and to pivot the role of the African Diaspora from family remitters to financial and social investors.
Our core emphasis is to Promote Ugandan exports and identify export opportunities, so that the export earnings close the gap with the import demand and promote the transformation of Uganda from a current consuming nation into a producing nation.
Lastly, we exhibit and celebrate the rich diversity of Africa/Uganda's cultural heritage and encourage Ugandans to be more active as ambassadors for Uganda's image, investment, culture – food, clothes, social life etc.
You possess vast experience in diaspora marketing consultancy, having worked for major airlines and global money transfer services. Do you think businesses in Africa are doing enough to market their products and services to their nationals and other African communities in the UK?
It is the duty of Africans in the diaspora to take advantage of the business opportunity and serve its diaspora market. Now, we have over 100 African shops by West and East Africans importing an array of products to serve their community.
Nevertheless, African governments need to focus on the bigger market and improve on their competitiveness and identify the sectors where the country has the highest comparative advantages in the global value chains in order to allow for the private sector to engage with investments. African countries could position themselves on product ranges that Asian markets are slowly but surely abandoning due to the emergence and extension of a middle class among their populations, for example of the shoe manufacturing industry in Ethiopia, modelled on the Asian experience in this sector.
African farmers and businesses must be empowered through good policies, increased public and private investments and strong public-private partnerships.
Some African governments with significant Diaspora communities in the UK are yet to fully leverage the economic benefits from their diaspora. What policy measures do you think governments need to implement to facilitate this?
Despite the significant contribution from Africans abroad, there are many challenges that have inhibited their effective contribution to national development. There is also a need to develop measures to enhance and also protect and support the interests of Africans abroad in such matters pertaining to: immigration issues; custodial sentences; consular services; repatriation of the deceased; high cost of remitting money; lack of an incentive framework to promote diaspora participation in national development; inadequate mechanisms for protecting diaspora rights in the diaspora and promoting their interests; untapped skills and expertise to bridge the skills gap in Africa and reverse brain drain; lack of a reintegration framework for returnees, and inadequate participation in democratic processes by Africans abroad.
I also believe that Africans in the Diaspora who have attained citizenship of the hosting country should not lose their natural citizenship. Dual citizenship seems to have become a bone of contention, and the Diaspora is also claiming voting rights.
Diaspora communities themselves are often disorganised and fail to create effective platforms from which to engage their home governments and business sector. As a veteran community mobiliser, what do you think are the main challenges they face and how can they be overcome?
I believe that we cannot seek achievement for ourselves and forget about progress and prosperity for our community especially in a foreign land. Our ambitions must be broad enough to include the aspirations and needs of others, for their sakes and for our own. This has been the basis of Indian and Jewish communities, which has propelled their success in foreign lands.
Creating community platforms and events has two most overarching challenges which is vision and community spirit. I have seen very few Africans with two of those qualities which are the basis that solidify one's motivation and persistence to sustain a community platform. You will find most community platform organisers are primarily looking for the monetary benefits or attention seeking. Platforms like Afford and Uganda Convention have succeeded due to the foundational principles of the founders – to serve their own people.
Probably another issue that has hindered our progress as Africans in the Diaspora is because we tend to think and live within our tribal and political affiliations in the Diaspora and people will only support those that serves their interests.
What has been your biggest achievement to date and how has that helped push your work forward?
Starting the Promota Africa marketing agency has been one of the most successful ventures and this has allowed me to support and fund some of the successful community initiatives like the annual Ugandan Convention which is the only African investment forum in the UK that has survived the test of time and it is growing stronger every year. I have learnt quite a lot of things from the Uganda Convention, had a chance to meet a lot of influential people who have helped me and my business to grow internationally. I have also achieved some awards that includes: Innovative Award (British Black Initiative) (2009); Common Wealth Business Innovation Award (2008); UCAA Awards ­Communications and Media (2008); Social Entrepreneur of the Year Award BB Awards (2014); GAB Award for promotion of the Positive image of Africa (2014); BE Mogul award as one of the most influential and inspirational black, and have also been named among the business role models in Britain for 2016.
How important is family to you, and how do you balance work and family life and also find time to unwind from your busy schedule?
Due to work commitment which involves a lot of travel, I hardly get time to be with my family but I try to enjoy every minute whenever I have the opportunity to have my family around.
What advice would you give to fellow Diasporas to succeed like you?
If they keep faith and trust in God, a positive and right attitude to everything in life, resilience, doors of opportunities will open for them. Also to be resilient; nothing in this world can take the place of persistence. Talent will not: nothing is more common than unsuccessful men with talent. Genius will not; unrewarded genius is almost a proverb. Education will not: Africa is full of educated derelicts. Persistence and determination alone are omnipotent.
When it's all over, how would you like to be remembered?
As a patriotic African who would do anything to promote the image of Africa and its investment potential.