Adam Kamindi, a brother to Coleb Mwesigye, the fallen commander of Entebbe Aviation Police, said his sibling loved work so much and worked so hard that he did not even time to celebrate Christmas with relatives.
"On Christmas, as others went home to enjoy it without our parents, he never came. He could only come on boxing day and could only spend half a day and return to work,"Kamindi told mourners at All Saints Cathedral, Nakasero, on Wednesday.
"He never had appetite for food and when asked, he always said it was because of work related stress."
Speaking about the deceased, Gen.Kale Kayihura, the Inspector General of Police, said many police officers, such as Mwesigye, were hardworking but had forgotten to take care of their health.
"You should always go for medical checkups. Had he gone for checkup and open about illness, we could have done something and he would still be alive," Kayihura said adding that soon government will start a mandatory insurance policy for all police officers.
Kampala Metropolitan Police Commander, Frank Mwesigwa, who was in the same squad with the deceased described him as someone who would work so hard and at times sleep at his desk.
"He was focused, determined and passionate about work that he would sleep at work up to the following morning,"Mwesigwa said of the deceased.
Speaking to mourners, lawyer Frank Kanduho , a close friend to the deceased said that both met in 1986 at Kazo Primary School and their friendship soared into brotherhood as they loved each other in every aspect of life.
"He had humility but above all, he was a first among equals. He was always destined to flourish and that is why all his ranks were on merit,"Kanduho said of the late.
The lawyer said that the deceased loved everyone irrespective of their opinions adding that above all, he loved the truth.
"He died with a gift of truth. Not the truth of WhatsApp and Facebook like it is these days but the real truth from the bottom of his heart," Kanduho said.
Police spokesperson AIGP Asan Kasingye narrated that for the six years he spent as Interpol Director, there was no day he flew out of the country and the late was not at his duty station at the airport.
"I always travelled and returned and every time I saw him.You could think he had known that you were travelling," Kasingye told mourners at All Saints' church on Wednesday afternoon.
The deceased's wife, Annet Mwesigye described her late husband as a friend.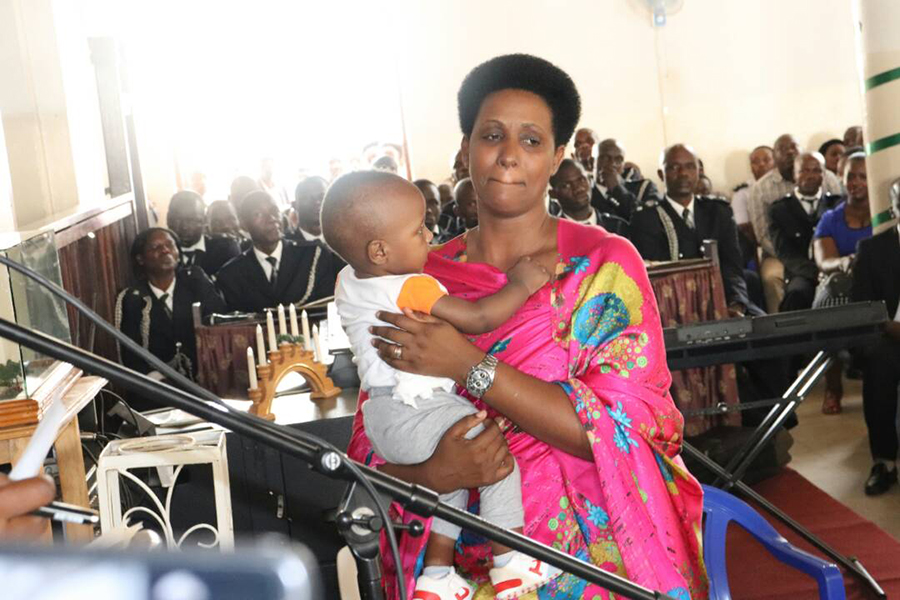 Speaking about the illness that killed him, Annet Mwesigye said that it begun as a headache that persisted and he was taken to Nairobi for checkup before it was revealed that he had a mass behind the brain.
Biography
Born to Kamindi Geoffrey and Flavia  Kamindi in 1976 at Mugole village, Bwemukona sub county in Kiruhura district, Mwesigye attended Kazo Primary School before joining Mbarara High School for his O'level.
He later joined Kololo SS for his A'level before joining Makerere University for a Bachelors Degree in Development Studies.
He joined the police force and after training was deployed at Entebbe airport as the officer in charge of Entebbe police station.
He was later promoted to the rank of Superintendent of Police in 2014 before being elevated to the rank of Senior Superintendent of Police in 2016. He was then appointed the commandant Entebbe Aviation Police, a position he held until his death.
Mwesigye had one child, a son, Joshua Mwesigye.
He will be laid to rest at Mugole village, Bwemukona subcounty in Kiruhura district today.