Celebrated event Master of Ceremonies and NBS Television presenter, Edwin Katamba, alias MC Kats was one of the winners at the Uganda Entertainment Awards.
The awards held on Saturday at Kampala Serena Hotel, saw the NBS After 5 music show presenter shrug off competition from fellow presenters; Flavia Namulindwa of Bukedde TV, and Douglas Lwanga of NTV the Beat to walk home with the coveted award.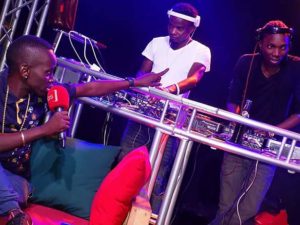 The NBS TV after 5 show broadcasts live from Monday to Friday, starting at 5:00pm. It also features Music Disc Jockeys (DJs); Mercy and RogerrnOther winners of the night included;rnGeo Steady who walked home with the song of the year award, thanks to his efforts with Rwandan duo Charlie and Lena for the Owooma Owooma song. Geo Steady beat singer Lil Pazo whose genda ogule motooka could have inspired people to buy cars rather than votern
Geo Steady again snatched the RNB artiste of the year award, wading off competition from colleague, Lydia JazmineDans Kumapeesa won the Audio producer of the year award despite being bed ridden while Eddy kenzo emerged overall artiste and Male artiste of the yearMeanwhile the Swengere Family swept the Best Comedy Group award.