By Naomi Musiimenta
Local food vendors in Nakawa have asked Uganda National Bureau of Standards (UNBS) to investigate allegations some quick snack makers are using transformer oil in making among others rolex, a popular delicacy.
The vendors under their association body "Role Sumbi Cake Mandazi" Association (RSCMA) claim there are persons using transformer oil to prepare snacks for public consumption.
The revelations were made during a meeting held at the Kampala Capital City Authority (KCCA) offices in Nakawa division. The meeting was attended by Nakawa mayor Ronald Balimwezo, Abdul Rahman Lukungu the chairman of the association, UNBS officials and food vendors from Nakawa division.
RSCMA head Lukungu reported to the meeting that there are unscrupulous vendors who use oil sourced from unrecognised backgrounds that is harming customers and their trade. Lukungu claimed that some of the oil maybe pilfered from transformers, filtered and then used to prepare snacks.
However, a Nile Post visit to Nakawa market returned with denials from makers of chapatti, mandazi and other snacks. Some of the vendors instead pointed fingers at makers of fried chips claiming they maybe the culprits of the practice.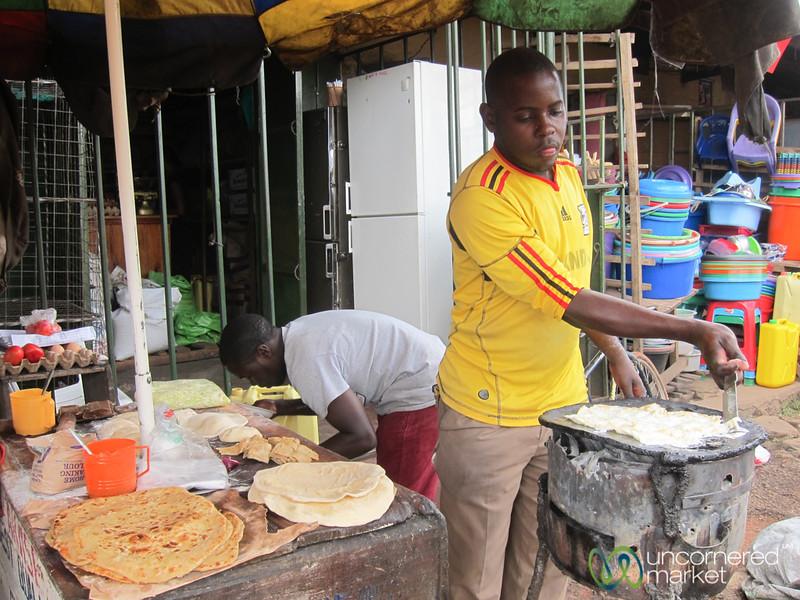 Nakawa mayor Balimwezo urged vendors to stop buying cheaper unsealed cooking oil because it puts the health of their customers at risk. He explained that unsealed cooking oil might contain contaminants that can be deadly to human health.
Balimwezo urged the vendors, as purveyors of food, to strive for cleanliness in their stations of work.
Sarah Nantongo, speaking on behalf of UNBS, assured the vendors that the body will increase its monitoring of activities in the business. Nantongo, who works in the UNBS department of surveillance, said there would be checks on the oils on the market.
UNBS is responsible for ensuring all products on the Ugandan market meet certain safety standards for use by the public.
Snacks like rolex are a popular on-the-go snack all over Uganda. The rolex delicacy in particular has been recognised internationally as a meal unique to Uganda and celebrated.
The Ministry of Tourism celebrates the Ugandan rolex as one of the culinary delights visitors to the country can sample.