A Mercedes Benz car UAT 931 T last night caught fire in Wandegeya, a city suburb.
The car caught fire at around 7pm according to eye witnesses while it approached the round about at Mulago roundabout.
According to the vehicle owner, who Nile Post understands is an employee at parliament, the car caught fire abruptly "but I am so grateful to God that I am alive and well".
The owner did not divulge any more details despite eye witnesses suggesting the fire could have been caused by tampering by amateur mechanics.
Meanwhile youth who gathered around the burning car kept chanting people power while blaming the Police Fire Department for shaming the government by arriving several minutes after the car had burned severely.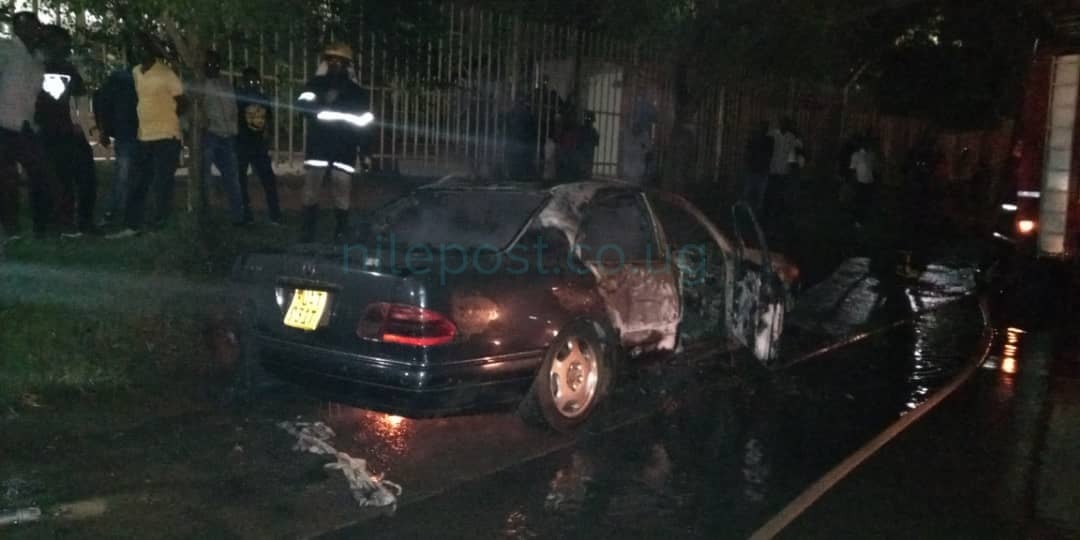 "Which fire are they trying to put out now? they arrived several minutes late yet their station is just here in Wandegeya. They would have come faster if they had been told we were protesting, this police really shames the government," one of the witnesses said.
In September 2016, A car caught fire in the middle of the road at Wandegeya, next to Public Service offices in Kampala.
The Toyota Corona car, registration number UAK 929P started emitting smoke from the bonnet while its occupants – a woman and two children waited in traffic jam.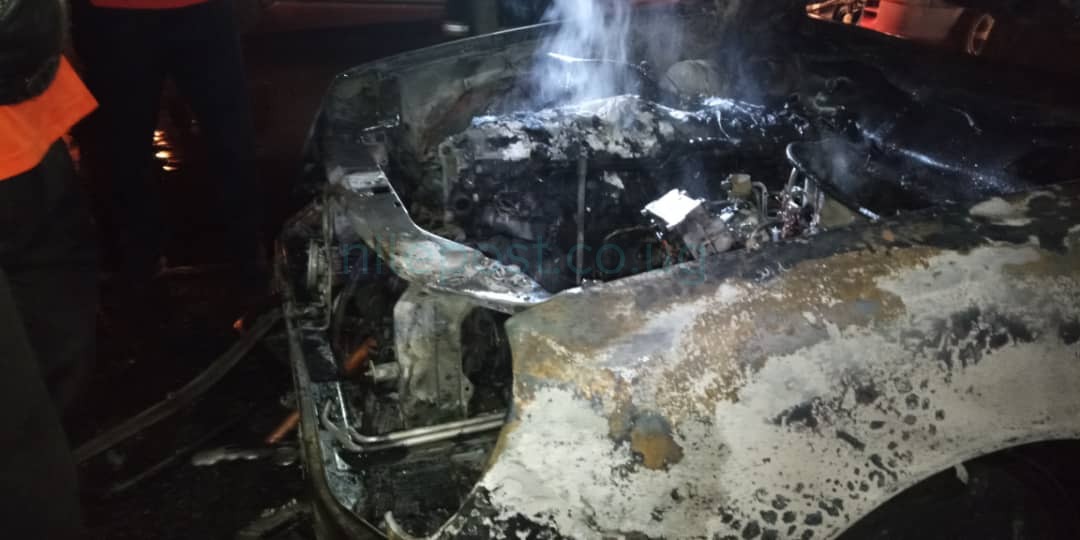 According to eye witnesses, the woman and the children ran out the car on seeing the smoke and tried to seek for help from the police station nearby but in vain.
In May 2014, Two people were burnt to death when a car they were traveling in caught fire along Kyenkokola, Itendero, Kabwohe municipality, Sheema District.
The deceased; Mubashir Ahmed (28) a Pakistani national and owner of Medvin Pharmacy in Mbarara district and his employee only identified as Gerard were returning to Mbarara from Bushenyi when their car, a Toyota Platz Registration number UAX 808 L, over turned and caught fire.
Why do cars burn?
According to experts, car fires can be caused by fuel leakages, overheating, short circuits, and accidents, among other factors.
According to an article in the Daily Monitor dated August 2014, quoting Mr Grace Robert Mutebi of Mutebi Garage: "accidents can also cause significant car fires when the gas tank or the engine has taken a severe hit, a slight spark or electrical impulse, such as when batteries get ruptured, can cause fire."
"A short circuit is an electrical circuit that allows current to travel along an unintended path. Short circuits cause fire, especially when the positive wires get in contact with the flame, a spark is formed leading to fire. When the wires join together, a spark can be formed causing a blaze," he says.
Another expert- Geoffrey Wanjala of Good Life Motors in Wabigalo says vehicles catch fire when the engine overheats causing wires to melt. "This happens when the cooling system is not properly working or when there is not enough water in the radiator," he explains. Wanjala adds, "Fuel leakage on the exhaust pipe can light up the car, especially in vehicles using petrol. When fuel leaks, a slight friction can also lead to fire. Leaking gas lines, head gaskets, cracked blocks, cracked radiators, leaking fuel lines, are all potential firehazards."