In it's bid to revive the defunct Uganda Airlines company, government has purchased six planes.
The planes, all purchased yesterday from Airbus and Bombardier Commercial Aircraft by Ugandan representative and CEO for the national airline, Ephraim Bagenda at ongoing 2018 Farnborough Air Show in the UK.
The aircraft include two A330-800neo planes from Airbus and four new CRJ900 regional jets from Bombardier rated at shs 700b. The two deals were announced by the respective companies in detailed statements.
"We are delighted to welcome Uganda Airlines among our A330neo customers, the A330neo will bring a range of benefits offering unrivalled efficiencies combined with the most modern cabin. We look forward to see the A330-800neo flying in the colours of Uganda", said Eric Schulz, Airbus Chief Commercial Officer.
"We congratulate the Government of Uganda for the revival of its national flag carrier, and are thrilled that the new airline has selected Bombardier and the CRJ900 regional jets for its upcoming debut," said Jean-Paul Boutibou, Vice President, Sales, Middle-East and Africa, Bombardier Commercial Aircraft.
"Recognized for its superior economics and efficiency, the CRJ Series aircraft have enabled airlines worldwide to serve communities with better connectivity, and we look forward to supporting the development of Uganda's regional air travel with these CRJ900 regional jets."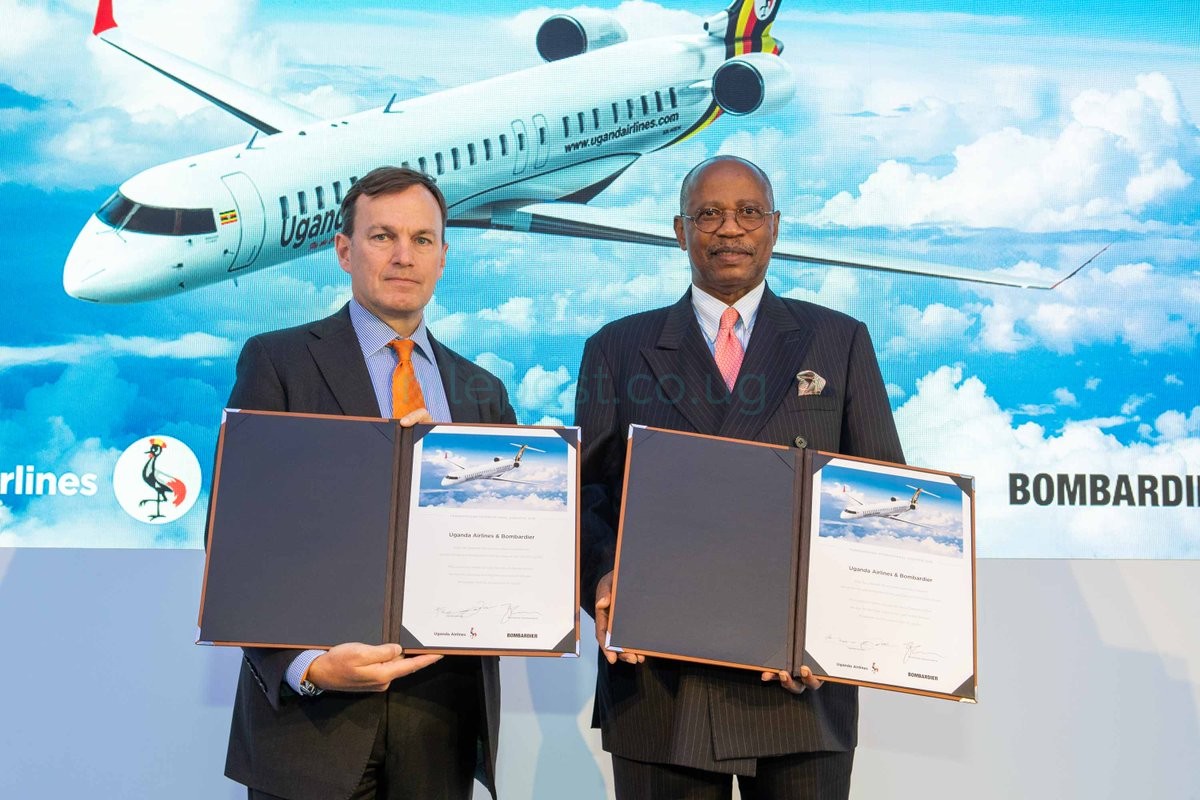 Ephraim Bagenda on behalf of Uganda told Bombardier that; "We are delighted to have ordered the world's leading regional jet, and we look forward to providing the most modern passenger experience in regional aviation to the people of Uganda and across Africa."
"As we were establishing Entebbe as a strong hub in East Africa and building more connectivity in Africa, we thoroughly reviewed our needs. With its proven track record in Africa and other regions of the world, we are confident that the CRJ900 aircraft will help us succeed."
On signing the deal with Airbus, Bagenda added; "This agreement demonstrates our ambition for economic growth supported by a robust aviation industry. The A330-800neo combines low operating costs, long range flying capability and high levels of comfort. We are looking forward to launch operations and offer our customers best-in-class service."
Airbus Features
The A330-800neo features new wings, new Rolls-Royce's latest-generation Trent 7000 engines, new systems and a new Airspace cabin interior.
The aircraft will also have a three-class cabin layout comprising 20 Business, 28 Premium Economy and 213 Economy seats.
Bomnbardier features
The Bombardier jets features dual -class configuration with 76 seats in economy and oly 12 in first class.
The interior comprises of larger passenger living space, wheel-first roller bag capability, more spacious lavatory, increased cabin connectivity options, all integrated in a contemporary design and material choices.
Bonbardier also claim that their cabin design allows passengers to carry and store an "oversized" roller bag within the aircraft cabin bins which minimises the need to check bags at the counter or the gate.
Road to revival
The revival of the Uganda Airlines was kick started with a feasibility study by the National Planning Authority which reviewed the successes and failures of airlines globally with a bias on Africa and putting in consideration the failure of the previous national carrier.
The report claimed that government loses $540m annually to passengers coming and leaving Entebbe airport using other carriers and thus recommended that with the revival of he airline, Uganda would generate revenue of the the same figure in a 15-year period off operational and investment costs.
The NDA report also recommended the CRJ 900 and Airbus A300-200 series as the most appropriate aircraft types for regional and international operations. The report dissuaded government from leasing aircraft stating it was better to buy in order to maximise financial economic benefits.
Decision to buy aircraft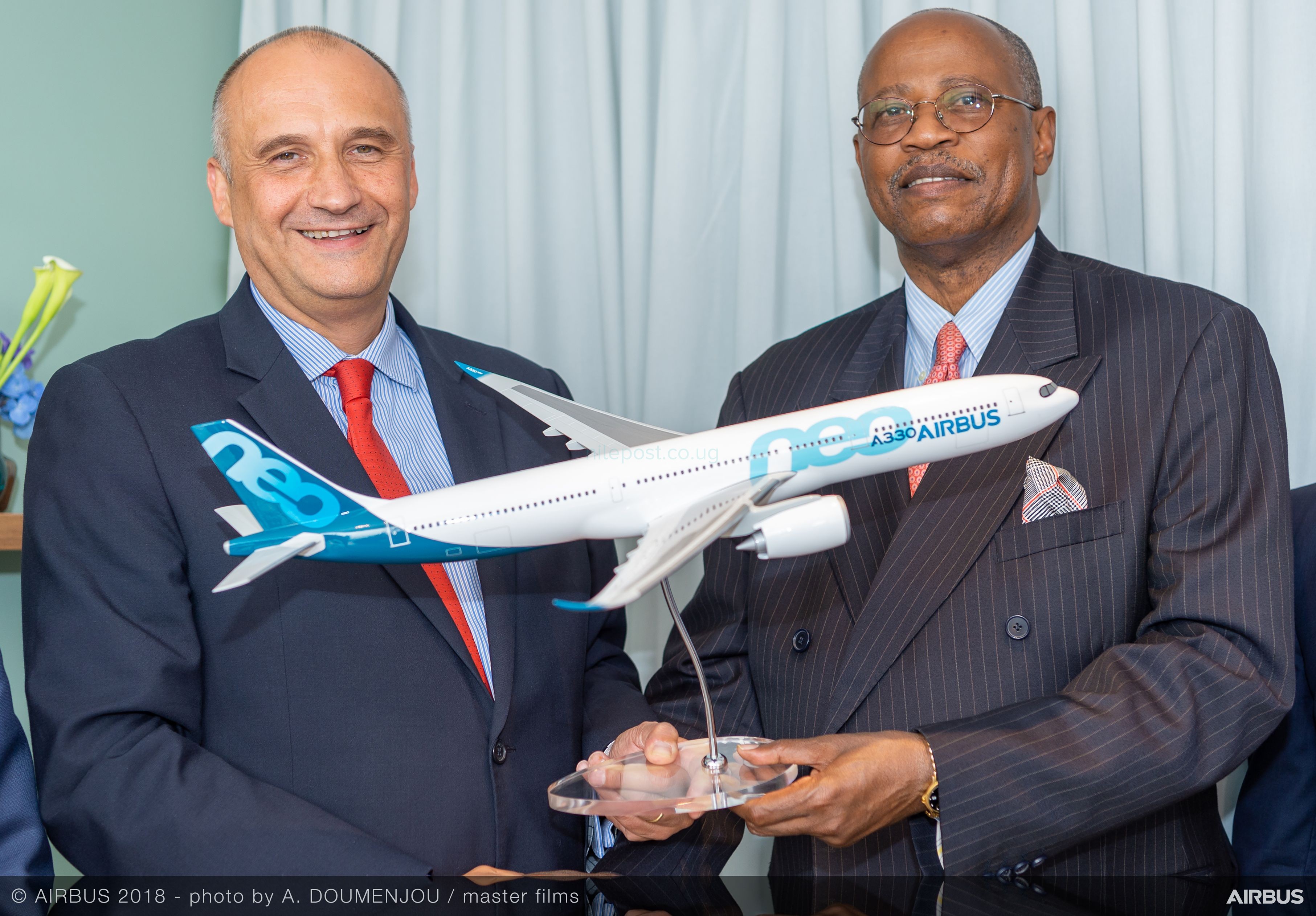 During the Manifesto Week in June, Works Minister Monica Ntege Azuba revealed to media that government had earmarked cash to purchase six aircraft from Bombardier (4) and Airbus (2) which would then hit the skies in December
"We're starting with four aircrafts and these are Bombardier aircraft. The sitting capacity is 80 to 100 passengers. They are produced by Bombardier which is from Canada. We had a team and it has done studies and a business plan was made – it was found that it would be viable. What I have to tell you is that when you're in the airline business, you don't plan on making profits as soon as you you start. So according to the business plan we'll break even after 4-5 years." said Azuba.
Azuba said then that government would later purchase two Airbus A330 series 800 wide – twin engine propeller aircraft.  These will have a 300 sitting capacity each. She said government had already paid a commitment fee of $1.2 million to the Canada-based Bombardier manufacturer and France-based Airbus manufacturer.
Enter Museveni
While delivering his speech at the national independence celebrations in Luuka District, President Museveni said the government allowed the airline to close because it was making losses and by that time Ugandans were not travelling as is the case now.
"I have learnt that Ugandans are now spending $420 million per year on travel. That's why we decided to revive the airline so as to stop the outflow of this money," he said.
Will it survive intrigue?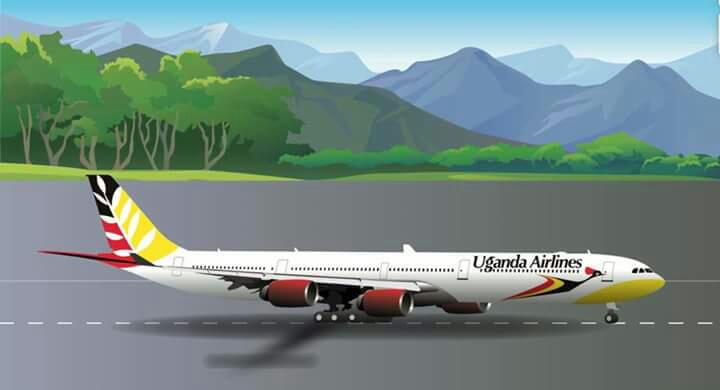 Uganda Airlines was initially established in 1976 but was brought to its knees in 2001 over a $6m dollar debt.
Seven years later, Air Uganda launched but it was suspended and closed in 2015 after Civil Aviation Authority withdrew its licence in what was then seen as a squabble between the powers in government and the airline owners.
Indeed, the CEO for the airlines, Cornwell Muleya would later dismiss CAA's suspension as awkward, adding that: "They are just hiding behind the airline."
A letter dated June 17, 2014 by CAA indicated the International Civil Aviation Organisation (ICAO) had found air Uganda's' certification process irregular in an industry that was low on surveillance and less compliant to international requirements.
Works Minister Ibrahim Byandala would later serenade the MPs in a communication at parliament when he justified the suspensi0n of the airline saying it had been putting lives in jeopardy with several cases of crash landing and near misses.
With the squabble between airline authorities and government unending, Air Uganda closed and with it went more than 200 staff. The impact of it's closure would be felt immediately up to date.
What about the loses in Business?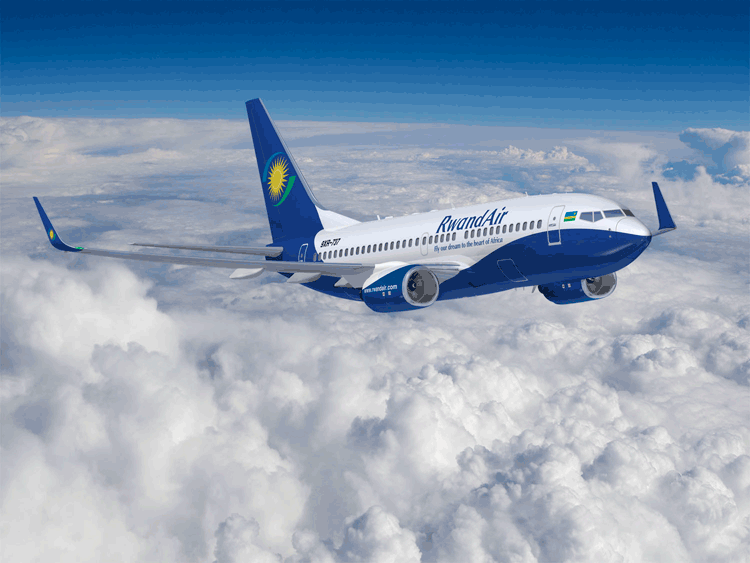 The airline comes at a time when most African states are pulling their airlines from the skies citing grave losses. Zambia, Ghana, and Nigeria are a case in point for withdrawing from the business citing lack of profit albeit Nigeria has bounced back.
A June (2016) report of the International Air Transport Association (IATA) states that African airlines posted a $500 million loss, a minor improvement on the $700 million that the region's carriers registered in 2015.
Kenya airlines in particular reported a $52m loss although they quickly attributed the loss to corruption and fraud.
But with Uganda's corruption levels standing higher, will the airline stand the test?
The big man syndrome
The airline also comes at a time when bush war comrades and "big people" in government have the ability to flout rules and laws in their favor.
Like one person said when he heard of the launch; "Those planes will have yellow inside, and some people will just be calling the airline and saying, remove so and so from the plane, or wait for so and so, he must be on the plane."
This will not be a new scenario to the NRM government, indeed in 1986 the General Manager Uganda Airline, Dr Ben Ochola Latigo, ordered the recall of a plane (QU172) which had already left ground 30 minutes earlier. The plane was destined for Dubai in the United Emirates when it was recalled back to Entebbe airport because he had to be on it.
Accordingly Ochola, he was meant to be on the craft to Pakistan but he arrived at the airport several minutes after it had departed.
When summoned to explain his action, Ochola simply said he recalled the plane because; "He had the powers to do so." It would later be revealed that Ochola operated a car hire service with the airline and they owed him large sums of money.
With the situations today even bigger? Wont we have many more scenarios with the airline?