Movit Products Limited yesterday lit up the Nkozi Marathon 2018 with a donation of Shs 30 million that will go towards the construction of an emergency accident trauma center at Nkozi hospital.
The centre is estimated to cost sh2.8b with equipment worth sh1.6b.
Nkozi Hospital is a private community hospital serving the town of Nkozi and surrounding areas of southern Mawokota County in Mpigi District.
It is located approximately 85 kilometers on the Kampala-Masaka Highway.
The work of building this trauma center was initiated in 2016 as an initiative from the friends of Nkozi hospital and the Nkozi hospital administration.
The marathon was graced by Prince David Wassajja member of the Buganda Royal family as the Chief Runner and the various friends of Nkozi Hospital.
According to Kitenda Robert the PR, Media and Advertising Manager Movit Products Limited, Movit has supported this initiative for three years and its growing bigger each year.
He assured the public that with their continued support, Movit will keep pushing and supporting this cause.
"Movit supports such activities not because it has a lot of finances and hefty budgets, but it does so because it's a Ugandan Company with a big heart and a big conviction to help the community within which the company operates," Kitenda said.
Movit invested over  Shs 30 million in the Nkozi Marathon 2018 providing running kits, Sound, media and several other goodies.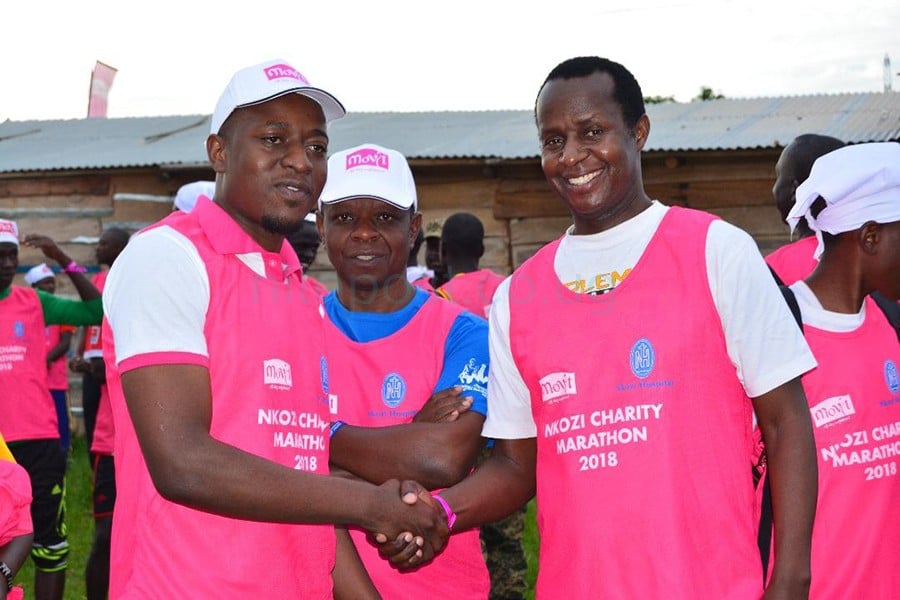 Prince Wasajja, the chief runner, said Movit Products Limited has done great work here today by supporting this Noble Cause.
He further appealed to the public to keep supporting "Bulungi Bwansi" initiatives like these not forgetting that the public has a role to play in societal development that shouldn't be ignored.  He added that government will only support these initiatives after the public shows interest".
Movit Products Limited awarded various runners with number of goodies, as a way of recognition for the outstanding participants at the run.
Movit Products Limited partnered with Nkozi Hospital to build the emergency and accident unit with Shs 27 Million in 2018.