Former Bubulo West MP Tonny Kipoi Nsubuga and five UPDF soldiers were on Monday charged at the General Court Martial with trying to overthrow government.
Kipoi was last month arrested over witchcraft in Botswana before being deported to Uganda and was charged with human trafficking by the Nakawa magistrates court.
On Monday,he was charged together with five UPDF soldiers including; Sgt.Yunus Lemeriga,Cpl Rogers Mweru,Sgt Adams Mawa,Sgt Albino Okeng and Pte Dodola Ijosiga all attached to the army's armoured brigade in Masaka for offences related to security,contrary to section 130(i) of the UPDF Act 2005.
Prosecution alleges the group with others still at large between November 2012 and December 2013 convened meetings in areas of Kampala,Wakiso,Masaka,Jinja,Nakasongola and Ntoroko with an intent to overthrow government. They however denied the charges.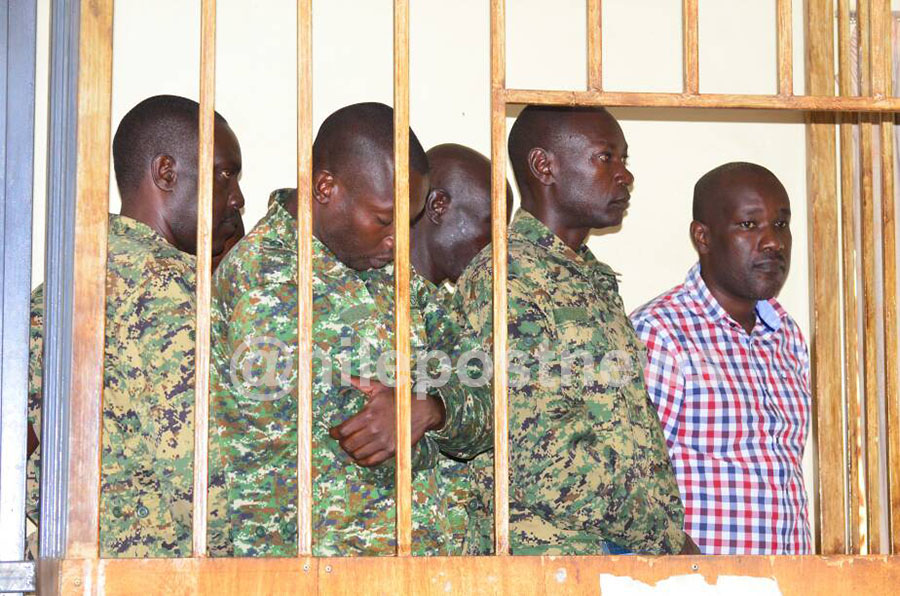 The five UPDF soldiers charged together with Kipoi were recently charged with the offences and granted bail but on Monday it was cancelled and he was remanded to Makindye military police cells.
The case was adjourned to April 24 for trial to begin after prosecution told court investigations were complete.
The former Bubulo West legislator was in 2012 arrested and charged with treason for allegedly recruiting youths from both Uganda and DRC as rebels in a bid to depose the Ugandan government.
He would later be released on bail but jumped it and later fled to the Democratic Republic of Congo where he has been hiding until February when he was arrested in Botswana.
In 2014, the General Court Martial in Makindye issued an arrest warrant over Kipoi after the treason charges in the civil court had been transferred to the army court.
In the same year, parliament threw him of the August house for missing 15 sittings without justifying his absence.