President Museveni has urged police to maximize its capabilities in order to help the country fight crime.
"I want to advise you to avoid the culture of eating food without sauce. If you eat food without sauce, it can even kill you if you are not careful. Many of the crimes, like the people who killed tourists, there were tracks(left behind) These(tracks) were clear in the grassland( after tourists attacks) but the army initially mismanaged the work," Museveni said.
"When the army came, they should have immediately brought the police dog which would have done a much better job than people following with their eyes. However, they only came to gaze."
The president made the remarks on Wednesday as he passed out 2717 officers from police and immigration.
He explained that on learning that scene of the attacks on tourists in Queen Elizabeth National Park had been mismanaged, he the following day directed that a police sniffer dog be introduced to help trace for the attackers.
"The following morning, I rang them to use police dog. They brought the police dog which actually followed the track for 15km but it was only one dog. After 15km it sat down because it was tired. They didn't have another dog to follow."
Museveni said all capabilities had been used early enough, the attackers would have been got in no time but said he was happy they were later got and a number of them put out action.
Owing to this incident, the president urged police to make proper use of its capabilities to help them deal with crime in no time.
"All these capacities you have like the CCTV cameras, sniffer dogs, mobile phones, forensics directorate were not there in the past but are here now. I am now insisting on electronic number plates. This will help police deal with crime," Museveni said.
"Your work is becoming easier if you all get in the habit of using comprehensive means available to you."
The pass out
During the function, 2717 officers including 1388 Special Police Constables, 1272 Probation Police Constables and 57 immigration officers were passed out after completing 12 months, four months and two months courses respectively.
Speaking to the group, President Museveni said he was happy that now educated and young people are willingly joining the police.
He said enlisting educated people in the forces makes training easy since they learn faster, applauding the leadership of the police force for this feat.
"By 1986, police  had remained with only 3000 officers but now are at  53000. This is a very big step. Of course, police should be bigger to equal the UN ratio of 1: 500 people which means police should have 92000 officers but because of the budget constraints, we are slowly moving," Museveni said.
He expressed happiness that police is not only recruiting more man power but also creating other capabilities.
The president implored the officers on discipline, ideology, love for their country and love for themselves by avoiding poor health habits like alcoholism and contracting deadly diseases like HIV/ AIDS.
" When you get an opportunity, train to advance your knowledge in the force. The future is very bright for you."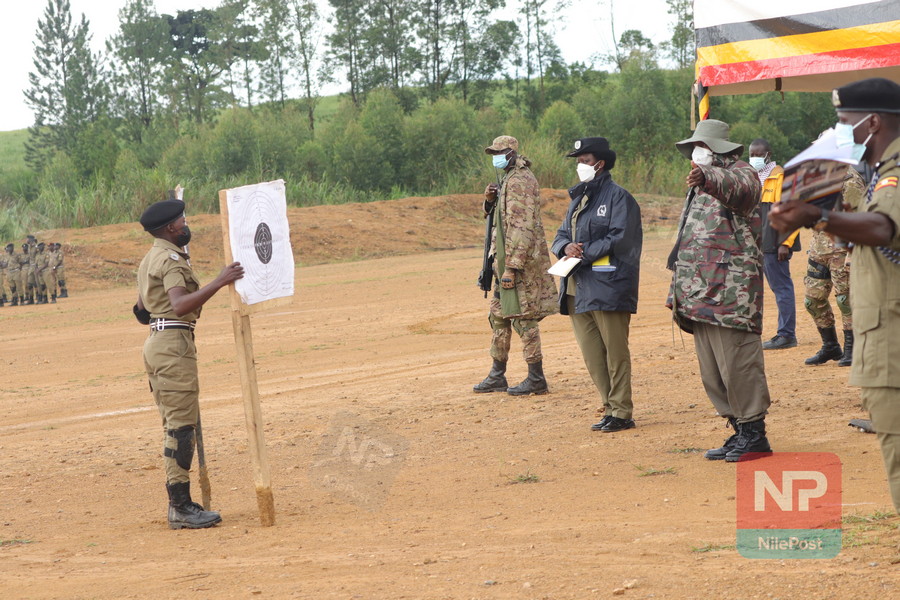 The Internal Affairs Minister, Gen Kahinda Otafiire urged the officers to aim higher in their service.
"Stay focused. Serve the country, don't serve anybody else but the country. Even if you don't love NRM, serve your country."
The Inspector General of Police, John Martins Okoth Ochola hailed President Museveni for always supporting police's efforts to professionalize.
He however asked the president to reverse the current restriction on recruitment and perennial budget cuts.
Ochola urged the police officers to always feel an honour serving their country.
"The country has invested much in you and we expect you to be healthy and serve our country with pride, honour, dignity, courage and integrity."
The commandant of the Police Training School in Kabalye, Masindi district, Assistant Commissioner of Police, ACP Ezekiel Emitu said the officers have been given the requisite skills and knowledge to enable them serve their country diligently.
"The training emphasized building positive relations between police and the communities they serve. The officers are now free from ideological disorientation as they now believe in the historical mission of their country which will help them make responsible decision. I have no doubt, they are going to add something onto the country," ACP Emitu said.
Demos
Earlier, the officers demonstrated skills in close combat, marksmanship, controlling riots and demonstrations as well as self defence skills that amused the president.
The president also opened a lecture hall named after him.