Just like that, another scam has fleeced Ugandans of billions of shillings in a non-existent investment scheme.
Named Capital Chicken the "investment scheme" targeted mostly corporates who wanted to invest in chicken business but didn't want to directly get involved in the business.
"We are an agribusiness contract farming partnership enterprise who rear poultry on behalf of individuals who wish to earn an income out of poultry farming but are limited by a number of factors including but not limited to limited skills, no access to land , insufficient capital , lack stable market and time," the company's website reads.
Capital Chicken was headquartered at Plot 74, Kanjokya Street in Kamwokya and another branch at Nyumba  Kubwa on Ben Kiwanuka street all in Kampala.
They also told investors they had a farm in Mukono from where they allegedly reared the chicken and to prove this, they would throw around photos depicting a chicken farm.
The company welcomed investments between shs1 million to infinity for individuals whereas there was also an allowance of investing as a group by pooling resources where at the end of every month one would get profits amounting to 15% of their total investment.
The fake investment scheme operated in such a manner that made its members trust it by signing contracts that were binding both parties.
The amount would be paid at the end of five months since this was the expiry of each contract and a member had the liberty to choose whether to get only the profit and the initial capital stays to make another profit.
For example, if one invested shs10 million, they would be earning shs1.5 million every month which would accumulate to shs6 million at the end of the five months.
To gain trust of the members, the company said it was registered and that the members' investments were insured.
Meanwhile, the company recently released a plan of setting up chicken selling shops in various parts of the country that it said it was going to roll out and asked "investors" to get ready to own the shops.
Instilled trust
A number of victims that the Nile Post spoke to said the company had instilled trust in them that it was legitimate and saw no need to worry about running away with their money.
"I invested shs3million in Capital Chicken and twice, I was able to get shs1.8 million after the end of my five-month contract. I was expecting to get money on the third time," a victim who preferred anonymity told this website.
For the company that started around 2022, members trusted it so much having invested and got paid more than twice.
The company also welcomed groups like saccos to invest in it as a quick way to make profits but also retain their capital without incurring losses.
At the end of the five-month contract, the company employees would call investors to ask them for instructions.
They would call to inform the investor of the expiry of the contract and ask whether to reinvest the capital, or the whole amount including the profit.
In case the investor chose to take out the interest and the capital remains to make more money, they would give them three options including electronic fund transfers, mobile money or even handing cash personally.
This was the routine that made "investors" comfortable with the company but little did they know that behind the calm, lay a violent storm that would later fleece them of billions.
Targets diaspora
The company mostly targeted Ugandans in the diaspora, especially those working in the Middle East.
Many of these feared sending their money back home considering the many stories of being fleeced by relatives.
These therefore were convinced to invest in Capital Chicken as a way of keeping their money but also having it accumulate profit.
A number of these are currently crying foul after losing their hard-earned money.
The company also identified a number of media houses, including TVs and radios where they placed adverts asking members of the public to invest in the chicken rearing business.
On the company website, the media houses described as partners are named but the company also hired social media influencers to "make noise" for it.
Red alert
Last month,  there was a red alert to "investors" about Capital Chicken.
The Capital Markets Authority issued a statement warning that the company was not regulated by
them.
In caveat emptor, the statutory body responsible for regulating and promoting the development of capital markets in Uganda said it had received various inquiries seeking guidance on the widely publicized "investment opportunities" by among others, Capital Chicken Limited but warned the public against the company.
"The general public is hereby advised that the said entities have not sought the approval of the authority to offer investment contracts to the general public. It is important to note that in the absence of regulatory oversight, investors in unregulated investment activities have limited recourse in the event of unfair treatment, loss or other challenge faced in their investment journey," CMA said in a statement.
"Accordingly, members of the public are urged to participate in investment opportunities approved or regulated by CMA or any other relevant regulator, and are further urged to seek investment advice from licensed investment advisors or other legitimate professional in order to make sound investment decisions and avoid being a victim of investment fraud."
Capital Chicken responds
In a statement released the following day, Capital Chicken broke its silence about the caveat emptor by the Capital Markets Authority.
"We would like to clarify that Capital Chicken SMC LTD is a farming partnership company operating under the Companies Act of 2012 as we explain in numerous inquiries about us pulling resources together in partnership. We would like to assure our clients that we are running a business and their capital is safe with us as exhibited with our Sanlaam insurance cover and good quality breeds that ensures proper return rates," management of Capital Chicken said in an 18, September, 2023 statement.
Problems
Since August, Capital Chicken had started experiencing hiccups where investors didn't receive their interest at the end of the contracts.
"When the contract expired, they called me to go and renew my contract after which I would receive my interest. Whereas the money was supposed to come in two weeks, a month elapsed and there was nothing," a victim of the scam told the Nile Post.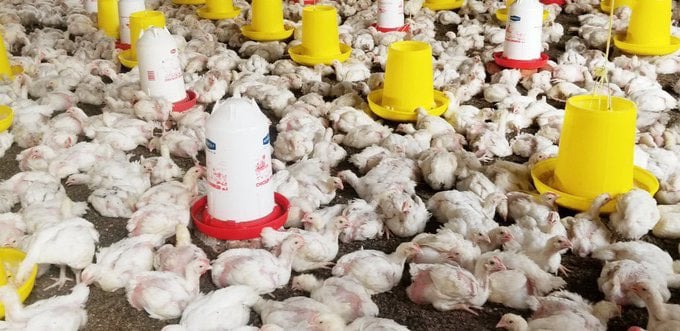 She said when she insisted on getting her interest paid and visited the company offices in Kamwokya, she was told there were challenges with suppliers of chicken but the money was coming soon.
"By the time the company closed its offices, they were no longer picking my calls and sometimes their known phone numbers were off," she said.
Another victim says when she went to the company offices in Kamwokya, she found them closed with no one whereas there was a notice on the gate indicating that Capital Chicken staff had gone for a retreat and would return on Monday, October, 2, 2023.
"When I went there on Monday, the notice was still on the gate but it was closed and there was no one. Even the police officers who had been deployed at the entrance were nowhere to be seen," she said.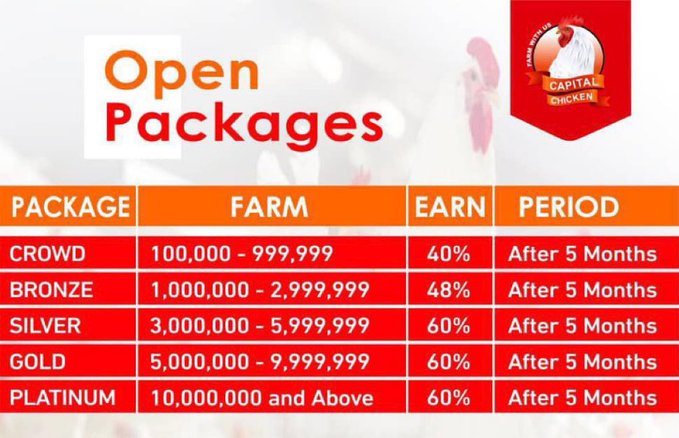 This website has separately learnt that employees were astonished to learn that the CEO of the company had vanished with investors' cash and has since fled the country.
A number of his deputies followed suit in fleeing the country whereas employees are in hiding for fear of being lynched by investors.
The Nile Post has also learnt that at least two employees of Capital Chicken Limited have been arrested by security as the hunt for other managers continues.
Staff duped
In a status on the company' official Whats App number, the administrator who seemed to be speaking on behalf of the staff seems to have admitted that the company fleeced not only Ugandans but also its employees.
According to the status, the administrator said for two years they had been made to believe the company was legitimate but the latest developments said otherwise.
"We believed in the vision and mission of the company and we have seen it work and benefit thousands of individuals in Uganda grow their income through this partnership . However, on Thursday night, we got a directive fin a group text chain to close offices by the director Capital Chicken as he was dealing with issues related to Capital Markets Authority as published in the newspaper weeks prior," the status said.
If the words of the author are to go by, he or she admits that even the employees were duped by the company.
Past scams
The development comes barely a year after BLQ, a sports betting scam fleeced Ugandans of billions of shillings before vanishing in thin air.
Up to now, the victims have never got justice.
Similar scams in the past included World Global Mobile Network that operated in 2012 used Mobile Network Technology via voice over internet protocol technology like Skype to market its membership strategy.
This required affiliates to purchase a package and have access to global mobile network simcard which could allow you make calls and SMSs.
Promoters of the scheme were promised payment each time they made calls or send messages and when they recruited friends and families, they could make more money each time their recruits made calls or sent messages.
The scheme according to the investigation took advantage of the fact that communication using phones is a necessity in people's lives and therefore claimed to be sharing their profits with their affiliates.
Telex Free
This was the most popular Ponzi scheme that operated in Uganda in 2013 and fleeced many Ugandans of huge sums of money.
It was a multi- level internet marketing scheme which had and start placing one advert per day on free classified sites as the company paid you $20 per week.
"Or you could purchase the family pack for $1375 which allowed you to place five adverts per day and earn $100 per week."
Promoters would not receive commissions on that product but instead they would pay in dollars so as to place dollars but the scheme eventually collapsed without compensating promoters.
Over shs7 billion injected in by promoters was lost when the scheme collapsed.
Adfast Inc
Also operating as Tesco trader, United HYIP League, Massive Ads and Bank Electro these also operated in 2013 and the promoters made them to appear as companies registered in the United Kingdom yet 90% of their traffic was in Uganda.
Under these schemes, affiliates are required to pay a specific amount of money for membership and are promised a guaranteed fixed return on investment.
The startup capital minimum for each of these was shs780,000 at Silver level paying a weekly fixed income of shs81,900 all the way up to the diamond level where investors would contribute up to shs31,200,000 and receive a weekly fixed income of shs4,680,000.
The promoters would then receive these funds through their back office as e-money but could only withdraw by paying for those who are joining.
"Without anyone joining, withdraw of funds was impossible."
There were several complaints by members for failure to withdraw their accumulated e- money and the administrators shut down the websites leading to collapse of the schemes.
Two people including Rogers Byamukama and Ronald Muramuzi were behind the schemes but the latter was arrested and charged with cyber fraud.
One Thor
After the closure of Telex Free based in Brazil, one of its lead promoters Misael Martin created One Thor where he claimed to offer a clear set or four primary product categories.
These included digital electronics, wellness (vital branded food supplements), wish energy drink and digital advertising.
Just like with Telex Free, promoters were promised commission for advertising products they had first purchased for either $350 for individuals and $1500 for the family package.
The promoters were to be paid a weekly promotion commission but the scheme collapsed and Ugandans lost over shs2 billion.
Amazon traders
This scheme claimed to be a technology driven financial services corporation that delivered value to its clients by investing in cutting –edge technological solutions.
The company lured the public into its net by asking them to invest money starting at junior level of between $50 to $200 up to director level of between $5000 and $20000 with promise of reaping big through daily returns of between one percent to 1.9% depending on how much one had paid for 52 weeks.
Despite claiming to be a European company, Alexa rankings showed that over 80% of the website's traffic was coming from Uganda, a clear indication that its administrators were from Uganda.
Other  Ponzi and pyramid schemes included World Ventures, Viral Angels, Prosperity club, Global finance, D9 Club, One Coin, DAG Coin, First Coin, Bux Coin, Dunamiscoin and Alliance in Motion.