The Ministry of Tourism, Wildlife and Antiquities(MTWA) through its  museums and monuments department is set to immortalize into animated series, some of Uganda's unsung heroes.
In series named "Super Heroes of Uganda" series to be screened on October, 6  ahead of the independence day celebrations at  the Uganda Museum in Kampala, government will be seeking
to celebrate and showcase Uganda's rich culture heritage through a captivating collection of books and animated movies.
Some of the native stories like the  Barefootballers, The return of Princess Nakayima, Kibuuka god of war and Ndahura the Silverbacks, shall be uploaded on TravelTube a digital platform for global market.
Jackline Besigye Nyiracyiza, the assistant commissioner Uganda museum and monuments said that the Superheroes of Uganda series, is a testament to the power of storytelling and cultural preservation and promotion.
She further noted that they want to engage the public most especially youths through visual because most of them love to see animations.
"Youths want to see things in cinemas whereby they use 3D, and so TravelTube is trying to tap into that public. The public that is not only interested in going to the museum but seeing the museum in other spaces," Nyiracyiza said.
She  noted that Uganda has so many unsung heroes who have  contributed  alot in different aspects but have not been  recognized, adding that they will be recognized with these series.
"Uganda is blessed with a lot of cultural interests and as government department, we have been interacting with TravelTube and we have documented alot of what we have in the Uganda museum and we found out that we have alot of Unsung heroes who have contributed a lot and we thought it would be good for this country to talk them."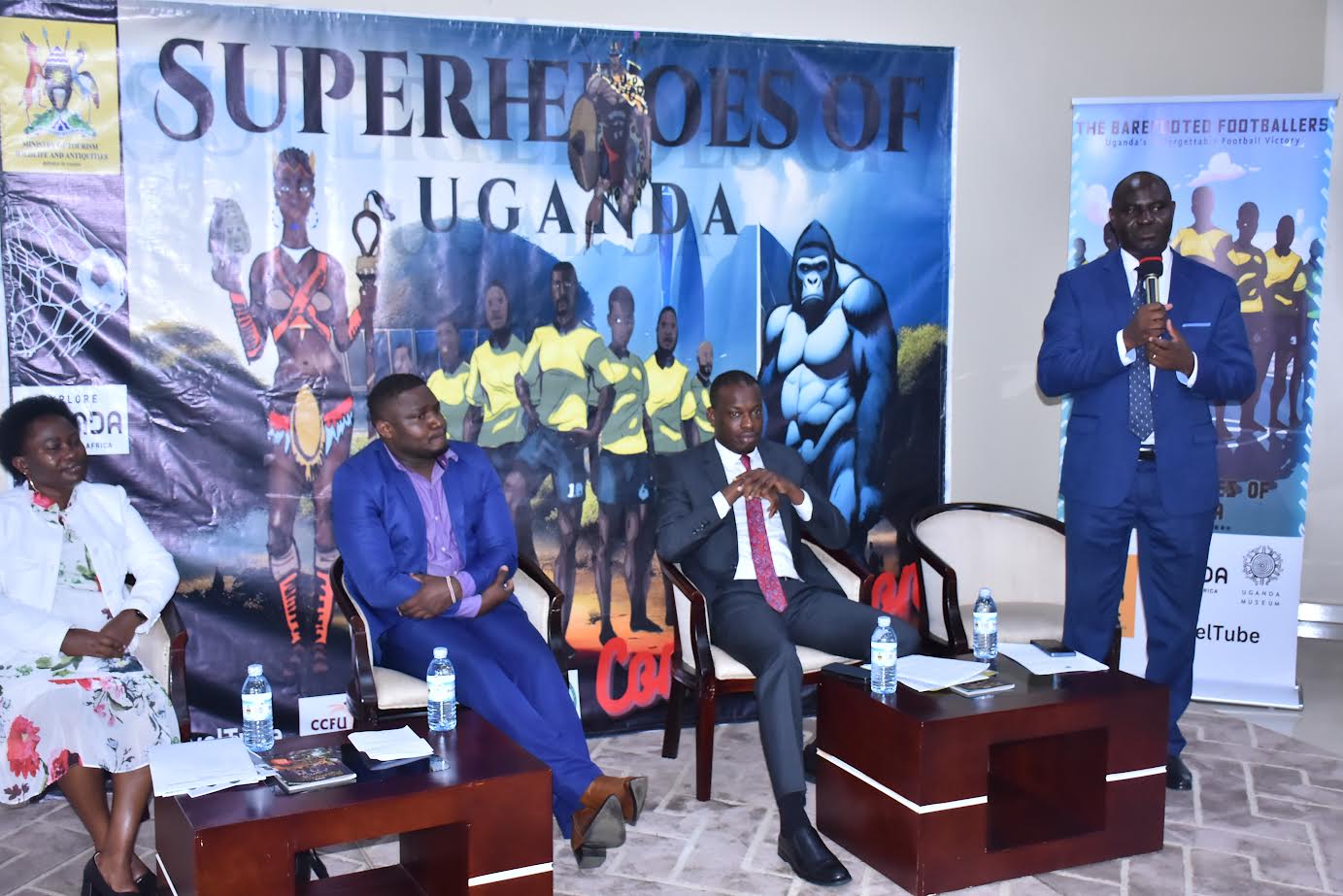 According to Nyiracyiza, by doing this, they looked at those iconic people and wanted to see what they have within the museum that is not known to the public and among these were the barefootballers who won the match when they were barefoot.
Elijah Watendo, from TravelTube who are the producers and distributors of this project, said he was inspired by the "Kibuuka" story which was narrated to him by a Uganda museum guide on his first visit to the museum.
Watendo added that TravelTune is bringing museums to the schools through 3D virtual reality metaverse and corporation.
He also promised to  digitalise all monuments so that when people move next to that monument, their smart phones will automatically give them the details of those monuments.
The State Minister for Tourism Wildlife and Antiquities, Martin Mugarra, Speaking to journalists said this described the initiative as being welcome now that  the Ugandan story is taken out to the people wherever they are
"This is a very good opportunity to sell the Ugandan story out there and I think you can see it from the story for "The return of Princess Nakayima" . The  reason as to why the museum is also important in the department is to give the real actual story," Mugarra said.
Minister added that the colonialists stories about Africa are necessarily not true, adding that there is need to change the narrative.
"There are so many things that Europeans didn't discover when they were here, so now its the right time to tell our story to the audience out there not the colonial kind of narrative that has been going on here."
Mugarra pledged support towards the Super Heroes of Uganda series and also encouraged Ugandans to throng the Uganda Museum for the  official launch .
According to officials, the  "Superheroes of Uganda" series is an extraordinary endeavour that melds ancient legends with contemporary storytelling, presenting a dynamic fusion of folklore and modern heroism.
This visionary project seeks to empower Ugandans by giving voice to their unique stories, cultural nuances, and historical narratives, while also fostering a sense of national pride and inspiring audiences to embrace their own inner superhero.
The animated movies will be available for streaming on TravelTube, with a special release scheduled for the October, 9, in honour of the independence day.