The Ministry of Finance Permanent Secretary, Ramathan Ggoobi has welcomed the idea of a partnership between Simi Mobile and the Uganda Telecom Limited after rebranding it to Uganda Telecommunication Corporation Limited (UTCL) to market locally manufactured mobile phones.
Ggoobi said the partnership will be a win-win situation for both companies and government at large.
"Such companies like Simi Mobile are what the country needs to come here in big numbers since they help the country improve ICT. Now that they say they can partner with our revamped Uganda Telecommunication Corporation Limited, it is a good idea that we will take forward to ensure it is successful," Ggoobi said.
The Secretary to the Treasury was on Saturday speaking during his visit to Simi Mobile assembling plant in Namanve Industrial Park.
He said government revamped UTCL to ensure the country has information security, adding that partnering with Simi Mobile will help further drive this goal.
"Simi Mobile can analyse and see how as government we can help them work together with UTCL to produce gadgets to support the market so that every Ugandan owns a smartphone. This will help drive the transformation agenda."
The Ministry of Finance Permanent Secretary however insisted that quality and price will be key in ensuring the locally made mobile and smartphones are bought by Ugandans.
"We should work on the quality of the products. We should pursue quality and once this is done, the price should be competitive that our Ugandan made mobile phones and smartphones are unbeatable or comparative to anyone and Ugandans will buy them. There would be no reason for Ugandans to buy other mobile phone brands when they can buy our own," Ggoobi said.
"Once the quality is good, the prices are competitive and we advertise well, there is no way Ugandans will not buy these phones."
Simi Mobile, a local firm based in Namanve Industrial Park  and a subsidiary of Engo Holdings Group Limited was commissioned by President Museveni in 2019 .
Simi is Uganda's first multi-billion mobile phone and computer assembling factory.
 At full capacity, the factory can run three production lines; each line with daily production of 2,000 feature phones, 1,500 smart phones, 800 laptops, 2,000 chargers, 4,000 USB cables and 4,000 sets of earphones and directly employing more than 400 staff.
In 2020, the company exported 18,000 locally-made mobile phones that included feature and smart phones to Morocco.
Speaking on Saturday, the Simi Mobile chief executive board secretary, David Beecham Okwere said the company has stepped up its production with phones already being sold in the local market and others exported to various markets.
"We exported our first products to Morocco and we have never looked. We currently export phones to Kenya, DRC, and Tanzania and now with the African Continental Free Trade Area, we want to use that avenue to have these products spread to all African countries as a Ugandan identity product. We want our products to be the flagship phones for Uganda," Okwere said.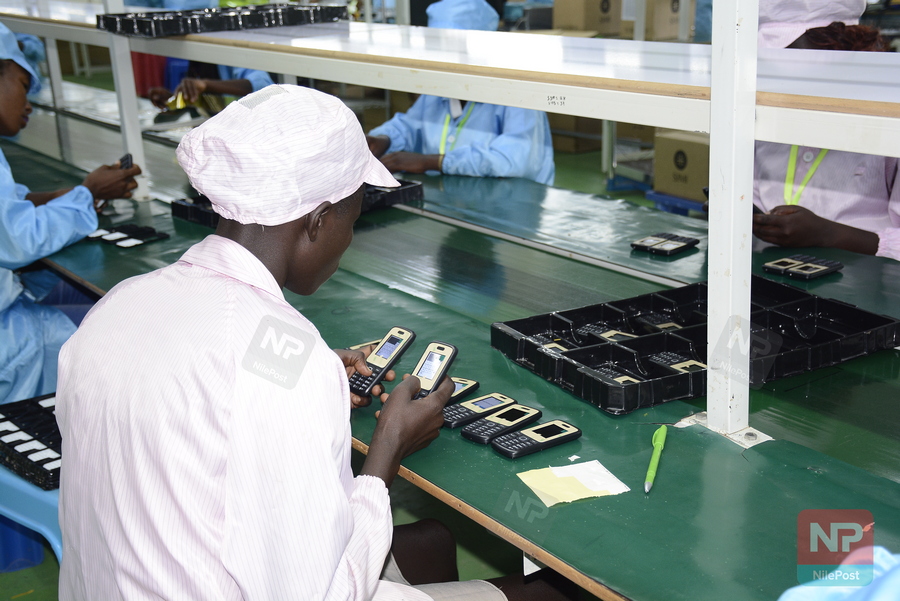 "As South Korea is known for manufacturing Samsung phones, Uganda should be known for Simi mobile phones. We also want to partner with universities so that ICT students can do internship from here and this becomes a centre of excellence in testing creativity in the country."
He decried competition from already established companies importing fully assembled phones as well as those who smuggle phones into the country and end up selling them cheaper than the locally assembled phones which is to Simi Mobile's disadvantage.
Okwere said in all this, the company needs government support to be able to realise these dreams that will not only help them but also increase government taxes and create jobs for the citizens.
Ggoobi impressed
The Ministry of Finance Permanent Secretary said he was impressed with the plan for Simi Mobile that he said government is ready to support.
"Our government's policy is to facilitate investors to make money as you help us as a country to transform ourselves by getting jobs for the young people, getting our products exported to other countries. I am impressed that you also producing for export. Economies only transform when companies develop export discipline and ability to export. This is why China, Japana, Taiwan, Singapore, South Korea, Malaysia transformed so fast and they were able to integrate their economies into global economies by exporting.  This is not a Chinese factory but Ugandan and our policy as government is to support them to remove those bottlenecks they are facing and be able to do business in a more cost-effective way," Ggoobi said.
He however asked the company to list ways in which it wants government to help it realise its plan.
Moses Kaggwa, the director economic affairs at the Ministry of Finance asked Simi Mobilise to think about expanding to start manufacturing the phones locally, other than only assembling them .