By David Ijjo
Senior leaders and security commanders in the Karamoja Sub-region have called on the community to encourage armed cattle rustlers and 'Karachunas' to take advantage of the existing amnesty program and surrender all illegal firearms.
The plea was made during a security and community mobilization engagement held at Losilang Catholic Parish grounds in Kotido district attracting hundreds of community members from Kaabong and Kotido districts.
Ambrose Onoria, the Resident District Commissioner for Kotido, emphasized the importance of the amnesty offer provided by President Yoweri Museveni urging them to heed the call and return all firearms to the government.
"The president has granted amnesty to those who voluntarily hand over their guns. We urge you to persuade the cattle rustlers to take this opportunity and surrender their weapons to the security forces,"Onoria said.
He  noted  that individuals who voluntarily surrender firearms will be registered as direct beneficiaries for existing government programs and incentives.
Col David Byaruhanga, the 405 Brigade Commander who represented Maj Gen  Don William Nabasa, the 3rd Division Commander of the Uganda People's Defence Forces (UPDF), appealed to the 'Karachunas' to follow the examples set by Mzee Apei Lokut and Igira Museveni.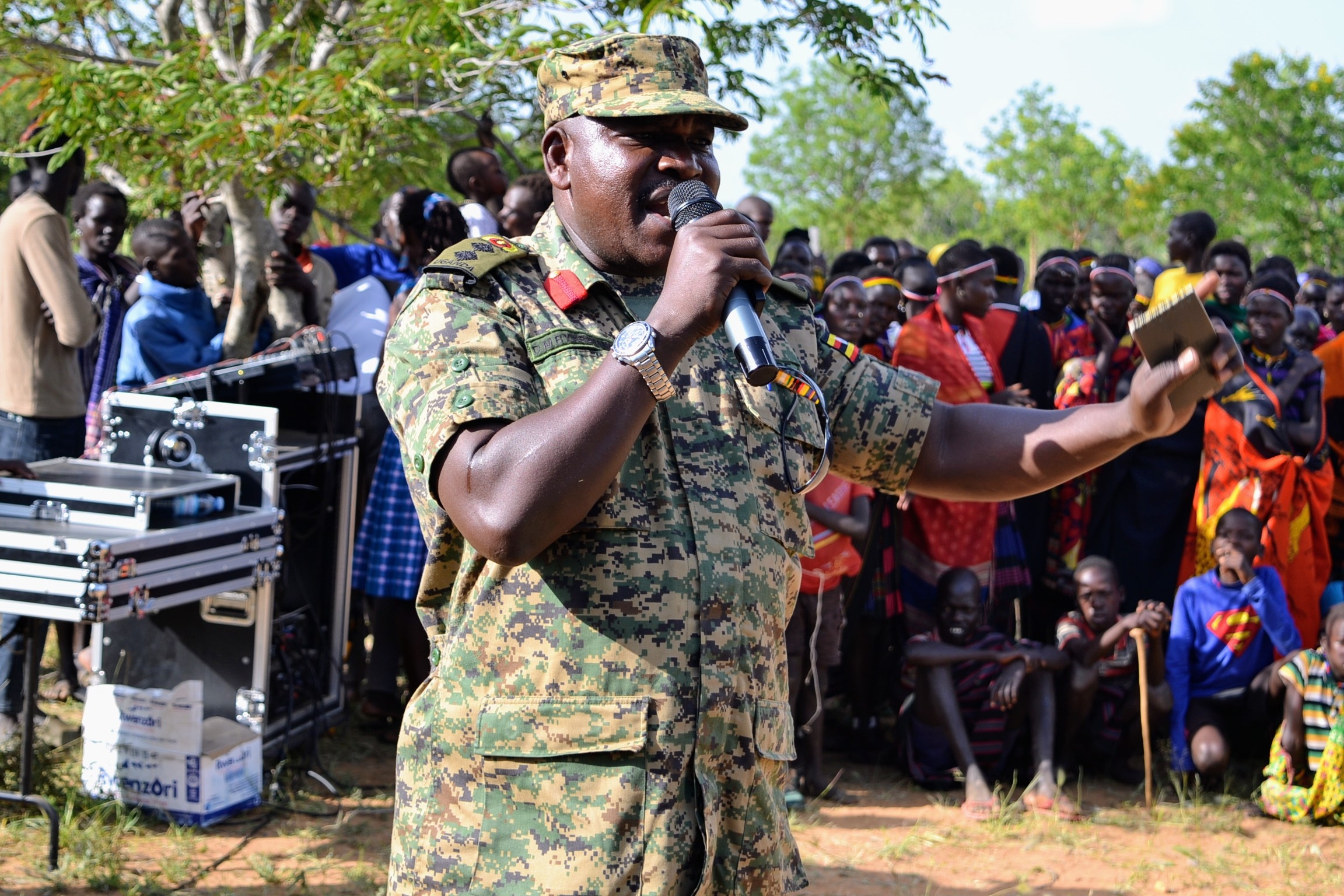 These individuals surrendered their firearms and now work closely with the security forces as advocates for peace.
"We appeal to the 'Karachunas' to emulate the examples of Mzee Apei Lokut and Igira Museveni, who surrendered their guns and now work closely with the security forces as advocates for peace," Col Byaruhanga said.
During the mobilization drive, Hon Joseph Lokut Mukasa, the Vice Chairperson for Kaabong District, called for peaceful communal grazing of livestock from both Kaabong and Kotido districts at Moruitit, a common grazing belt.
"We should peacefully graze our animals from both districts at Moruitit as a common belt."
Fr. Joseph Lokiding, the Catholic Priest at Losilang Parish, encouraged the community to embrace the rule of law and attend prayers for repentance.
The ongoing disarmament operation, code named "Usalama Kwa Wote" or "Peace for All," is a joint effort by the security forces in collaboration with local governments in northeastern Uganda.
The operation employs both voluntary and forceful approaches to ensure the surrender of illegal firearms.
Present at the event were members of the Kotido District Security Committee (DSC), security officers from UPDF and the Police Region, local council representatives, civil leaders, and other stakeholders.