Uganda Baati Limited (UBL) through Safal Foundation a Corporate Social Initiative arm of the Safal group in partnership with Rotary Club of Kololo-Kampala have handed over an ultra-modern infrastructure to Nyamifura Primary School committee.
Situated in Kagorogoro village, Kabwooma parish, Nyakajembe Sub County in Rukungiri District, Nyamifura Primary School caters to 415 students from surrounding villages.
The school has been facing a challenge of inadequate infrastructure and poor state of the available structures with only three buildings in place for seven classrooms.
Working in close collaboration with the Rotary Club of Kololo – Kampala, Uganda Baati Limited undertook the complete roofing of the school, reigniting hope among the students and instilling a sense of resilience.
By employing local villagers for the construction, the project provided employment opportunities and fostered a strong sense of community involvement.
"Education is one of the key focus areas in our social initiatives, and we are delighted and filled with pride to have made our contribution towards the rebuilding of Nyamifura Primary School. We firmly believe that every child deserves access to education and a safe environment to study. Through this initiative, we are not only improving the lives of the students but also creating a safe and nurturing learning environment, paving the way for a better tomorrow," said George Arodi, the Uganda Baati CEO.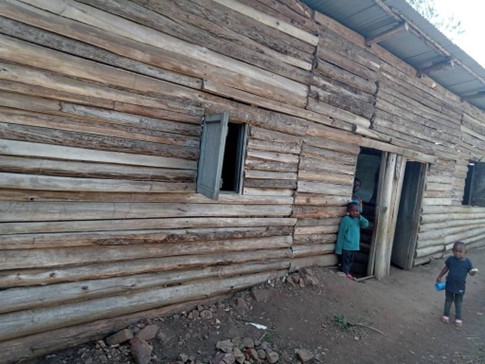 Security Minister, Maj Gen Jim Muhwezi hailed the Rotary Club of Kololo-Kampala and Uganda Baati for generosity.
"We the people of Nyakagyeme, are exceedingly grateful to the Rotary Club of Kololo for constructing a four-classroom block at Nyamifura PS. Your act of kindness will help to brighten the future of these children. We are glad to be associated with you."
He thanks Moses Turyatemba, the outgoing president of Rotary and rotarians at large for exhibiting the true spirit of service beyond self.
Moses Turyatemba- the outgoing president of the Rotary Club of Kololo-Kampala hailed fellow rotarians for their contributions.
"We greatly   appreciate the key role played by Uganda Baati Limited who are our corporate partners of the year and we look forward to a continuous partnership. I also wish to extend my sincere thanks to all the members of the Rotary club of Kololo Kampala, well-wisher and all those who studied from Nyamifura primary school for their support."