In an unprecedented collaboration, NBS Television, Uganda's leading TV station, has been named the official TV partner for the highly anticipated Boyz II Men in Uganda concert.
Alongside NBS Television, Afro Mobile, the innovative streaming platform by Next Media, has been designated as the Official Experience Streaming Partner. The partnership promises to deliver an unforgettable entertainment extravaganza for Ugandan Boyz II Men enthusiasts.
The Boyz II Men in Uganda concert, scheduled for Sunday, June 11, 2023, at the prestigious Kololo Ceremonial Grounds, is set to mesmerize fans with the iconic sounds of one of the greatest R&B groups of all time.
This monumental event will not only showcase world-class performances but will also coincide with significant milestone for NBS Television, which is celebrating its 15-year anniversary on Thursday, June 15, 2023.
Joseph Kigozi, Deputy Group CEO of Next Media, expressed his enthusiasm about the partnership, stating, "We are thrilled to be the Official TV Partner for the Boyz II Men in Uganda concert. This collaboration exemplifies Next Media's commitment to providing our audiences with extraordinary experiences and redefining entertainment in Uganda. We are honoured to support Capital FM Uganda's visionary effort to bring this legendary group to Uganda."
Capital FM Uganda, a revered legacy radio station, was also present on the launch of this partnership, which was live on NBS Television.
Capital FM Uganda CEO, Peter Mungoma, shared his thoughts on this groundbreaking partnership, saying, "The collaboration between NBS TV, Afro Mobile and Capital FM Uganda showcases the power of unity in the media industry. By joining hands, we are able to provide an unparalleled entertainment experience to our loyal listeners and viewers. This is a testament to our commitment to delivering exceptional content and celebrating the best of music."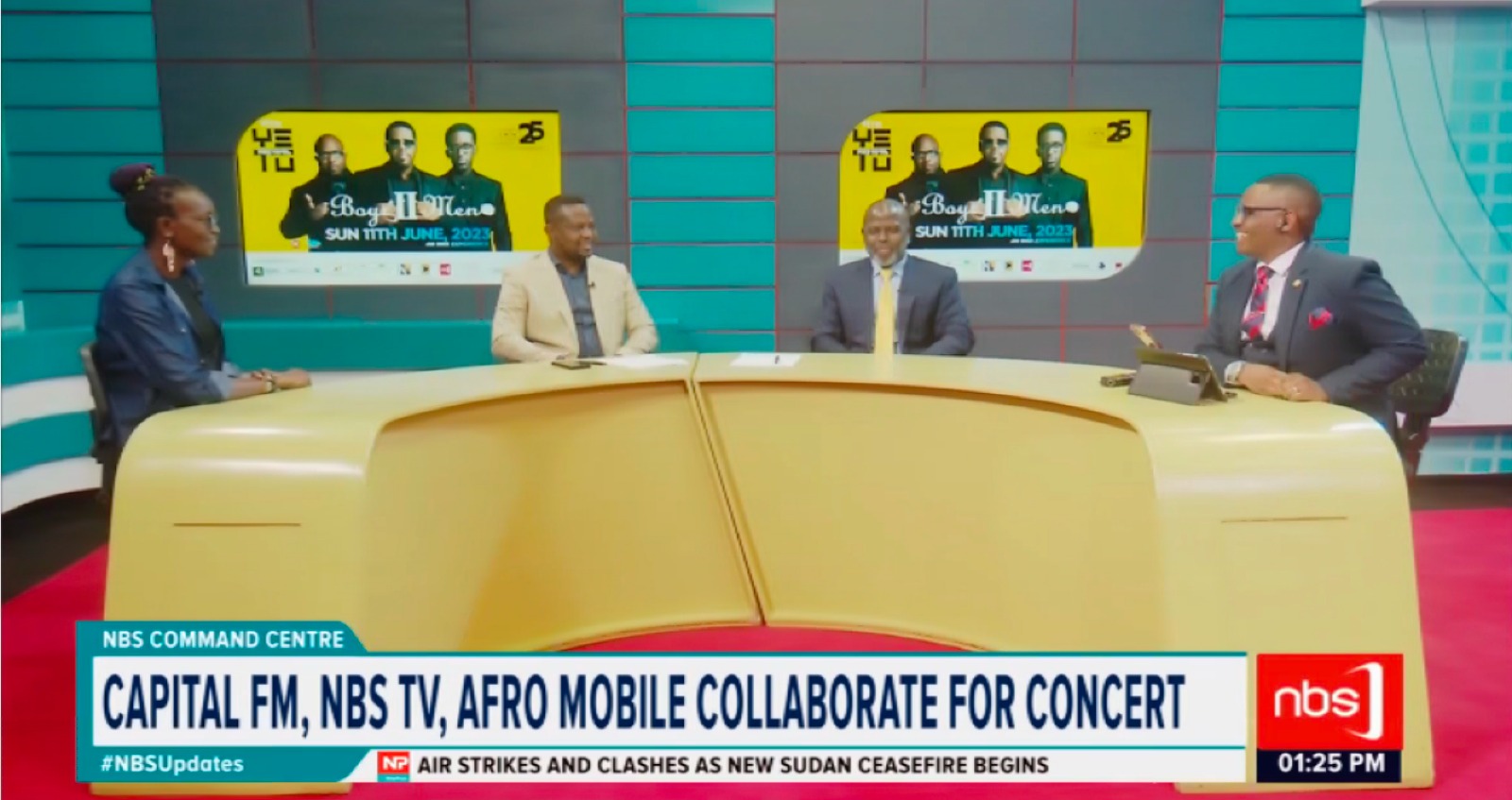 Patricia Osman, the PR Lead for the Boyz II Men in Uganda concert, said, "With this partnership, we are taking the concert experience to new heights. Fans will have exclusive access to behind-the-scenes moments, interactive content, and a seamless viewing and streaming experience. We are proud to work with Next Media and provide an immersive platform for music enthusiasts to engage with their favorite artistes."
This strategic partnership not only highlights the innovative approach of Next Media but also signifies their dedication to collaborations for the betterment of Uganda's entertainment industry. By leveraging the combined strengths of NBS Television, Capital FM Uganda, and Afro Mobile, this partnership aims to deliver an unforgettable concert experience that will resonate with audiences long after the event.
This seamless integration of technology and entertainment is set to captivate audiences and bring them closer to their favourite artists like never before.