The commander of Land Forces, Lt Gen Kayanja Muhanga has urged UPDF soldiers in Somalia not to be taken aback by the recent attack on one of the army's forward operating bases but rather get energized to fight the enemy.
Gen Muhanga who is in Somalia as part of the board of inquiry into last week's deadly attack reminded soldiers that "the weakened" Alshabaab 's method of using suicide bombers in vehicles as a weapon of choice is to create shock action, confusion, fear and use the opportunity to raid the bases.
He therefore advised them to conquer fear by being bold and aggressive.
"It is not that we don't fear to die. We do. However, a well briefed soldier conquers fear and takes timely decisive effect on to the enemy to bare."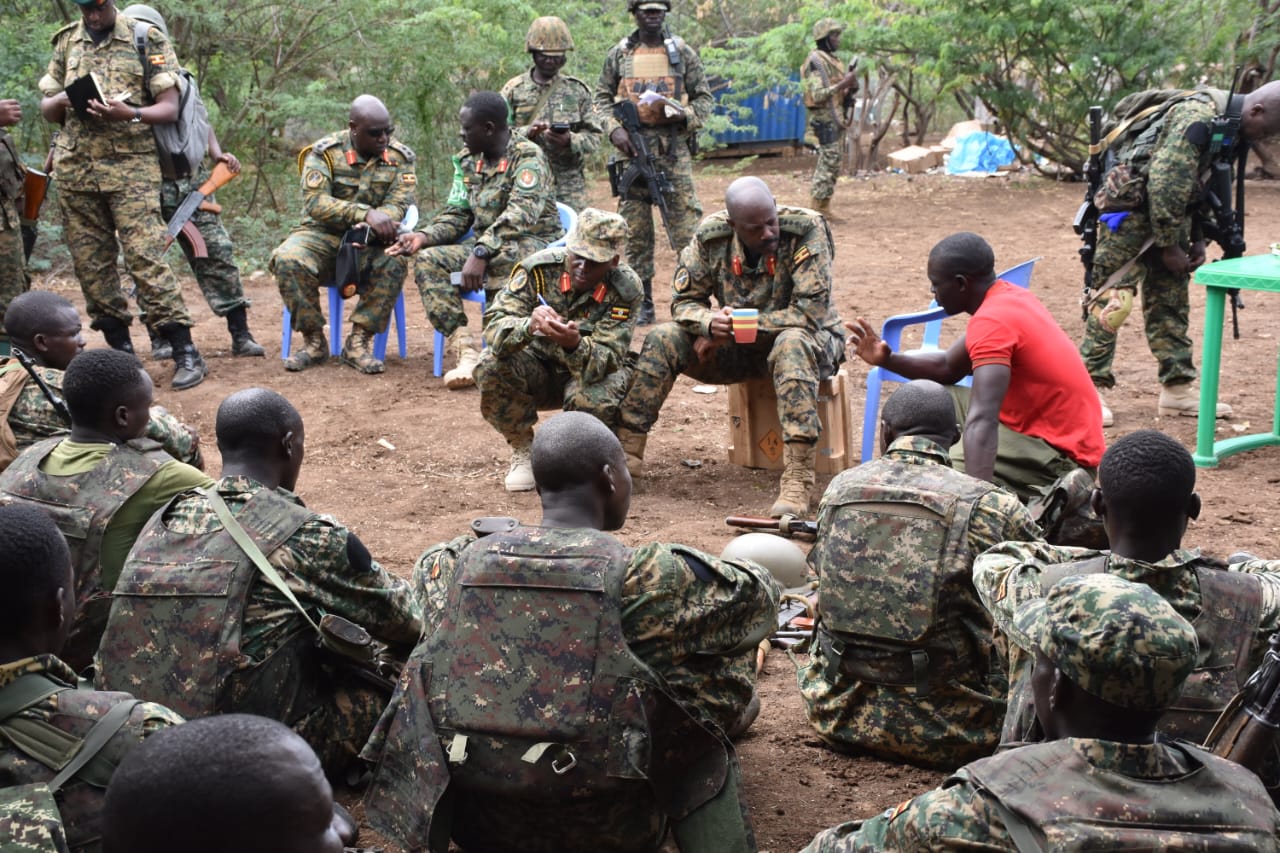 President Museveni last week said UPDF soldiers panicked when Al Shabaab fighters attacked their forward operating base in  Buulo Mareer, approximately 120km southwest of Mogadishu in Lower Shabelle region.
He said this could have contributed to the heavy destruction caused by the terrorist group that overran the base.
The panic, it seems, was totally unnecessary because, in fact, both the anti-tank ditch and our soldiers had destroyed the three vehicles of explosives outside the FOB. The suicide bombers or whatever, were forced to blow themselves up before they gained entry into the base."
He added, " Those defences are quite strong although they are guarded by light weapons. There were two tanks, two 14.5mm anti- air-craft guns and a 107mm Katyusha rocket launcher. Some of the soldiers there did not perform as expected and panicked, which disorganized them and the Al-Shabaab took advantage of that to overran the base and destroy some of the equipment."
The attack happened a few weeks ahead of another force draw-down by 2000 ATMIS troops next month but also a few months to the total withdrawal of all troops by December 2024 to ensure Somalia National Army takes full control of the country's security.
The Friday morning deadly attack also happened in Lower Shabelle region which has at one time been referred to as the headquarters of Al Shabaab.
In this region where Ugandan troops are located, several attempts by the Al Shabaab to attack the ATMIS troops have always been foiled.
On Monday, the African Union Transition Mission in Somalia (ATMIS) force announced it  had killed several Al Shabaab fighters in a retaliatory attack on the terrorists who last week attacked a UPDF forward operating base in Buulo Mareer.
"ATMIS and Somalia National Army troops have successfully pursued the fleeing Al-Shabaab terrorists involved in the ATMIS forward operating base attack in Buulo Mareer. A substantial number of the terrorists have been eliminated," ATMIS said in a brief statement.
They said the joint force also retrieved multiple weapons which had been looted from the forward operating base.
"ATMIS remains committed to fighting terrorism and will continue working closely with the Federal Government of Somalia, federal member states, and international partners to secure Somalia."