The government has  launched a new ferry MV Palm which will ease transport from Kiyindi landing site in Buikwe district to Kirongo in Buvuma Islands.
The new vessel will also help the locals to engage more in money-generating ventures that will see them come out of absolute poverty, according to the officials.
For years, farmers in Buvuma and Buikwe have complained about challenges in transporting their produce that includes bananas, coffee, maize, tomatoes, and beans to markets. They would complain of losses made due to delays by the old ferry.
According to the Minister for Works and Transport Gen Edward Katumba Wamala, the vessel has been fully paid for by the government, and access by the public is free.
It is intended to not only to promote the growth of oil palm in Buvuma but also other agricultural products to further improve trade.
The four-engine ferry was designed and built by Songoro Marine Transport Limited in Mwanza, Tanzania.
The ferry was also built with roll-off on both sides and this enables vehicles to be driven straight on and off the vessel.
The MV Palm was procured by the Ministry of Agriculture Animal Industry and Fisheries through the National Oil Palm Project with support from the international Fund for Agricultural Development and will be managed by the Ministry of Works.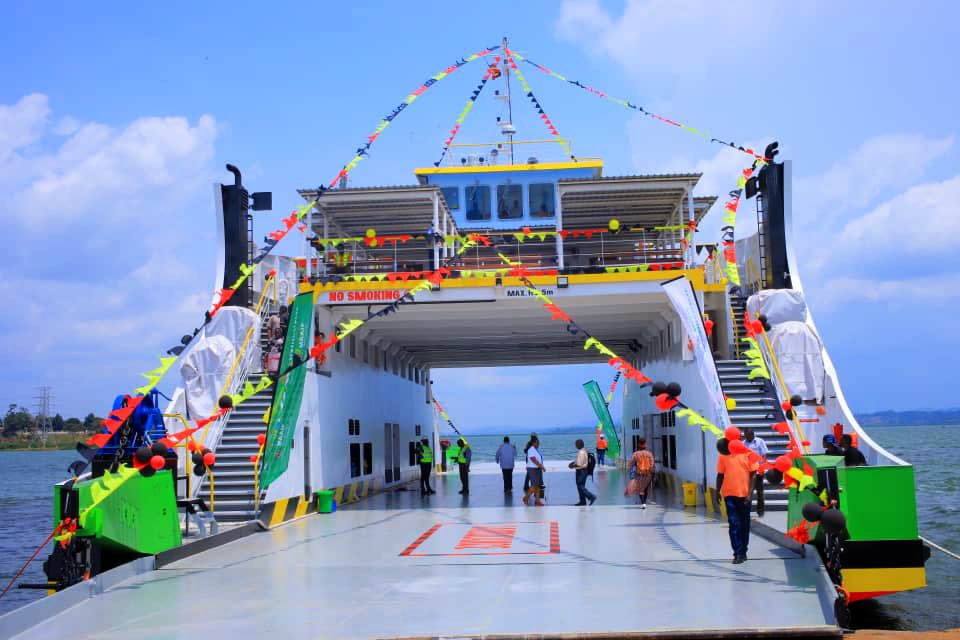 The vessel was procured at a cost of Shs 12 .5 billion, according to the officials.
Speaking at the commissioning of the ferry, Katumba Wamala asked the residents to actively get involved in agriculture and trade since now the government has solved the challenge of transport on water.
"This is the ferry that will link you to the mainland. The ferry has a 519-passenger seating capacity and carries 25 cars. It will connect Buikwe and Buvuma districts. It is for free," he said.
The Buvuma Member of Parliament, Robert Migadde expressed his gratitude, saying the vessel will now save time hence increasing production.
"I am glad that now we have the ferry and it can carry 25 vehicles but let's use it well. The transport will be easy. This ferry has the capacity to carry a big number of people together with their goods, so we are glad," he said
Gross weight of the ferry is 665 metric tons and its carrying capacity is 239 metric tons with provision for 519 seated passengers and 25 vehicles.
The ferry is propelled by 4 engines each with a power of 235 kilowatts.
The newly commissioned MV Palm is the latest to be added to a fleet of 12 ferries operated by Uganda National Road Authority (UNRA) across various water bodies in Uganda.
Buvuma, which is on Lake Victoria, comprises 52 islands.