People have given all sorts of reasons why they are still in an abusive marriage. Abuse is emotional, it is physical and psychological. Others have stayed because of the children and some are simply holding on because of fear of what people will say.
Marriage is supposed to be fun. Your person is supposed to protect you from any pain. Your partner for life is supposed to be your comfort zone. Your safe place. But how many people can actually say that about their marriage?
Isn't it sad that people swear to love and protect their partners in front of God and their families and yet break them in ways that can't be repaired? People are not scared of the wrath that comes when they go against everything Godly. It is scary as it is sad.
People are stuck in marriages where their partner walks back home smelling like another human's sweat. They don't have the courtesy to wash the other person off and want to get right inside their partner.
People have endured the most in the name of marriage but at what cost? Which type of human beings are you sending into that world after living or being raised in that chaos?
You don't just break your person when you continuously step out on them. You break the children that see their parents broken and alone. You send monsters into the world because you are not mature enough to find a way to live happily ever after.
If you can't control yourself or can't let go of cheating, is it possible to find a way around it? Is possible to have a happy marriage without conjugal rights? If sex is taken out of that marriage completely, could you find a way to live happily ever after?
Hear me out. People break down after knowing that their person is continuously physically cheating on them. But what if you were also allowed to find someone outside your marriage who makes you happy in that regard?
What if you decided that because you no longer find your person attractive in some way, you find a person to fill that gap and work on other parts of the marriage?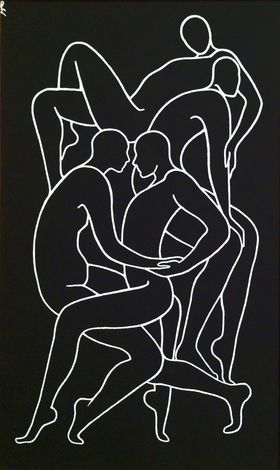 Open marriage means that you allow your life partner to find someone on the side who will sexually satisfy their needs and this is not one way. They should also be able to live with the fact that you also can find someone who will satisfy that part of them and be okay with it.
An open marriage has its terms and conditions. For example, you might decide whether you will tell each other about the other person in your life or not.
You might decide to keep sex on the table in the marriage or to get rid of it and focus on raising your children and creating a wealth legacy.
You might not agree with their cheating ways but you know that they are amazing business partners. So to keep that part of the marriage, you let them find sexual happiness and satisfaction somewhere else and come back to you in money terms.
When you take time to think about it, it might not be as bad as you think it is. People go the extra mile to protect parts of their partners they can't even control to keep a marriage but what if there was a way around it?
Read more about open marriages and how they work before you attack Miss D. Maybe it is the best solution to finally live happily ever after.
Till next time, try something new, you might like it.