The 2023 Academy Awards were full of emotional acceptance speeches, surprising turns and out-of-this-world movies. Here are some of the best moments from the year's biggest night in Hollywood.
Sunday's ceremony was an opportunity for Ke Huy Quan to catch up with his old friend Harrison Ford.
Quan, who starred alongside Ford in Indiana Jones and the Temple of Doom when he was a child, won best supporting actor for Everything Everywhere All at Once following a two-decade break from performing.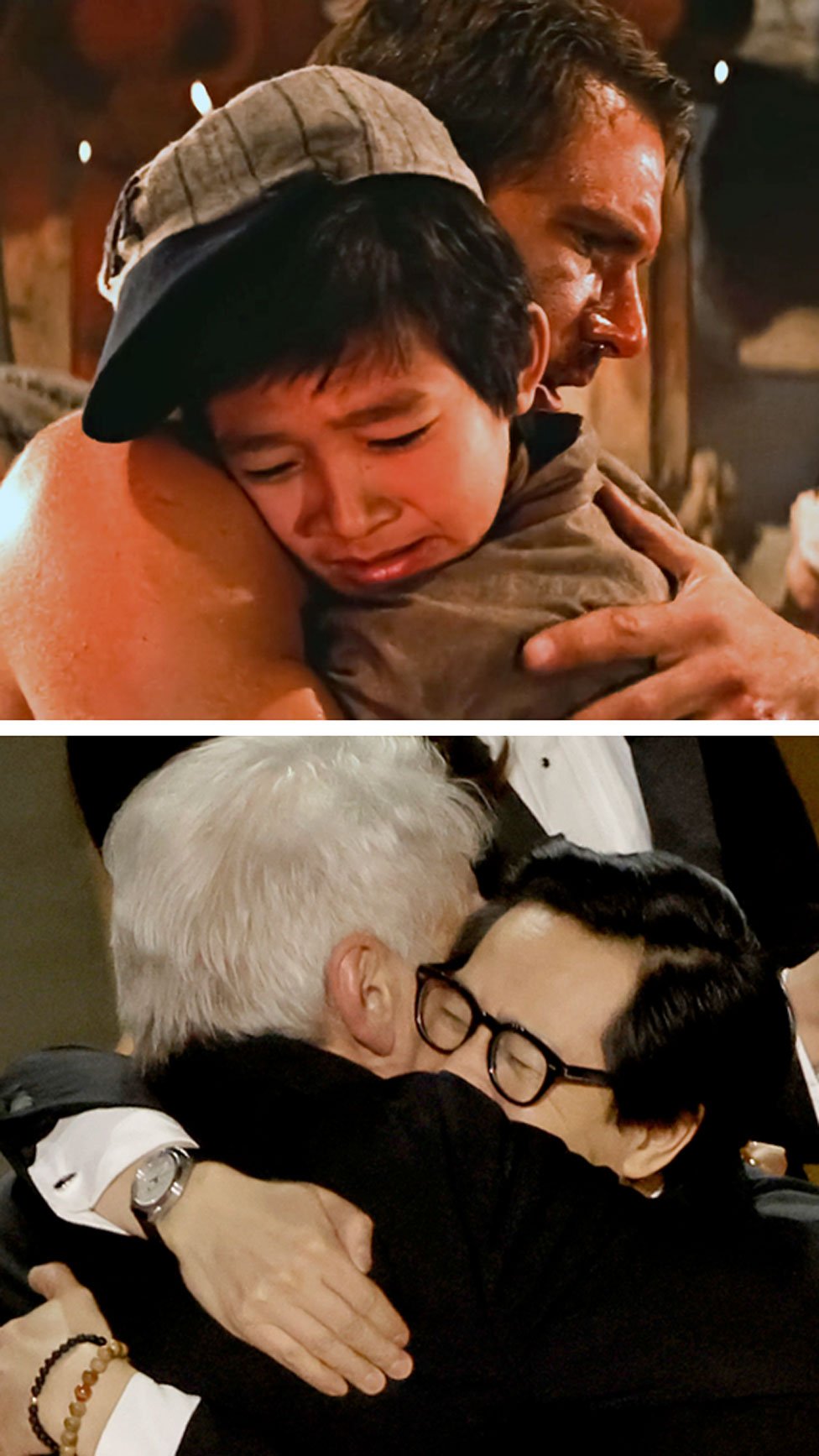 Lada Gaga made sure her vocals were centre stage when she performed without make-up and wearing jeans and a plain T-shirt.
The look for her performance of Hold My Hand, nominated for best original song, was a stark contrast to her earlier appearance on the not-so-red carpet, in a black Versace dress with a sheer corset bodice.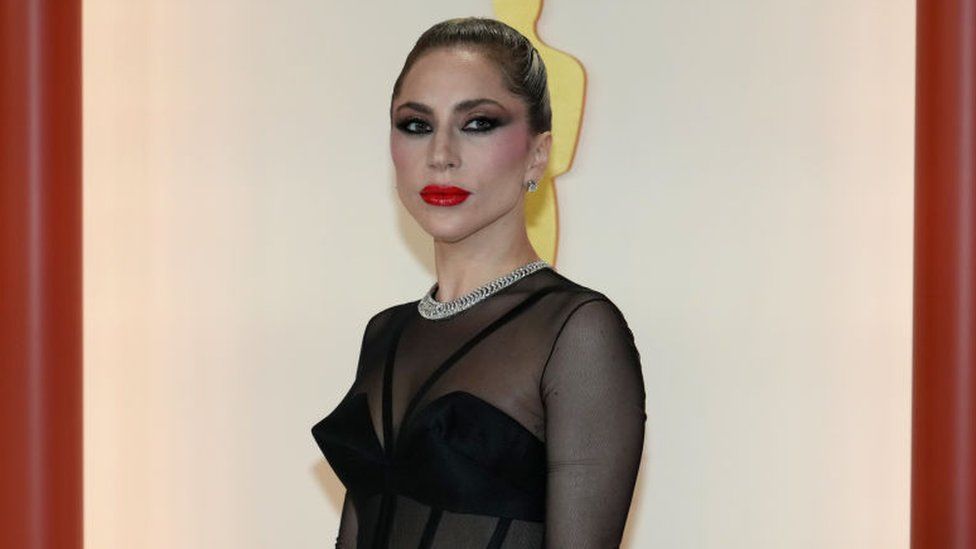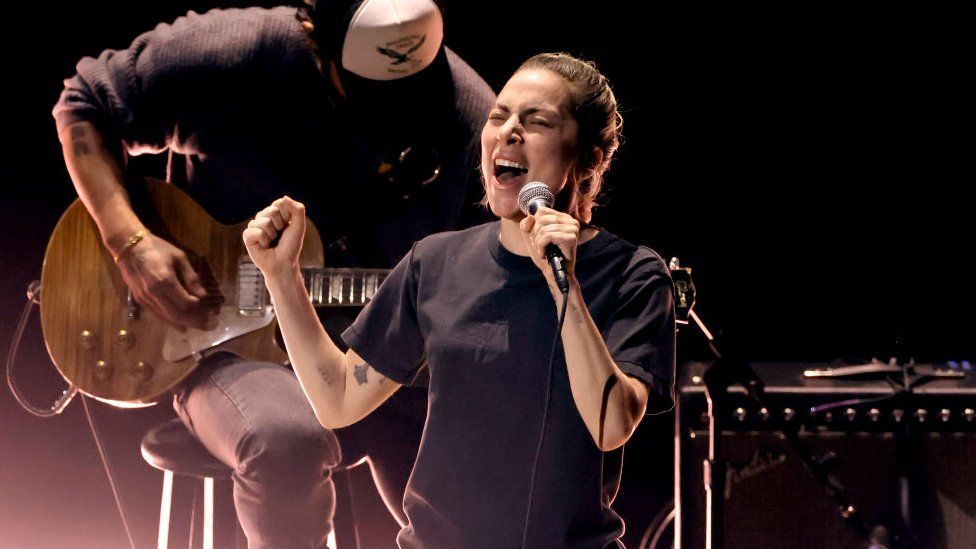 Hugh Grant talks up the benefits of moisturiser
British actor Hugh Grant's humour was a hit with the crowd at the Dolby Theatre.
When presenting the award for best production design with his Four Weddings and a Funeral co-star Andie MacDowell, Grant joked: "The purpose of this is two-fold.
"The first is to raise the vital importance of a good moisturiser. Andie has used one every day of her life, I have not."
Grant then gestured to MacDowell, saying: "Still stunning." He then gestured to himself: "Basically a scrotum."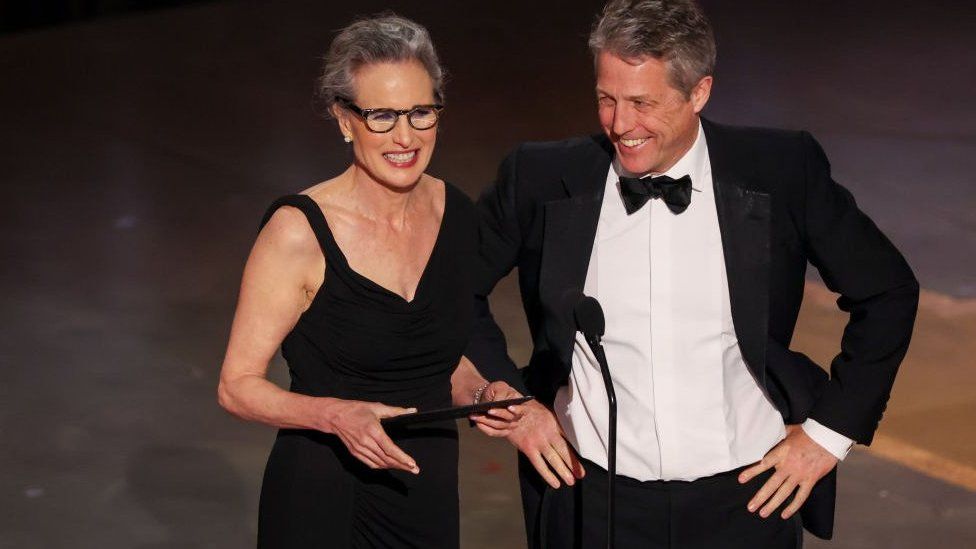 John Travolta's tearful tribute to Grease co-star
When presenting the In Memoriam tribute for Hollywood figures who have died last year, John Travolta offered an emotional tribute to his Grease co-star Olivia Newton John.
"We remain hopelessly devoted to you," Travolta tearfully said, referencing the iconic song by Newton John.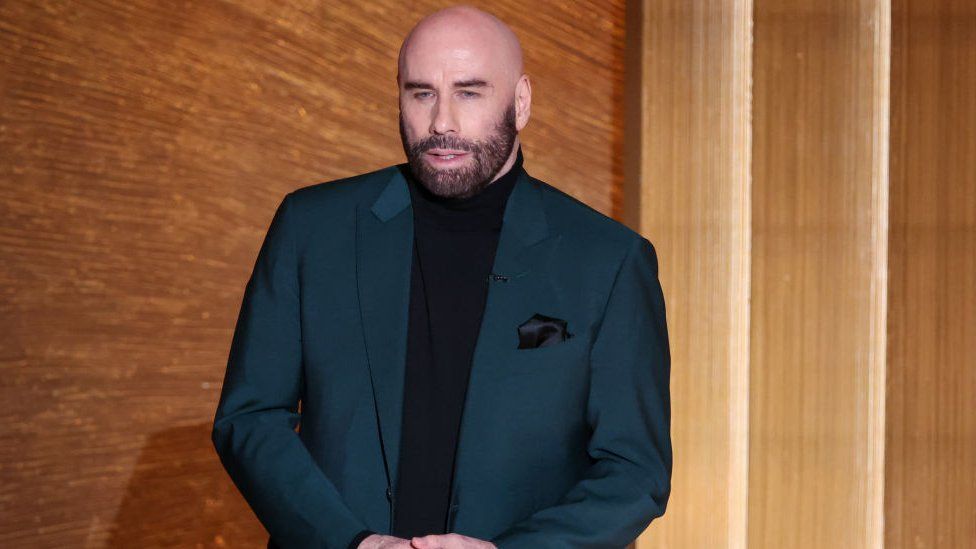 Jimmy Kimmel addresses The Slap
The late-night talk show host returned to host his third Academy Awards ceremony. He quickly addressed last year's Oscars controversy, when Will Smith slapped Chris Rock on stage.
"We want you to have fun, feel safe and, most importantly, we want me feel safe. So, we have strict policies in place," Kimmel said.
"If anyone in this theatre commits an act of violence at any point during the show, you will be awarded the Oscar for best actor and permitted to give a 19-minute long speech.
"But seriously, the Academy has a crisis team in place," he added. "If anything unpredictable or violent happens during the show, sit there and do absolutely nothing. Maybe even give the assailant a hug."
… and brings a donkey on stage
In an ode to the Irish film Banshees of Inisherin, Kimmel later brought a donkey on stage.
"She's a certified emotional support donkey. At least that's what we told the airline to get her on the plane from Ireland. If you're feeling sad or need a hug… Let's get you back on that Spirit Airlines flight now."
Cocaine Bear makes an appearance
Elizabeth Banks presented the award for best visual effects – accompanied by a very hyperactive grizzly.
"I recently directed the film Cocaine Bear and without visual effects, this is what the bear would look like," Banks joked.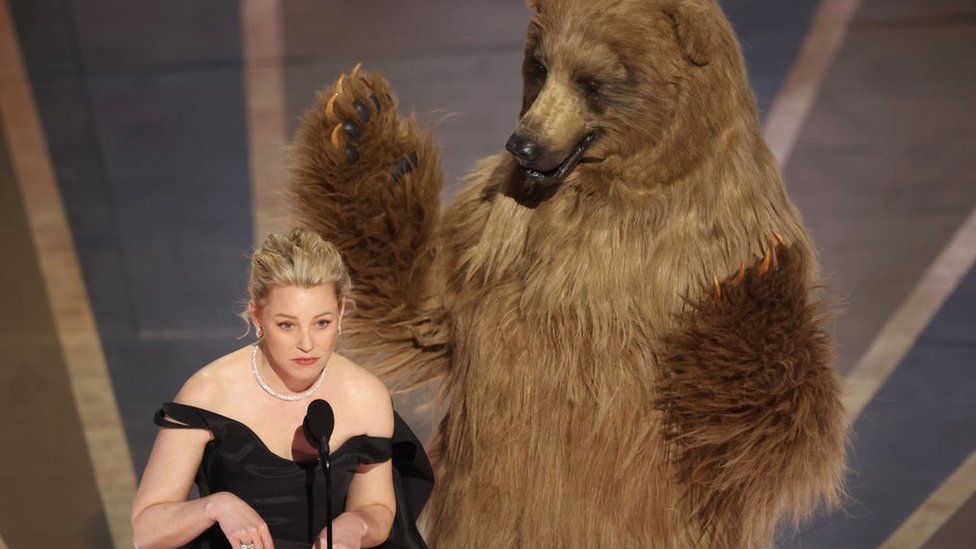 Source: BBC