The leader of the National Unity Platform (NUP) Robert Kyagulanyi, alias Bobi Wine has challenged leaders at all levels in Uganda to demand for the unconditional release of all political prisoners.
Kyagulanyi made the remarks shortly after donating back to school requirements to over 100 children who lost their parents, those in prisons, kidnapped and those whose parents were tortured and suffered permanent disability at his home in Magere, Wakiso district.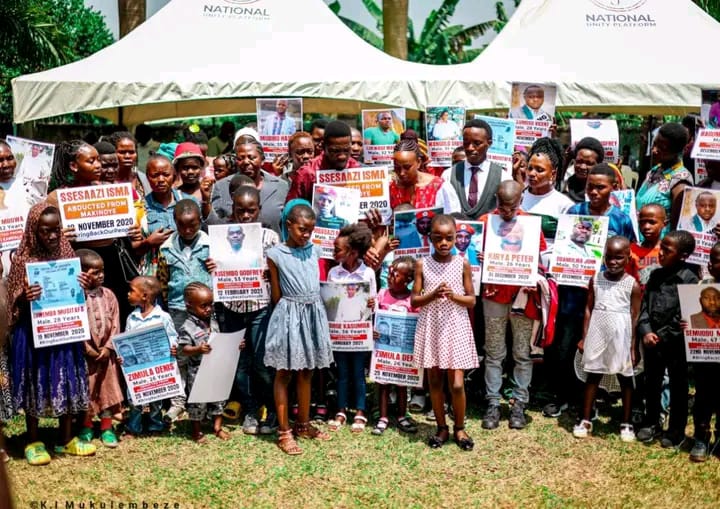 Kyagulanyi said leaders are the voice of the voiceless , adding that the issue of Ugandans who are in prisons should be brought to the forefront. 
"Courts are not going to help you because these people are being taken to military courts even when they are civilians. So you are the hope. My message goes to the leaders ,please lets speak for all the Ugandans that are detained, raise your voices, represent the people dear leaders," said Kyagulanyi.
The former presidential candidate stated that its high time for religious and political leaders to stand out and raise their voices on the issues affecting the people of Uganda especially by demanding unconditional release of all political prisoners.
"The criminal regime continues to cause so much pain to so many Ugandans, but I am convinced that they will reap what they have sown in abundance. It's only a matter of time. I call upon all leaders at all levels in Uganda to prioritise the issues of our people," he said.
Parents of this affected group of people expressed how they are struggling to put bread on table for the children in the absence of their fathers and mothers and asked the government to help and release their husbands, children or relatives.
Early this week, the top leaders in government and the Opposition held a heated high-level meeting convened at Parliament about the persistent abductions and missing persons in the country.
Shortly after the engagement, the Prime Minister Robinah Nabbanja said some of these missing persons were hardcore criminals some of whom have since been charged in the courts of law.  She, however, declined to share details of charges preferred against the said criminals.
According to the leader of opposition, Mathias Mpuuga, the government only managed to avail a list of five missing persons as opposed to the 25 members that opposition tabled.  He insisted that they will continue pressuring the government to account for the other missing persons believed to have been abducted by state security operatives.