Former Lutseshe Member of Parliament Godfrey Watenga Nabutanyi has been the talk of the country after he made an announcement, he would marry both his wives in a traditional marriage ceremony that would bring together three families.
Over the weekend, the long-awaited day came, and preparations started in high gear, as hundreds of invited guests thronged the home of Watenga both to partake of this historic event and bear witness that indeed, both women; Nanzala Beatrice, and Christine Nekesa were available to hold Watenga's hand.
Contrary to usual introduction ceremonies elsewhere that are held at the home of the bride, this one was hosted by the family of the groom and it was baptised the "BCG Combination", it is said that that is the core culture in Bugisu, irrespective of the number of women involved.
Also, while polygamy is an acceptable norm, Watenga's marriage ceremony is the first of its kind where a man decides to publicly marry two women, who agree to it and happily coordinate to make the function colourful, albeit with success.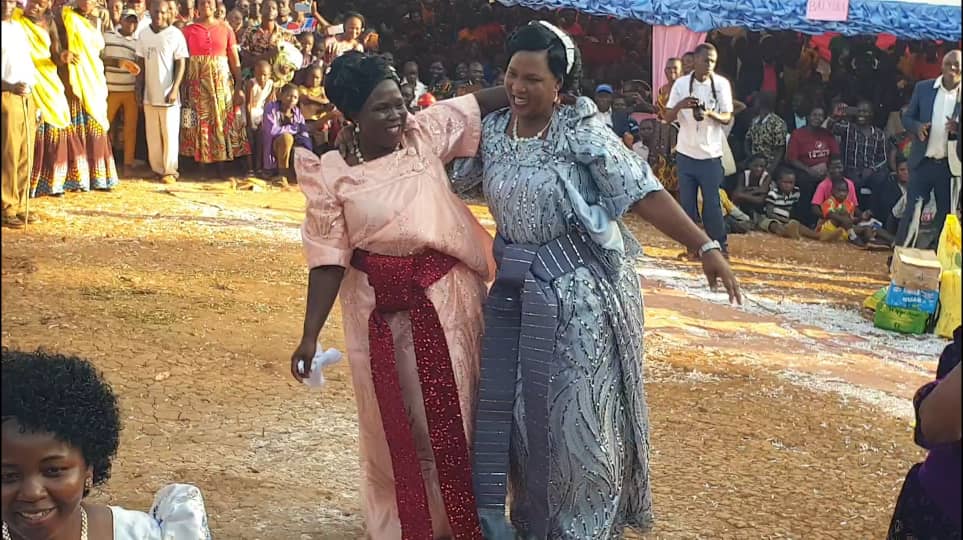 Notwithstanding, Watenga has been cohabiting with the two women in total harmony, hence the event was meant to reward them with a legal licence to continue their triangle of love without question.
Likewise, for the hundreds of witnesses, this was an opportunity to take home the juiciest gossip, let alone confirm that indeed, the women were real, and the man was serious.
At exactly 11:00 am, the venue was packed to capacity, the crowds excited, and the brass band took it away with the music lineup of the day.
The families of both Nanzala and Nekesa arrived in brief intervals all putting on a show on arrival and both families sat in the same tent, they were soon lost in pleasantries and embraces.
An opening prayer was said by Reverend Patrick Mugamba from St. Paul's church Bulucheke followed by anthems (Cultural, National and Eater African).
After a short interlude, the heads from each side were led to separate places where they were handed cows and goats as bride prices as per the cultural norms. Both families obtained four cows and four goats each.
Commenting about the event, both families of Nanzala and Nekesa noted that they had been prepared for the event and had no objection.
"Our daughters are not complaining," Willy Wabuteya, the uncle to Nanzala reported.
"I am very excited because it has been overdue but today, the occasion is very marvellous, and I am very glad to see that they are very much united," said Bikala Wesaa Perez the head of a delegation from Nekesa's clan.
These however revealed that it was the first of its kind for co-wives and their relatives to interface without tension.
"We know that people marry many women but they don't pay dowry on the same day like this one," said Wabuteya.
Bikala hailed their son-in-law for uniting his wives, something that is a mystery to many men: "when you have two wives they separate the children, they want to wage wars against each other and others go for witchcraft."
As the event unfolded, the co-wives were being prepared with the support of friends and family amidst overwhelming joy and harmony.
These, in an interview with Nile Post, said they were best of friends and have lived together as 'blood sisters'. They said that keeping away from gossip and respecting each other has been the anchor of their relationship.
Nanzala revealed that in the absence of their husband, they all wait anxiously to welcome him back in unison.
"We share everything from house chores to food even when our husband returns home, we welcome him together," she said.
"I am happy that our families have been brought together on this occasion and I pray to God to help us sustain this relationship till death do us part", she added.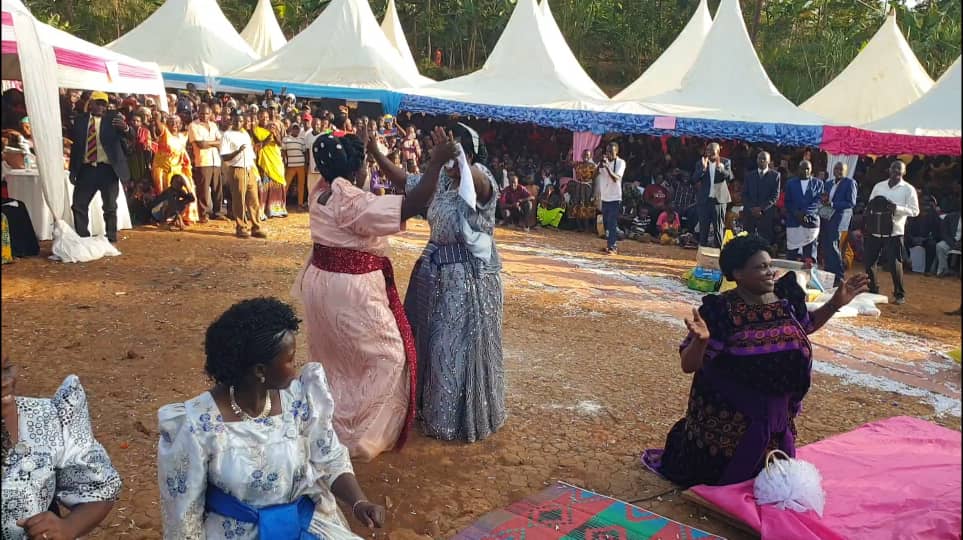 Jenipher Namaye, Nanzala's sister said the affection the two women have towards each other has impacted their relatives too.
"We treat them as sisters, whenever we bring a package, we consider both women, otherwise if you bring just one, none of them will take it," Namaye said.
The event reached its peak when the co-wives entered the venue amidst joy from the gathering.
The two held hands and danced in the face of their relatives and their guest. Their husband joined them shortly dancing between his wives to the amazement of their guests. This had fulfilled what many thought was an impossibility.
Watenga described the overwhelming unity in his family as a miracle.
"I cannot claim that I am a special man but it is just a blessing from God."
Watenga further revealed that; "We share the same saucepan, the same sitting room what separates us the three is just the beds, they call themselves sister. I don't know how God made it for me," he said.
Leaders and people from all walks of life in thousands described Watenga as a maverick man.
Kyankwanzi legislator Innocent Pentagon (one of Watenga's friends) was among those who witnessed the event. Pentagon described Watenga as an honest man adding that what he has done is not for the faint-hearted.
"What honourable ( Watenga) has done is what many men would want to do but fear it. Many men are living in such relationships but unrecognized."
Manjiya County Legislator and Opposition Chief Whip John Baptist Nambeshe expressed his admiration for Watenga's character trait to bond two women.
"You have broken a record and have proved that you are a man of stature."