Russia has pulled troops away from Kyiv and shifted most of the focus of its war to eastern Ukraine, after a series of defeats near the capital. This push into the area known as Donbas could mean a protracted conflict.
What would Vladimir Putin need before he could claim his goal of "liberating" Ukraine's old industrial heart and is that possible?
Russian forces have already triggered a humanitarian catastrophe in the east, reducing Mariupol to ruins, but they have failed to inflict defeat on Ukraine's military.
Preparing for a reinvigorated Russian onslaught on the east, President Volodymyr Zelensky vowed: "We will fight for every metre of our land."
Ukraine's best-trained forces were already posted in the east because of an eight-year war with Russian-backed separatists. They are thought to have suffered heavy losses, but are still a significant challenge to Russia's invading army.
What is Ukraine's Donbas?
When President Putin talks of Donbas, he is referring to Ukraine's old coal and steel-producing area. What he really means is the entirety of two big eastern regions, Luhansk and Donetsk, which run from outside Mariupol in the south all the way to the northern border.
Nato also expects Russian forces to try to create a land bridge, running along the south coast west of Donetsk to Crimea.
"The key is that it has been identified by the Kremlin as a Russian-speaking part of Ukraine that is more Russia than Ukraine," says Sam Cranny-Evans of the Royal United Services Institute.
These areas may be broadly Russian-speaking, but they are no longer pro-Russian. "Mariupol was one of the most pro-Russian cities in Ukraine and to level it is beyond my comprehension," says defence specialist Konrad Muzyka, head of Rochan Consulting.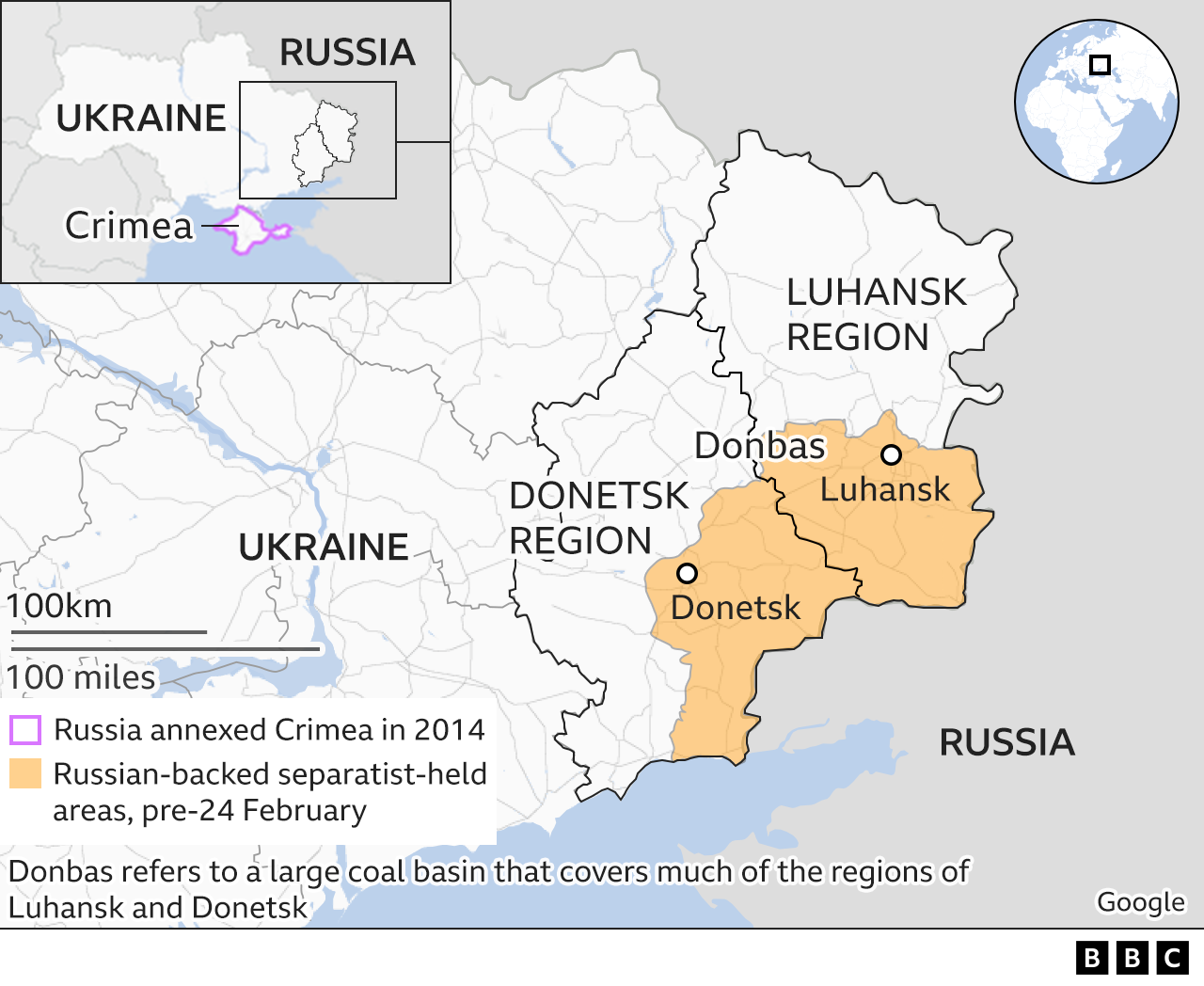 Source: BBC