A former member of the Allied Democratic Forces (ADF), the rebels blamed for the recent suicide bombings in Uganda's capital, says the Islamic-State linked group uses fear to keep its recruits in line.
"The group is run on Sharia. If you steal, you lose an arm. If you rape a child, you die. If you tell a lie about someone and you're found out, you die," Peter, whose name has been changed to protect his identity, told the BBC.
He chuckles rather menacingly throughout our conversation – seemingly to deflect from the trauma he carries.
The young man was forcibly recruited and spent two years as a militant, witnessing amputations and beheadings – sometimes of his comrades.
The fear this engendered, as well as an Islamist ideology and the establishment of links with the Islamic State (IS) group, has made the ADF a threat to Uganda once again.
For years, Uganda's government has said the ADF was a defeated force, but that no longer seems true.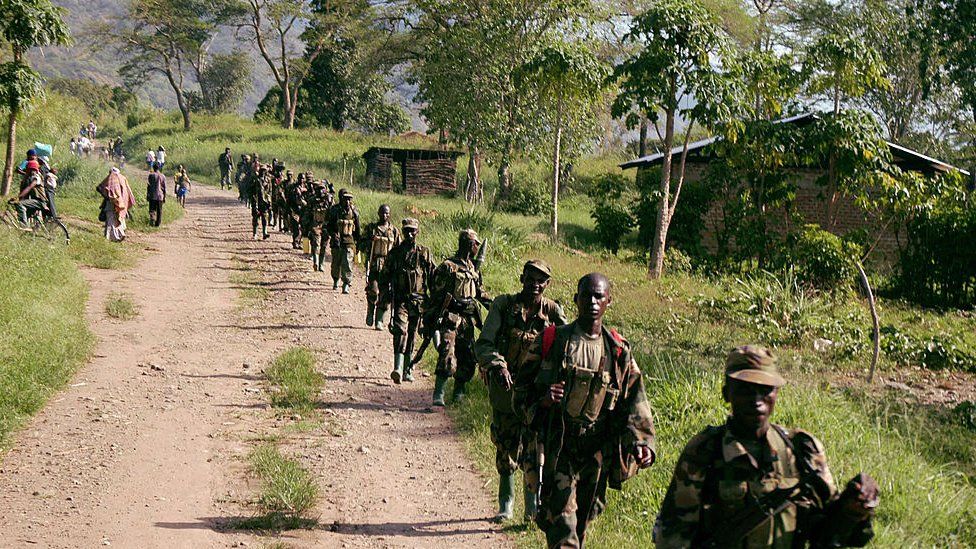 A spate of violence since October, including the twin suicide attacks in the centre of Kampala, have killed at least eight people, including three militants, and injured more than 40.
The ADF was originally formed in the 1990s by Jamil Mukulu whose adherents were Ugandans disgruntled with government's treatment of Muslims.
It was routed and removed from bases in the western mountainous Rwenzori region, where its fighters had been attacking villages and torching schools in the early 2000s.
The remnants fled across the border, to the east of the Democratic Republic of Congo.
Initially, ADF rebels there worked with local communities to set up businesses, which made them popular with many around the town on Beni, according to a 2011 UN report.
But that changed when they started attacking local Christian communities.
Tricked into rebel ranks
It was after this time that Peter, who was living in Uganda, decided to go to DR Congo to look for a job. Someone had told him there was money to be made there.
He only realised the real reason he was lured across the border when armed men emerged from the bushes as he was travelling deep in DR Congo and ordered him to march.