Uganda and Qatar have held talks to strengthen their bilateral relations in trade and investments.
This was during a meeting held on Tuesday between the Ambassador of Qatar to Uganda, H.E Jabor Ali Al-Dosari and Minister of Works and Transport, Gen Katumba Wamala, at the ministry's headquarters in Kampala.
In the meeting, the Ambassador was delivering the message of Qatar's Transport minister, Jassim Saif Alsulaiti.
Delivering his remarks, Ambassador Al-Dosari said that Qatar through Qatar Investment Authority is interested in investing in Uganda in many areas including agriculture, energy, mining, tourism promotion, real estate development, and among many others.
Ambassador Al-dosari further expressed Qatar's great interest in cooperation with Uganda Airlines and the possibility of Entebbe Airport serving as hub to concentrate passenger traffic and flight operations.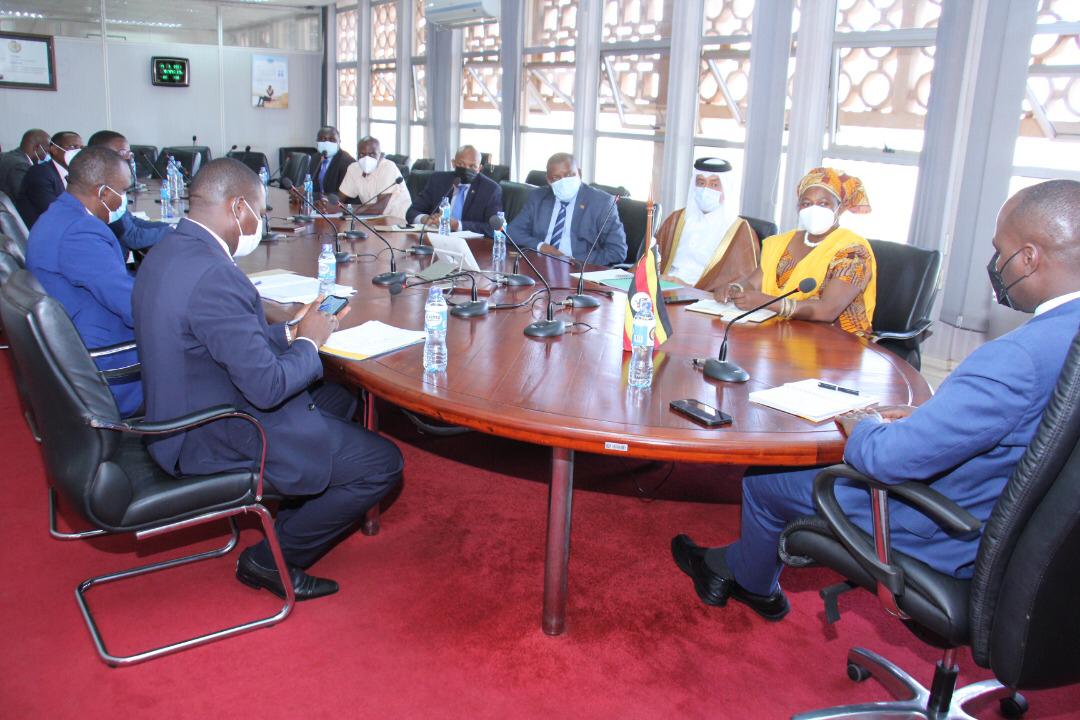 "Qatar is interested in cooperating with Uganda Airlines to make Uganda a hub of Qatar Airways for direct flights as well as training employees of Uganda Airlines" the ambassador said.
On his part, minister Katumba Wamala said his ministry is mainly focused on joint cooperation between the two airlines.
"we're looking mainly on how the two airlines can work together and how they can operate together but also like the Uganda Airlines to get some training from Qatar Airways because as You know Qatar Airways is highly advanced and rightly and so we could pick a-few things from them"
He also encouraged Qatar Airways to look at operating from Entebbe as a hub for them saying Entebbe provides a-lot of advantage in terms of reach out on continent and even in the region.
"So, these are some of the discussions but we also informed them on some of the virgin areas of investment like water transport. Water transport is still very virgin. We still need investors in that area"
The meeting was also attended by State minister for trade, Hon Harriet Ntabazi who expressed commitment to marketing Uganda in Qatar for trade exchange between the two countries.
Ambassador Al-Dosari from his side was happy for the good hospitality he received in Uganda and promised that even-though he is a non-resident ambassador, he is committed to visiting Uganda whenever it is necessary to fulfill the obligations of Uganda and Qatar.
During the meeting, Al-Dosari also delivered invitation to Gen Katumba to visit his counterpart in Qatar to identify areas of infrastructure investment in Uganda of which Katumba said there is need for road network, aviation and water transport.
The Ambassador expressed excitement over the fruitful meeting with Wamala and said he is ready and willing to help strengthen the relations between Uganda and Qatar.
He also thanked Uganda's Ambassador to Qatar, Rashid Ssemuddu for good relationship coordinations he has been working on for a very long time to make sure that Uganda benefits maximumly in all Qatar's programmes generally including charity works, school programmes, Investment programmes and many others.
During his stay, Ambassador is expected to meet the minister of Foreign Affairs and many other ministers to make sure that all the pending bilateral agreements between the two countries are formalised and signed for the benefit of both countries.
In 2014, while presenting his credentials as Ambassador of Uganda in Qatar, Rashid Ssemudu, while delivering president Museveni's message requested Qatar government to make Uganda a gateway for investment in Africa.
According to Ssemuddu, Amir of Qatar, Sheikh Tamim bin Hamad Al Thani loves Uganda and wants her to be the one of the countries he strengthens relationship with through investment and trade.
Uganda and Qatar trade value stands at Shs 41.7 billion with Qatar earning Shs 28 billion while Uganda earns Shs 22.7 billion.
Uganda exports mainly vegetables and fruits to Qatar.