He overcame mental Illness to fulfil his potential
Book: In Search of Sanity
Author: Musinguzi Begumisa
Almost every family in Uganda has a loved one who suffers from mental illness in the form of depression, anxiety disorders, obsessive compulsive disorder, paranoia, bipolar affective disorder and other related illnesses.
To a very large extent, these illnesses have been swept under the rug since they are associated with shame and stigma. This is the case even though up to 35% of Ugandans suffer from a mental disorder.
So it is heartening when someone suffering from mental illness bucks this conspiracy of silence by proclaiming his own fragile mental state from the literary rooftops.
Eng. Musinguzi Begumisa suffers from bipolar disorder and in his book "In Search of Sanity: How my Bipolar Disorder turned into a Blessing", he chronicles his rollercoaster experience withalternating periodsof intense mania (high energy and activity) and severe depression (low energy and mood).
Eng. Begumisa is an accomplished engineer who works with The UgandaNational Roads Authority (UNRA), recalls that when he was in high school he always seemed to be in and out of school clinic treating ailments such as ulcers, headaches, fevers, drowsiness and fatigue.
Although prescribed with what turned out to be placebos, he found little relief.
So, being a devout Christian, he turned to God for solace. But like a shadow darkening his every waking moment, he couldn't break free of these ailments which beset him from all directions.
Feeling surrounded and under siege, he immersed himself in school activities and was elected Chairman of the Pan African Club, Secretary of the Young Christian Students, Treasurer of the German Club, Editor Sunday Special, member of the Chapel Council and the Debating Club while at St. Mary's College, Kisubi.
Always an overachiever, he seemed set to defeat his ailments through dint of achievement and hard work.
Sadly, this wasn't to be so as he started getting panic attacks and bone-chilling nightmares.
To compound matters, his academic work tumbled down a ravine as he completely lost grip of his life.
His first mental breakdown happened while he was at Makerere University.
Thoughts of failure (or what he perceived as failure) tortured him.
Especially when he recalled that his uncle had also suffered mental illness and was forced to drop out of university.
"Was it my turn? Was my fate sealed?" Musinguzi asked himself.
Then his aunt, Dr. Margaret Mungherera, took him to the Midland Consultation Clinic in Mengo.
It was there that he was first prescribed Lithium, Carbamazepine and Haldol. And so it was official, he had bipolar disorder.
Identifying the problem was a major step in the direction of alleviation and management of his illness.
Still, life didn't improve immediately. In fact, he suffered even more setbacks.
He had to do re-takes for the course units he had flunked and he also had to contend with the shame he felt from being "sick".
This feeling of shame had psychosomatic effects as he suffered hallucinations and a blackout, even though he was on medication.
Then he had a second breakdown!
"I want to see President Museveni. I have a strategy to save the economy," he declared outside State House Nakasero while addressing rather unimpressed military officers.
Not knowing he was unhinged, these soldiers beat him to a pulp.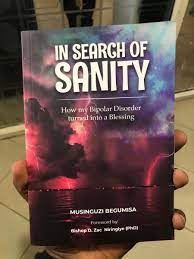 The book recounts his time in Butabika Hospital, how his faith became his anchor and how he fell in love with his wife Grace after she said, upon learning he had bipolar, "It's okay, Andrew. I am willing to risk with you. I have seen potential in you".
Those were powerful words.
Sometimes we just need people to believe in us to make us believe in ourselves. This made all the difference for Eng. Begumisa.
This story is essentially about one man's journey towards sanity helped along by support systems defined by love and understanding.
The love that comes with faith, family and fealty to one's self.
The author's mental state would never have been reversed towards recovery without this love.
Eng. Begumisa engagingly shows us how his condition had adverse effects on his life, including on his relationships and his capacity to participate in society.
He also relates how he got in touch with his feelings and perceptions; this had a positive effect on numerous psychiatric and stress-related symptoms he had long endured.
All through this wonderful book, he invites the reader to witness his determination to restore the proper balance in his life between his faith, family, fears, and illness and how he views his place in the universe.
Inspiringly, he always sought God during darkest moments and this led to his finding purpose in life through a relationship with Jesus Christ.
This couldn't work in isolation, however.
His faith had to come into play with a number of supports, emotional and inspirational, which have restored Musinguzi to health and made him one of the top engineers in the country.
It's fascinating that this guy who was once beaten for thinking he could personally advise President Museveni is now officially advising the president after having beaten a path to his own sanity.
This book is book will touch and inspire anyone who reads it.