When I read the subtitle to Carolyne Afroetry M.A's poetry book "Diary of an Unloved Woman" my mind instantly raced back to the Tyler Perry movie: "Diary of a Mad Black Woman".
I then recalled how the heroine in that drama, Helen, was married for 18 years to Charles. Their marriage was picture perfect, if one's frame of reference is a boring suburban existence.
However this existence was thrown for a loop when Helen realized Charles was cheating on her with a mistress. But before she could get used to three being a crowd, Charles assaulted her with violently verbal jujitsu.
Then he loaded her clothes into a U-Haul truck so that his mistress Brenda, it's always a Brenda, could move in with her and Charles's two children by her!
Helen becomes a shattered woman, much like the persona in Carolyne's book "Dry Parched Land".
"I served the world my pain for
breakfast
Kneaded my problems into dough
and made chapattis
Mixed my tears with coffee grounds
and brewed the best coffee
Watched the world mock my
Afflictions at the dining table
As the sun woke from a beautiful
Slumber.
Another hard day"
Carolyne writes of the pain pulsating through her like the heated rush of passions whose wheels have come off.
In love, she's a fool.
As a poet, she transmutes such folly into the symbolism and imagery of metaphors such as "dry parched land" to show us why she's such a hopeless romantic.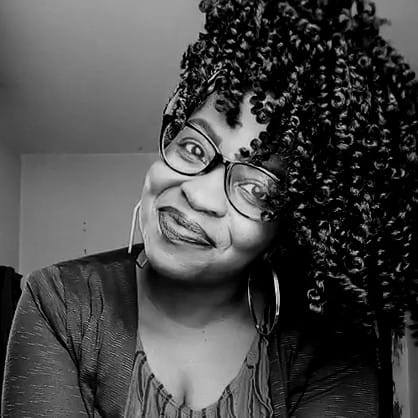 The devices of rhetoric she feverishly employs conform to a dialect called "Black Secular", a form of simplified English which has an explanatory phrasal structure favored by the late Maya Angelou.
Carolyne's style, a compromise between the polished and the plainspoken, derives a lot of its rhetorical power from an authenticity of feeling:
"I have always been attracted to
Broken things
Like old torn asphalt walkways
Chipped china
Shards of glass
Peeling wall paint
Squeaky door hinges
Creaky door frames
Shattered windows
Cracked floor tiles
Slivered onions
Broken homes
Broken bed frames
And broken pencils
Wounded spirits."
In that stanza, she reminds one of the Greek myth of Persephone, goddess-queen of the underworld and "the savior maiden". Her interest in mending broken wings is symptomatic of a giving spirit, but also evidence of a masochistic streak. She wants to suffer, for through hurt she may find healing and, possibly, love.
"He built a distillery around me and
Treated me like a bottle of Jack Daniels.
Ten times high
I drowned shots of his lies and woke
Up in a pool of vomit
Seething for him
Cringing from the aching inside my cranium".
The rhythm is familiar, the ringing message is clear. The structure of this stanza relates to a simplicity of expression to emphasize a complexity of feeling.
There are no frills or misplaced verbiage to parody a pretended depth or subtlety of thought.
Her style is newsy instead of ornate. It's an amplification of poet Ezra Pound's contention that literature is "news that stays news."
This gives her words a refreshing quality which is renewed by a freshness of its own. After all, she stands in peril of her own soul with only her pen, her bated breath, a gesture, a grimace, and a memory to protect her from what memories bring.
"You peel my skin,
I let you
Chop me like an onion
Even Jesus wept
I weep for you
You bleed me out
I intrude.
Plead, I stutter
Pour salt on my
Exposed wound
The crucifixion is righteous
My affliction is just.
And I will carry this
Cross like Simon of Cyrene
You grab my ass with
Your slave hands
Tell me you love me
I believe you
Dim my shine
It is our shine
You protest
Dip your tongue inside my mouth
Feed me with the same
Poison that kills me
I let you."
As Helen was in the movie "Dairy of a Mad Black Woman", Carolyne is ready to suffer and offer forgiveness to the man who inflicts such suffering on her.
Technically, the arrangement of the thoughts and feelings she wears on the page are themselves results of a measured rhythm. Here is a lady who has lost control, but is not out of control.
She may be hurt, but she is not yet mad.
The repeated expressions which illustrate her torment are a steady diet of clever phrases and uninterrupted cadence, so we know this poet still has a measure of self-command.
To be sure, her words are too tidy for such clarity of expression to belong the confusion of mind which defines a woman who is off the rails. Which is what we often are when we are in love yet unloved.
Although she feels crucifixion is fitting to her situation, such a fit (and the way she feels about it) presupposes resurrection.
She knows that twilight implies dawn, so she is ready to die a little in order to live. The correlative phrases she uses to denote alternate sensations of pain and paradise are relevant here.
In fact, Carolyne has written a book of such rhetorical exquisiteness that those who read it will attempt to read it aloud.
The sophisticated plainness of language casts a rhythmic spell, even if one doesn't relate to her brand of suffering.
Indeed, her style is down-to-earth yet lofty, even intellectual in its sensibilities, while drawing out an adroit and admirable verbal wit to tell her story.
"Dry Parched Land", published by ProMosaik, will certainly whet your appetite for more poetry by this exceptionally seminal poet.
Brava, Carolyne!