Jacob Zuma, the former South African president, has pleaded not guilty in a corruption trial involving a $5bn (£3bn) arms deal from the 1990s.
He is facing 18 counts of racketeering, corruption, fraud, tax evasion and money laundering.
Mr Zuma blames political enemies in the governing African National Congress (ANC) party for his legal troubles.
The arms deal involved buying new fighter jets, helicopters, submarines and warships.
But questions emerged about the deal months after it was signed, with some critics saying the government should have spent the money on fighting poverty.
Mr Zuma was South Africa's president from 2009 until 2018 when he was forced to resign after a vote of no confidence.
On Wednesday crowds gathered outside the courthouse in Pietermaritzburg city in KwaZulu-Natal province to cheer on Mr Zuma, who still enjoys some popular support.
Inside the court, the 79-year-old politician looked frail and spoke quietly as he declared "not guilty," after the charges were read, reports Andrew Harding, the BBC's Africa correspondent.
The former president's defence team called for the removal of state prosecutor Billy Downer, on the grounds that he had "no title to prosecute".
But the presiding judge ruled that the matter would be dealt with on 19 July.
Why was there an arms deal?
Newly democratic South Africa decided its military needed to be overhauled – and five years after coming into power following the end of white minority rule, the ANC government signed contracts totalling 30bn rand ($5bn; £3bn in 1999).
The deal involved companies from Germany, Italy, Sweden, Britain, France and South Africa.
Why was it controversial?
Even before the allegations of corruption, the spending of billions of dollars on new fighter jets, helicopters, submarines and warships was contentious in a country where millions lived in poverty.
Others also pointed out that there was no credible threat to South Africa's sovereignty to justify the spending.
Questions emerged within months, leading to official investigations into allegations of conflict of interest, bribery and process violations in the purchasing of equipment.
What was the outcome?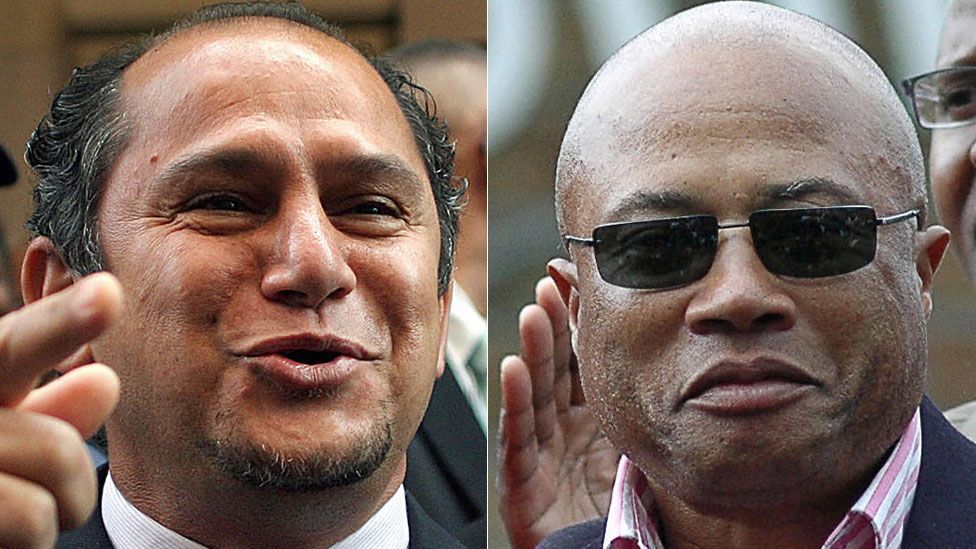 There have only been two convictions:
The ANC's chief parliamentary whip at the time, Tony Yengeni, was found guilty of fraud after it emerged he had received a large discount on the purchase of a luxury car from one of the firms bidding for a contract. He also lied to parliament about the benefit. After various appeals he was jailed in 2006, although he only served five months of his four-year sentence.
Financial adviser and businessman Schabir Shaik was jailed for 15 years in 2005 for soliciting a bribe on behalf of Mr Zuma from Thint, the local subsidiary of French arms company Thales. He was released on medical parole in 2009.
The allegations also formed part of US and British inquiries into BAE Systems. In 2010 the UK military contractor pleaded guilty to charges of false accounting and making misleading statements and paid more than $400m in penalties to end the investigations into questionable payments made to win contracts.
What is Mr Zuma's alleged involvement?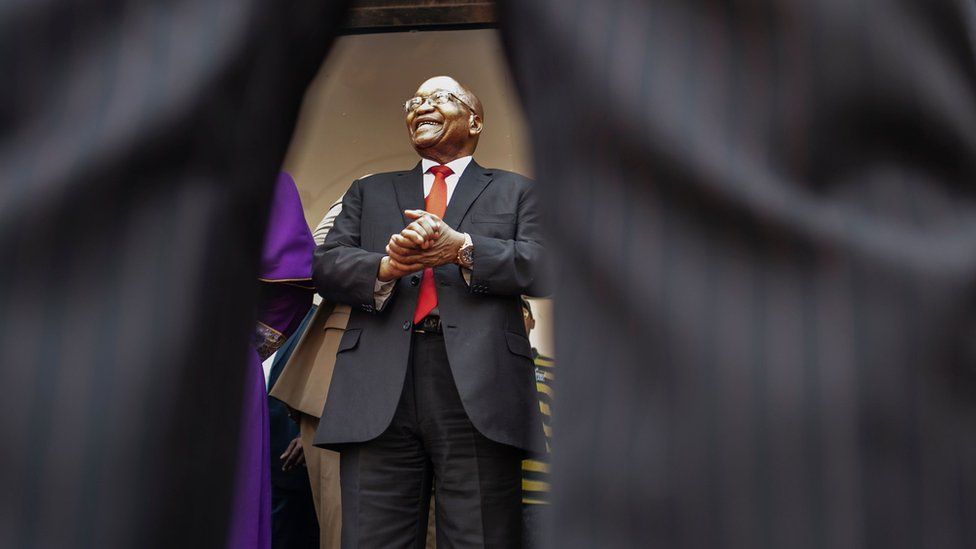 He is alleged to have received bribes from a French arms firm via his financial adviser in order to protect Thales from scrutiny.
He was first charged in 2005, but a trial has never come to fruition – thanks to many challenges, other technicalities and backing from a strong faction within the ANC.
But the arms deal, among other scandals, dogged his presidency.
Why did the courts order the charges be reinstated?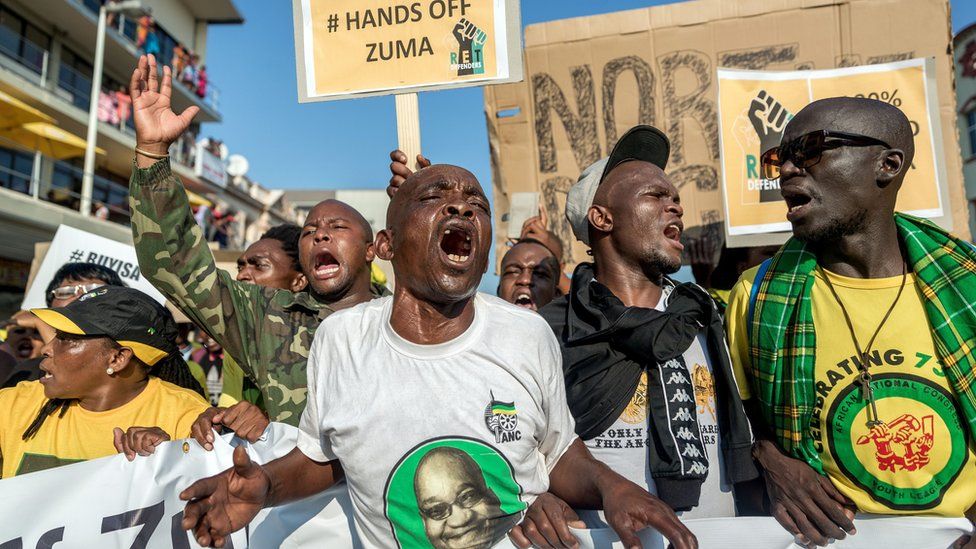 A High Court judge said the decision by the National Prosecuting Authority (NPA) to drop the charges in 2009 was "irrational".
The NPA had done so after receiving phone-tap evidence from Mr Zuma's lawyers, which suggested there had been political interference in the investigation.
But the opposition Democratic Alliance (DA) pursued the case after Mr Zuma became president, winning a court battle to make the sealed recordings public and then arguing there was no evidence to warrant the charges being dropped.
Zuma arms deal timeline
October 2005: Charged with corruption
September 2006: Trial is struck from the court list when the prosecution asks for yet another delay to gather evidence
November 2007: The court of appeal opens the way for charges to be brought again when it rules that the seizure by police of incriminating documents from his home and office was legal
December 2007: Ten days after Mr Zuma becomes ANC president, prosecutors bring new charges of corruption, racketeering and tax evasion
September 2008: A judge declares that the prosecution was invalid and throws out the charges on a legal technicality
January 2009: Appeals court overturns the ruling, just months before general elections
April 2009: The chief prosecutor drops charges against Mr Zuma after phone-tap evidence suggested there had been political interference
April 2016: High Court rules Mr Zuma should face the charges and prosecutor's decision was "irrational"
October 2017: The Supreme Court backs that ruling
April 2018: He is charged with corruption – two months after resigning as president.
May 2021: Mr Zuma pleads not guilty as trial resumes
Source: BBC