Ernestine Kabuo returned home after fleeing the lava flow in Goma, Democratic Republic of Congo, to find that her husband had not survived. 
The 68 year old was unable to carry her sick husband out of their house and she found him burnt to death, she told Reuters news agency.
At least 22 deaths have been confirmed following Saturday's eruption of a nearby volcano, Mount Nyiragongo.
But the lava stopped short of the city's built-up area.
This avoided the level of death and destruction witnessed in 2002. It did, however, hit the Buhene district, where Ms Kabuo's home was.
"I said to myself: I can't go alone, we've been married for the best and for the worst," she told Reuters reflecting on what happened on Saturday.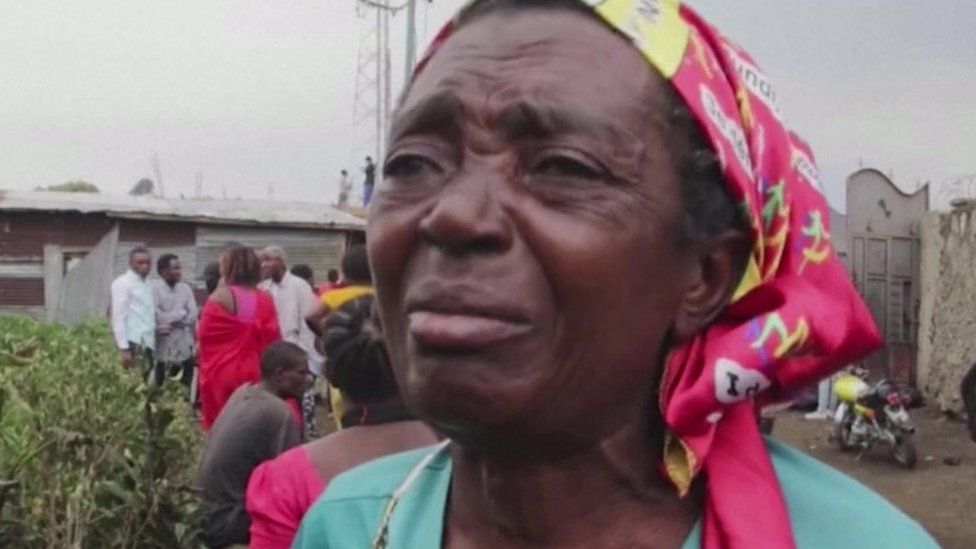 "I went back to at least try to get him out but couldn't. I ran away and he got burned inside. I don't know what to do. I curse this day."
Five people died of asphyxiation while trying to cross the lava when it was cooling in a place just north of Goma.
A sixth person is in hospital with breathing difficulties, civil society leader Mambo Kawaya told the AFP news agency.
Since then, the authorities have tried to prevent people from visiting places where the lava is cooling, Goma journalist Esdras Tsongo told the BBC's Focus on Africa radio programme.
Other Goma residents, a city of 670,000 according to UN estimates, are searching for missing loved ones as the city, and the region, continues to experience earthquakes.
More than 170 children are feared to be missing and 150 others had been separated from their families, the UN's children's agency, Unicef, said, adding that centres would be set up to help unaccompanied minors.


Nine of the deaths so far recorded by the authorities occurred in a traffic accident as people fled.
Four others died as they tried to escape a prison while two were burned to death, government spokesman Patrick Muyaya said on Sunday.
But there are fears that more deaths may be confirmed as people return to the remains of their houses.
The lava stopped in the Buhene district, on the outskirts of Goma, burying hundreds of houses and even large buildings. Reconstruction efforts are likely to take months.
"All the houses in Buhene neighbourhood were burned," Innocent Bahala Shamavu told the Associated Press news agency.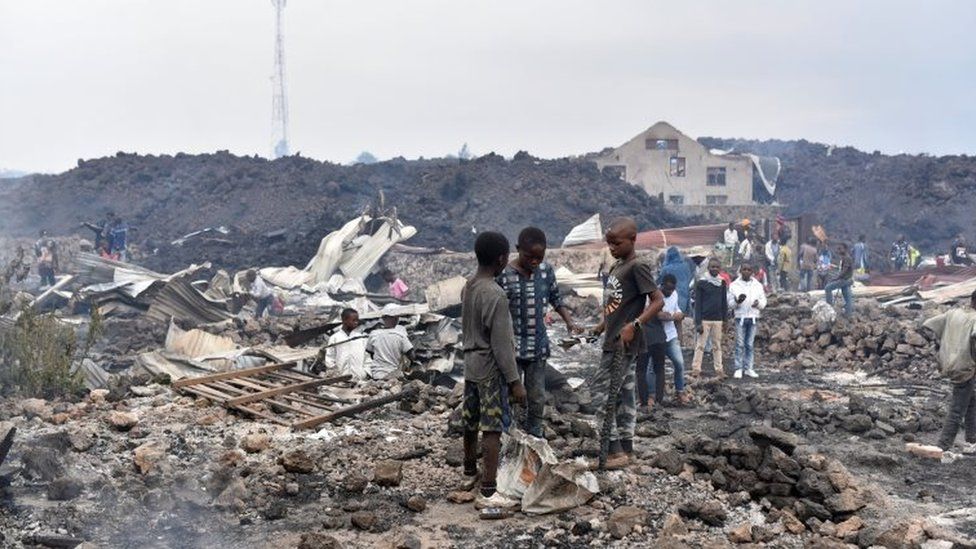 Elsewhere, lava crossed the N2 road connecting Goma to the city of Beni, severing a key aid and supply route. However, the city's airport was untouched, despite earlier reports that it had been affected.
The volcano, located 10km (six miles) from Goma, last erupted in 2002, killing 250 people and making 120,000 homeless.
Residents started leaving their houses even before the government announced an evacuation plan. At night, crowds were seen fleeing on foot with mattresses and other belongings.
Rwandan authorities said more than 3,000 people had officially crossed from Goma. Some started to return on Sunday. Others went to higher ground to the west of the city.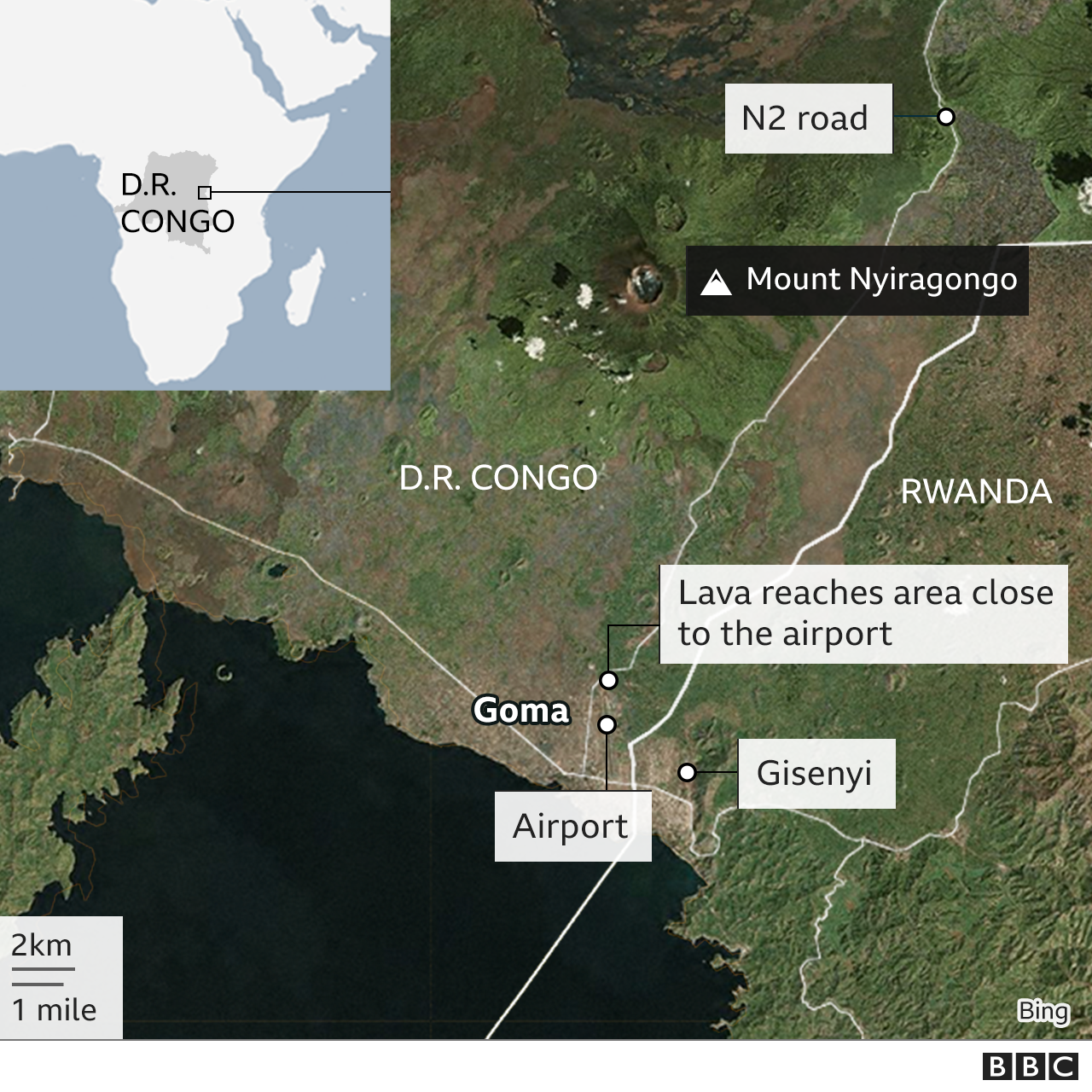 One Goma resident, Richard Bahati, said he was in his house when he heard screaming and became extremely worried as he saw the sky reddening outside.
"I lived through the problem with this volcano in 2002. The volcano devastated all our homes and possessions," he said.
A local trader, Kambere Ombeni, was among those who returned to the scene as the rubble still smouldered. "We watched the whole neighbourhood in the Nyiragongo territory go up in smoke. The fire came right down to here. Even now we can still see lava," he said.
Another resident, Irene Bauma, said people would need help from the government to rebuild their lives.
"There's land, people, a population that has lost everything, maybe there are also deaths, who knows? We are asking the government to come and help the survivors of this eruption."
Tom Peyre-Costa, from the Norwegian Refugee Council in Goma, told the BBC what had happened.
"The lava was pretty slow, like, 1km/h, but it didn't stop…. It started burning the houses," he said, adding that humanitarian organisations were already trying to address people's needs.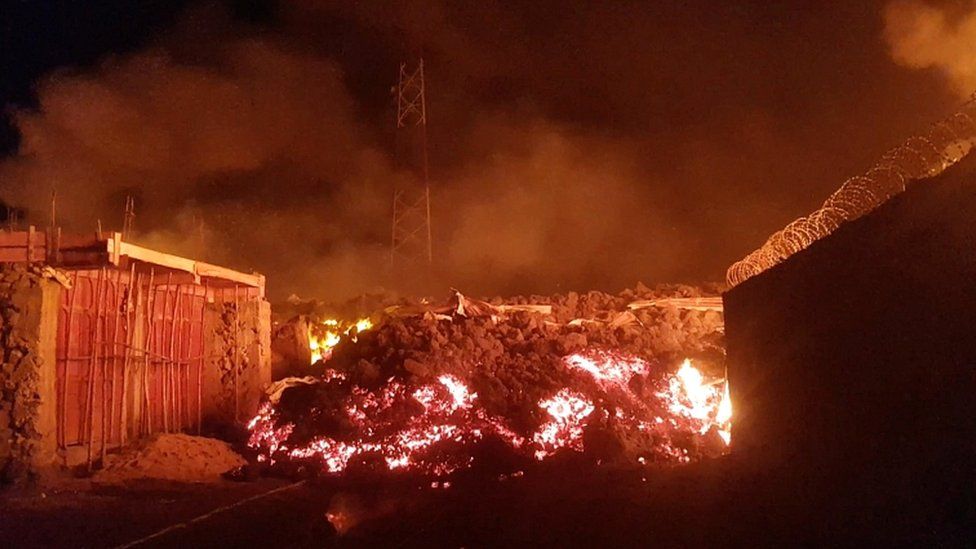 Mount Nyiragongo is one of the world's more active volcanoes but there were concerns that its activity had not been properly observed by the Goma Volcano Observatory, since the World Bank cut funding amid allegations of corruption.
Professor Mike Burton, a volcanologist at the University of Manchester in England, told the BBC that the lava in Mount Nyiragongo is particularly fluid and has the potential to move fast.
In a report on 10 May, the observatory warned that seismic activity at Nyiragongo had increased.
The volcano's deadliest eruption happened in 1977, when more than 600 people died.
Source: BBC