President Museveni has directed the Ministry of Finance to always consult manufacturers before coming up with any tax policies affecting them.
"I have told the Ministry of Finance that in future, all tax policies must be discussed with manufacturers first because they are at the frontline fighting for the independence of our country," Museveni said on Wednesday as he officiated the opening of four factories in Namanve industrial park.
"It should not be the bureaucrats in the Ministry of Finance to work on the taxes."
The president explained that it should be the manufacturers who are affected directly by the new tax policies to give a green light on the taxes, other than "bureaucrats" who sit in their offices to think for the people on the ground.
"On the issue of policies regarding manufacturing, the Ministry of Finance bureaucrats should always consult manufacturers. If they(manufacturers) say it is to affect them, we leave the tax. They should be the ones to lead us but not us imposing ourselves on them," he said.
President Museveni tasked the State Minister for Finance in charge of Investment; Evelyn to take up the task of ensuring his directive is implemented.
Anite welcomed the idea that she said will ensure a fair situation for both government and the manufacturers.
"I welcome the idea. We must discuss with them(manufacturers). The new guidance is spot on because we can sit down with them for a win-win situation. With tax incentives given to them, we will expect decent jobs and reduce on importation," Anite said.
"Having this discussion will allow us to have value for tax incentives. The return in waiving taxes should be big. In the past, we have given tax incentives and not got what we deserve."
President Museveni also mooted the idea of having a primary and secondary school, health facility and housing estate in the industrial park at Namanve to ensure they provide services to the employees.
"When we started the industrial park, we were emphasizing factories and didn't want them to have services. Later alone, provided it is planned properly, it is logical to have some hotels in the industrial park because of the guests to the industrial park who don't want to drive long distances,"Museveni said.
"There needs a housing estate nearby for workers, a primary and secondary school for children of the people who work here not to spend a lot of time moving to school. A housing estate will make it easier for workers to walk from home to the factory and back. In future, we should plan for this. It will make the thing efficient. We need an industrial park supported by these services."
Factories
The President commissioned four factories including Crown Packaging Industries Limited that manufactures bottle tops, Picfare Industries Limited and Tian Tang group with subsidiaries including Tian Tang Mixing plant, Yaya children's products company limited and Mi-Tech Uganda Limited as well as Kampala Nile Resort hotel.
Tian Tang Group
According to officials, the Acme Forward Technology Limited and Tianhang Mixing Plant have an investment of about USD3million, a production capacity of about 300,000 cubic meters per year, and about 50 local employees.
The Yaya Children's Products Manufacturing Company Limited t is about 1.5 million US dollars whereas the production capacity is about 40 million pieces per year, and there are about 50 local employees.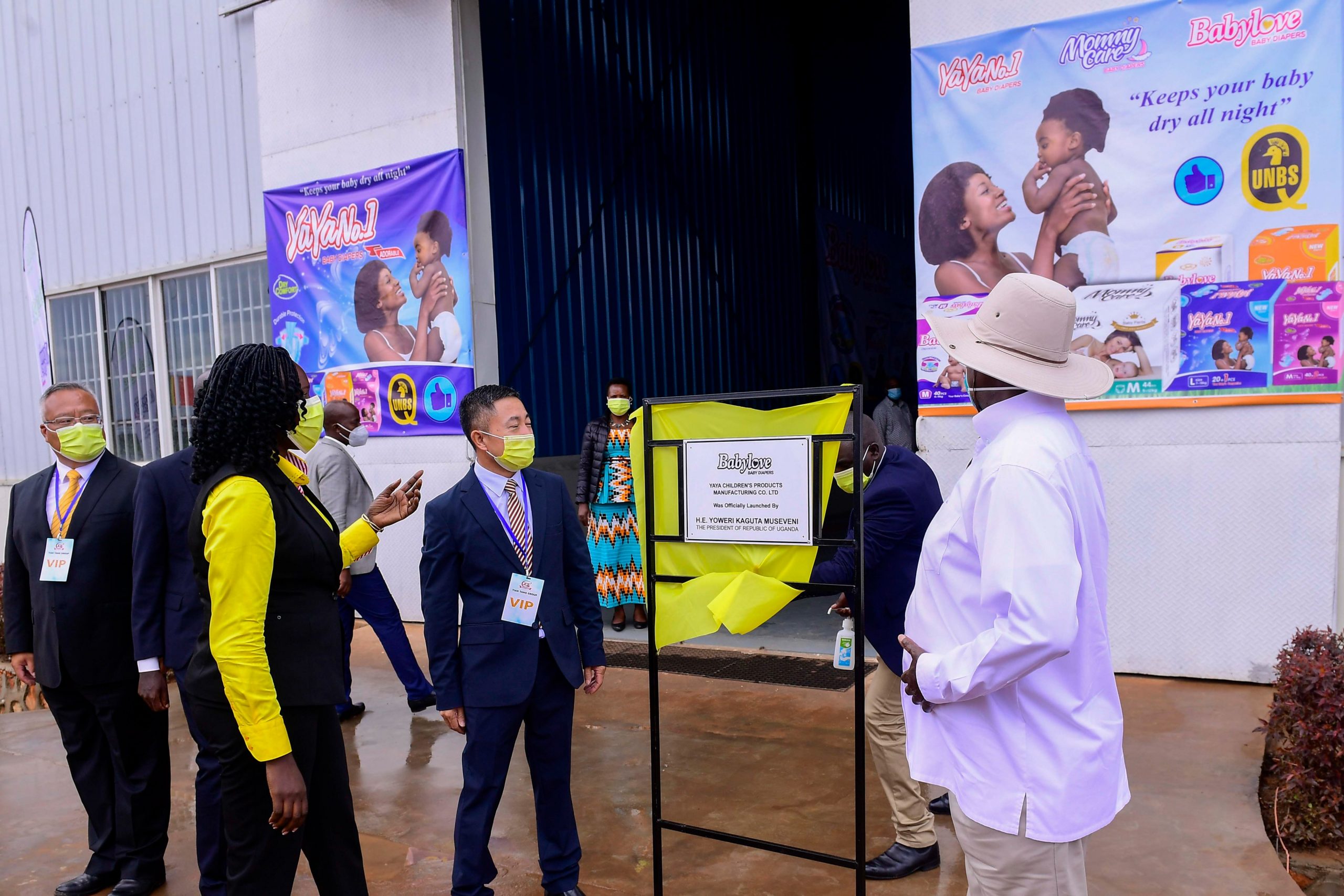 On the other side, Mi-Tech Uganda Ltd, a TV manufacturer with an investment of about $1 million, has a production capacity of about 150,000 TV sets and 60,000 stereo sets per year, with about 80 local employees.
Acme forward tech – concrete batching plant, this is the largest batching plant in East Africa, producing 180 cubic meters of concrete per hour and because of its capacity, the unit marketing price of concrete has reduced from 130$ to 110$ per cubic meter.
The Chinese company also plans to build the same concrete batching plants in different regions of the country which will contribute to the infrastructure construction and also the petroleum project.
According to Museveni, manufacturers in the industrial park are assured of cheap electricity at a cost of only five cents per kilowatt-hour since power will now move directly from the dam to the industrial park without middlemen.
The Namanve industrial park measuring 2200 acres is slated to house 303 factories but currently, 71 of these are occupying the facility with many others yet to come.