Timothy Nyanzi's wit is sharp; with the salty tang of sea food. But don't expect his one-liners to fish for compliments or swim with the tide.
In his new stand-up comedy special "Who let the jokes out?" he stays true to his non-conformist brand of humor by asking questions like, "Do you think the guy who created email was thinking outside the PO BOX?"
It's a clever pun, intended for an audience ready to think outside the box in order to enjoy comedy which not only mines the cerebral depths of funny, but colonizes them too.
Marrying deadpan delivery with the oral zing of bon mots, Nyanzi's carefully structured gags scrutinize bits of his own life while contemplating smaller issues concerning the homophonic link between SPAM and sperm.
While we agree with him that a man having 30 million sperms would be better off if his "soldiers" fired up his bank account with 30 million in cash instead, it's Nyanzi ability to effortlessly waltz in and out of strange tangents which sharpens his act.
"Mulago has Wi-Fi," he says.
He feigns surprise at this fun fact because "If Mulago was an operating system, it would be Windows 99."
His excellent command of language (and professorial appearance) gives punsters and diction-junkies a champion in the world of stand-up.
It's not that he has a verbal armory full of blink-and-you'll-miss-it wit, but his comedic gift is down to how he elevates semantics to an art form.
After relating how he went to school with a local tycoon's son, whose father made a fortune in road construction, Nyanzi cracks: "All those graders and he couldn't even get a first grade".
Throughout his special, Nyanzi sticks to the tried-and-true setup/punch line flow that many comedians favor.
His timing and pacing is excellent, even though his comedy is not about dazzling the masses.
To underline this fact, his special is staged in a cozy auditorium with an audience more interested in polite applause than throwing its panties onto the stage.
Throughout the special, Nyanzi engages this audience as though he's having a conversation with friends.
There's quiet rancor, shared by comic and audience alike, to accompany lines like "I was going to offer medicine at the university, but my mum always told me not to do drugs".
Then the house is brought down when Nyanzi imagines how it would be if a pistol-wielding thug held-up a pharmacy and told his captives to comply and not "give me any Hedex."
Nyanzi's intellectual chops and sense of the absurd are peerless, especially on a Ugandan comedy scene which leans heavily on profanity and off-color humor.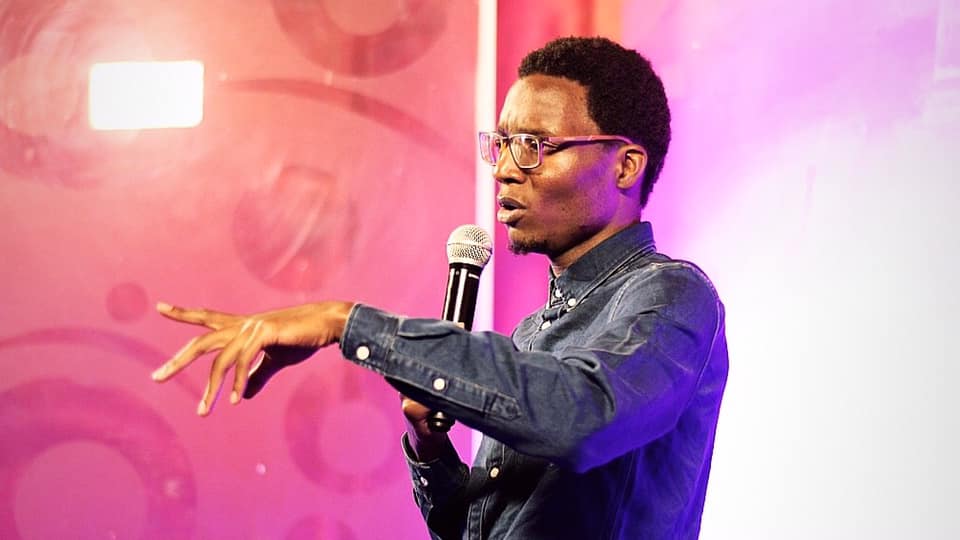 His jokes, being a deviation from such mainstream filth, declare him as revelation on the alt-comedy scene.
Although, it must be noted, his mention of "boobs" and riffs on "sperms" did elicit a few cringes from an otherwise receptive audience.
Also, some of ladies didn't look too pleased when he said broke up with his deaf girlfriend; after taking her to a silent disco!
Although it was a joke, some Ugandans believe that joking about people's disabilities should remain taboo.
But, clearly, Nyanzi was unapologetic and probably agrees with comedian George Carlin's maxim: "I think it's the duty of the comedian to find out where the line is drawn and cross it deliberately."
Although this special runs for 21:43 minutes, the sound quality dipped at 6:46 minutes and only really stabilized at 12:32 minutes.
On balance, however, Nyanzi's special was short on time but long on jokes.
All those looking for Uganda's answer to Chris Rock need look no further than "Who Let The Jokes Out?"