This week, the Federation of Uganda Football Associations (FUFA) officially confirmed what we had already suspected for months. Irish tactician Jonathan McKinstry was relieved of his duties as Uganda Cranes boss after 18 months in charge.
During this time, he won 12 games, and lost ONLY three in all competitions, to leave with a winning percentage of 67% including a title, the 2019 CECAFA Senior Challenge Cup which he won with a 100% record. (Uganda won all their games)
This is a distinction anywhere in world football. So why exactly was McKinstry, who, two years ago was the best out 137 applicants, sacked just after 18 months?
On the 30TH of September 2019, at his official unveiling at the FUFA house in Mengo, FUFA Chief Executive Officer Edgar Watson and then acting FUFA President Justus Mugisha hailed the 34-year-old as the best of the lot.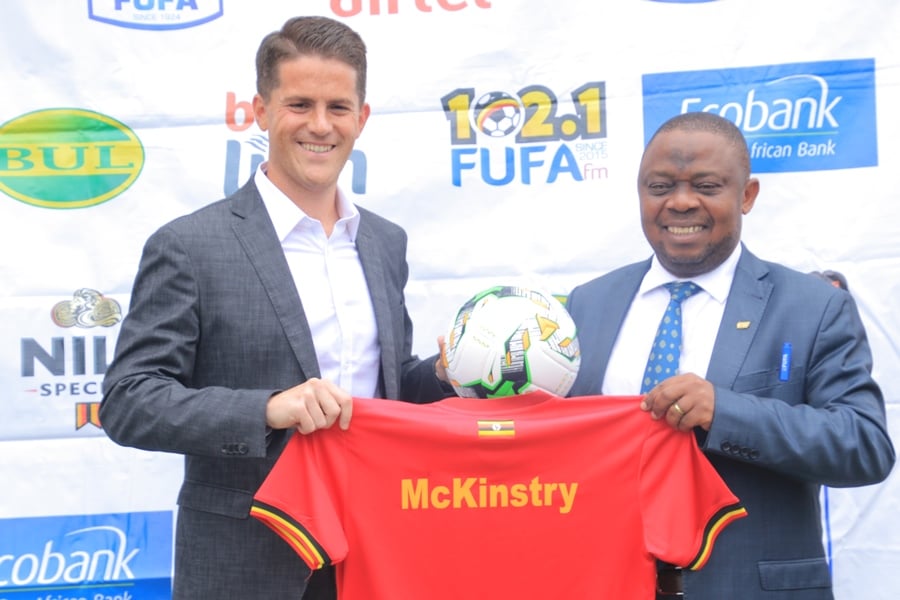 "As the FUFA Executive, it was easy for us to make a final decision on the choice of coach needed after the panel did a commendable job to sieve the 137 applications received…" Justus Mugisha after announcing McKinstry.
"In line with FUFA's mission of being the number one football nation in Africa on and off the field, we thought of McKinstry. We also looked at the potential of the coach, one who could fit in the Ugandan style of play. And we needed a resident coach." – FUFA C.E.O Edgar Watson
Statistics do not always give the right reflection of performance 
Despites winning the CECAFA title and guiding the home based players to the CHAN finals, McKinstry was never going to be judged on those performances.
Before his arrival, Uganda had been bossing the CECAFA senior challenge cup with all the coaches before him and winning this tournament had become almost a birth-right.
The same can be said about CHAN qualification. Uganda had been at four CHAN tournaments before him but always failing to make it past the group stage.
He was always going to be judged on whether he would at least be able to navigate into the knock out stages.
Instead, Uganda ended up getting only one point in the three games played, finishing 14th overall, the country's second worst performance in this tournament since the first appearance in 2009. (Uganda finished 15th).
The position aside, the boys displayed some of the worst football this country has seen in recent years especially in the goalless draw against neighbors Rwanda, yet before the tournament, many pundits had big hopes in the squad
In a recent press conference, the FUFA president called our CHAN display "Shitty Football".
McKinstry's AFCON Nightmare, he failed when it mattered..
To wrap up a spell of diabolical displays, on the 16th of November 2020, with Uganda in cruise control of group B of the AFCON qualifiers, McKinstry led the boys to Kenya to face minnows South Sudan in match four of the six.
Having won the first leg 1-0, the country was almost assured that this would be a win for the Cranes, but the gods of football ruled otherwise, as Uganda lost 1-0 and never recovered.
Many, including the FUFA president believe this is where we lost the campaign.
All through his time, there was no clear progress and direction of the national team. They lacked a style and identity yet this was part of his KPI. FUFA, just like many Ugandans had had enough and pulled the trigger, to hand the two remaining qualifiers to McKinstry's assistants Abdallah Mubiru and Livingstone Mbabazi, who also stuck to their former boss' dreadful script, and Uganda failed to qualify from a group that had Burkina Faso, Malawi, and South Sudan.
How Compensation headache delayed McKinstry Sacking
The reason for McKinstry's delayed sacking was the compensation dilemma.
The Irishman Initially signed a three-year contract that was supposed to run out in October 2022 but had only been in office for 18 months.
When they opted to have him out, FUFA knew that he had to be compensated. It is reported that he was earning a basic salary of 15,000 US Dollars (Approximately 55 Million Uganda Shillings a Month) excluding bonuses. Meaning, they had to pay him to a tune of close to 990 million Uganda shillings in compensation (Note that this is dependent on the termination clause in the contract).
McKinstry was also demanding the AFCON qualification bonus. His argument was that FUFA side lined him when he was still on track and had a realistic chance to lead the team to the finals, in essence he felt that he was not given the chance to fail.
Lets pay him for doing nothing…
What FUFA suggested was, instead of paying him the full amount of the contract in compensation, they would sack him but continue to pay him his full salary per month until he got another job. This way he can't complain to FIFA because he is still earning.
The financial logic in this was that, it gives FUFA a possibility of saving some money that would have been spent in compensation, because there is a high chance that he will get another employer before the 18 months of his contract expire and it is highly likely that the former Rwandan coach accepted these terms.
No matter the case, with his 67%-win rate, a CECAFA title, and the fact that the failure to qualify for the AFCON finals is not fully his blame, McKinstry's Ugandan section of his Wikipedia account looks attractive and he should be the happier of the two parties.
It's only sad that he wasn't able to realize his world cup dream that he had assured Ugandans.