In our oversaturated media landscape, celebrities polish their images on Instagram and Twitter, and the televised interview has plummeted in importance – until now, and Oprah's instant-classic sit down with the Duke and Duchess of Sussex, Prince Harry and Meghan Markle. Despite the hype and teases leading up to it, it was fair to expect the kind of celebrity chat we've become accustomed to, padded with clips and full of gushy-soft questions. Not two weeks ago,
James Corden did a breezy, jokey segment with Prince Harry
, serving him tea while riding on the upper level of a Los Angeles tour bus.
But whatever you think about the couple's revelations, in purely journalistic terms, Oprah delivered a masterpiece of an interview. Her access was driven by her own celebrity, but she came through with sharply-defined questions, follow-ups that pinned down details, and editing that turned her into the audience's surrogate. When Meghan said that a member of the royal household had worried about how dark her baby's skin might be, Oprah quietly but fiercely said, "What?" It was a moment of genuine humanity that doubled as a savvy journalistic move, making her the viewer's on-site stand-in and drawing us into the conversation.
Interviews that changed the trajectory of the narrative, or provided quotes that entered popular culture, were rare
For decades, the television interview has been its own artform, with interviewers whose fame often equalled their subjects. In 1953 CBS began broadcasting Person to Person, a puffy interview show hosted by the revered war correspondent Edward R Murrow, who chatted up movie stars and other public figures at home. The blurred line between news and entertainment goes way back. Such programmes could be hugely influential in those pre-cable, pre-streaming days of a few broadcast channels. In its global reach and its impact, the latest royal interview is a bit of a throwback.
Even in a different television era, however, interviews that changed the trajectory of the narrative as Oprah's has, or provided quotes that entered popular culture, were rare. There was David Frost's 1977 multi-part conversation with a defensive Richard Nixon, post-Watergate, who said of his crimes, "When the president does it, that means it's not illegal." Frost was sceptical but the claim had reverberations through the Trump years. Resonating with the latest royal interview, in 1995 there was Martin Bashir's with Princess Diana, who famously said, "There were three of us in this marriage, so it was a bit crowded." There was no turning back for her after that.
But for every jaw-dropping interview like those, there are many more like Diane Sawyer's widely-watched chat with Michael Jackson in 1995, timed to promote a new album and the first Jackson had given since being accused of child molestation two years earlier. Sawyer's lame follow-ups let him evade any hard-hitting questions. The Los Angeles Times said, "the media allowed themselves to be used," and Vanity Fair's headline called the broadcast The Jackson Jive, arguing that "Many with a detailed knowledge of the case were appalled… by Sawyer's lack of preparation or her inability to follow up within the format dictated by the Jackson forces."
Today Oprah may be the only person who could have gotten a substantial interview with the duke and duchess. As she pointed out at the start of the two-hour special, they are her California neighbours, and she was a guest at their wedding. That gave her entree few people could claim. For us mere mortal journalists, celebrity interviews are based on a useful artifice. We meet over coffee – or over the past year on Zoom – have a congenial talk in which the subject tries to get his or her message out, the journalist pushes to get something fresh, and we both go back to our real lives. But talking to these royals is Oprah's real life. In contrast, Frost had to pay Nixon to sit down with him. CBS reportedly paid Oprah's production company $7 million for the US rights, but as was pointed out at the start of the interview, none of that went to the Sussexes.
The journalistic strategies in these groundbreaking extravaganzas were effective in vastly different ways. Bashir simply sat back and give Diana prompts. She was ready to talk and he stayed out of her way. (There have been allegations that Bashir used fake documents to persuade Diana to take part, but the Metropolitan Police has ruled out any criminal activity.) Frost was armed with reams of facts, and used them to calmly push Nixon on legal and moral issues. Mostly he used the evidence to let Nixon, who had been hoping to rehabilitate his image, hang himself. The most memorable TV interviews, like these, enter popular culture. Peter Morgan turned the verbal sparring into Frost/Nixon, a 2006 play, and then a 2008 film starring Frank Langella and Michael Sheen, both versions with more dramatic flair and volume than the real-life inspiration.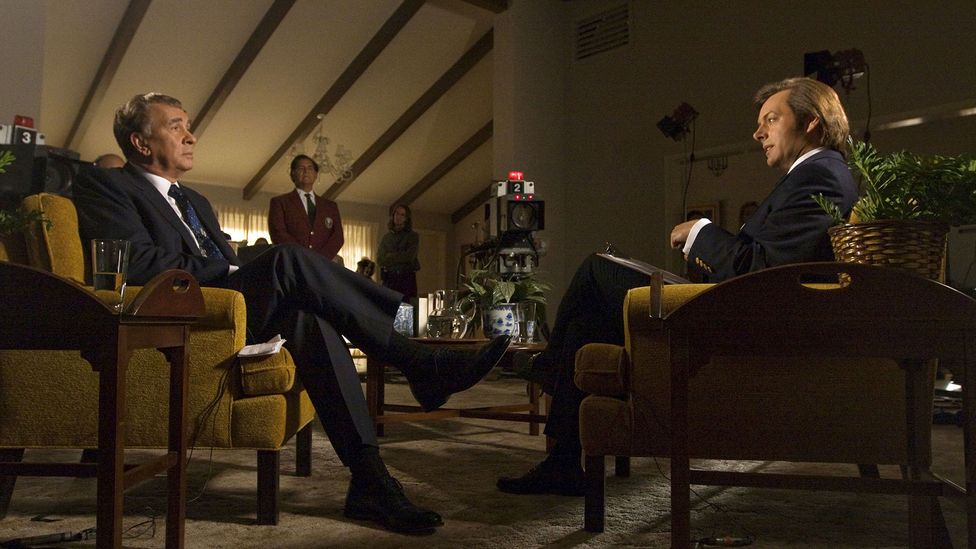 The Frost/Nixon interviews were turned into a 2008 film starring Frank Langella and Michael Sheen (Credit: Alamy)
Oprah's strategy found a balance, friendly but laser-focused on getting answers. Whether or not you know the interviewees personally, it's the follow-up questions that separate good interviews from the great, and she gently but firmly pressed for facts when the couple were vague. When Prince Harry said "lack of support" led to their leaving the country, she said, "I want clarity. Was the move about getting away from the UK press? … Or was the move because you weren't getting enough support from The Firm?"
When Meghan said that at her lowest point she didn't want to be alive, Oprah didn't leave room for ambiguity. "Were you having suicidal thoughts?" she asked in a concerned tone. "I'm so sorry to hear that," she told Meghan after learning that she accompanied Prince Harry to a public event because she felt she couldn't be left alone. One of Oprah's main skills is being sympathetic but not sycophantic.
Yes, she asked a softball, humanising question about Archie's first words, but immediately circled back to the prince's comments about his brother, which had left a question dangling. "You didn't tell me what the relationship is now," she said. His answer became one of the interview's most quoted soundbites. "The relationship is, space."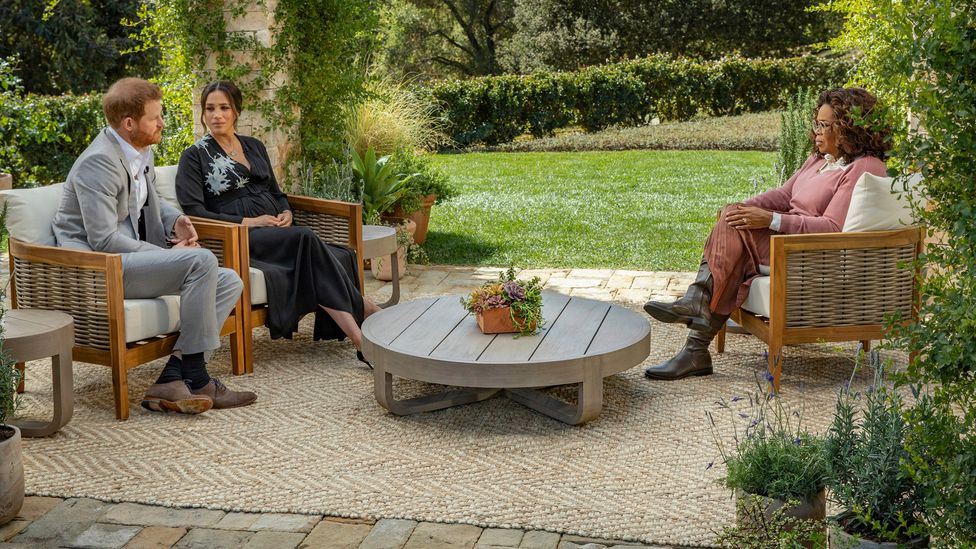 Oprah found the perfect balance, friendly but laser-focused (Credit: CBS/Joe Pugliese/Harpo Productions/PA Wire)
She didn't push back on everything. She wasn't doubtful enough when Meghan said she hadn't ever Googled Harry when they started dating. Meghan said she "went to HR" when she was having trouble getting psychological help, but what does going to HR even mean when you're a duchess? And she didn't get either of the couple to reveal who asked about their child's skin colour; although she tried with each of them. Oprah did say the next day that Harry told her it was not the Queen or Prince Philip, making more news outside the interview itself. In the end, the missing pieces were less important than what was filled in.
The programme was, of course, also a show. As happens in all television interviews, Oprah's team edited in reaction shots, dropping in a startled look or a well-placed "Hmm," and creating an easy flow. And when the most explosive revelations dropped, the editing shrewdly made her a major part of the dynamic. "What?" was just the start of her response when Meghan said Harry had been asked about his unborn children's skin color. "Who is having that conversation with you?" she asked, holding up her hands to signal Stop, indicating that she wasn't going to let that go by so fast. Including her visceral shock emphasized the importance of the moment and not-so-subtly guided viewers' reactions.
Oprah talking to the Sussexes about race was a timely pairing. No one mentioned Black Lives Matter or the summer's racial unrest after the murder of George Floyd. They didn't have to. Oprah focused on the personal, but must have known that those comments would ripple out and generate a conversation about systemic racism. Because while a culturally galvanising television interview is an anomaly today, it also lands in a media cauldron of Twitter, television news and commentary and, in the UK, tabloid headlines.
How seriously the issues Oprah's latest interview raises will be taken – by the public, the press and the royals – is up in the air. But the television event itself already has a healthy afterlife. Some outtakes have been shown on the CBS Morning News (Harry talks about the Queen disinviting him from Sandringham in January 2020) and the Oprah Magazine website, with more clips likely to trickle in. Even as they do, Oprah's television interview stands as a work of journalistic art on its own.
Source: BBC