Experts have said that the Coronavirus pandemic together with its effects like the lockdown have exacerbated the mental health situation in the country.
Following the outbreak of the Coronavirus pandemic in Uganda, government in March imposed a lockdown and the same was lifted after six months.
Speaking during the celebrations to mark the world mental health day on Saturday, Cabrine Mukiibi, a clinical psychologist at St.Francis Hospital in Nsambya  said following the imposing of the lockdown a number of people were greatly affected and this impacted on their mental status.
"Because many were not working, they were not sure of their future. They got depressed and developed further mental challenges.Many people developed anxiety problems, stress and depression and have become suicidal because of the financial stress,"Mukiibi said.
Police recently released a report in which it was indicated that the number of domestic violence cases had eventually gone up due to the coronavirus lockdown and according to experts, this is a sign of mental health challenges caused by stress that people faced during the lockdown.
HIV patients most affected
According to the clinical psychologist at Nsambya Hospital, people living with HIV were the most affected in terms of their mental health by the lockdown.
"It created a high risk for people living with HIV to contract Covid-19 because they had health anxiety thinking they could contract any illness leading them to death," Mukiibi said.
Mukiibi explained that since there were almost no transport means to health facilities where the patients could get their regular medication, many of them developed thoughts of death.
"By the fact that these patients thought they could contract any other illness, their minds create death.  Many of them travel long distances to get medication from hospitals which they could not afford during the lockdown. By not having access to the hospitals because of the lockdown, they developed depression and got suicidal ideas that later progressed to suicidal attempts."
According to Phiona Masiko, a senior counselor in the department of HIV AIDS at Nsambya Hospital, many HIV patients were stigmatized in their communities during the lockdown and this exacerbated mental health problems.
"During the lockdown, most of the patients failed to get medication since they could not get letters from LCs and other authorities to allow them to travel for fear of declaring their HIV statuses and the resultant stigmatization by the community,"Masiko said.
"Those who were bold enough to get letters and were able to access medicine were stigmatized by their own family members while taking medication.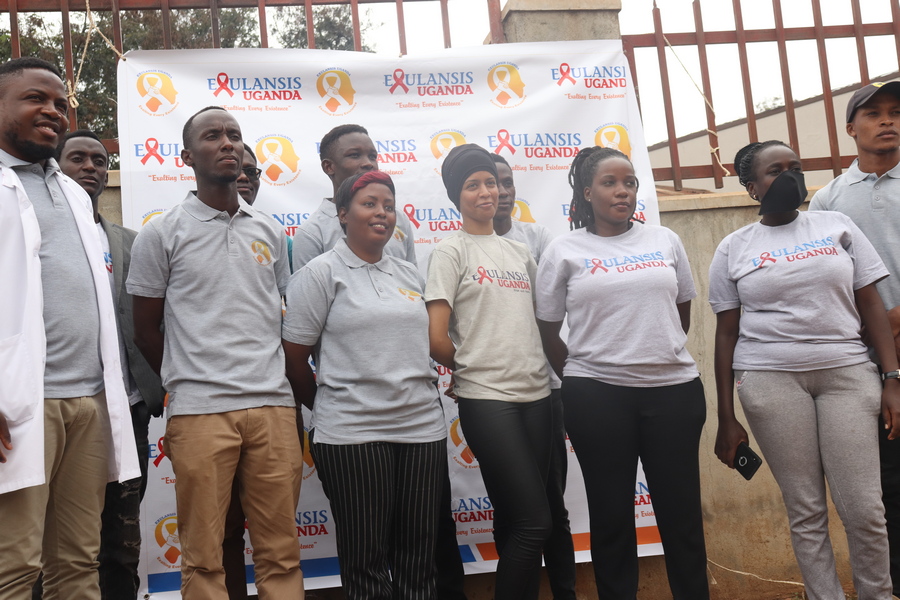 On Saturday, Exulansis Uganda, an NGO  dealing with mental health and socio-economic needs of people living with HIV had counseling sessions with HIV patients from Nsambya hospital in a bid to ease their stress and anxiety levels caused by the Coronavirus pandemic and its effects like the lockdown.
"We think people living with HIV especially young children need assistance to make them feel comfortable.  On several occasions, the communities stigmatise and segregate them over alleged fear of spreading the virus to other people.  These young patients then get depressed and stop taking medication which affects their health," said Joseph Mwebaze, the team leader at Exulansis Uganda.
He noted that on many occasions, these young children with HIV AIDS think of taking their own lives because of being stigmatized.
Mwebaze explained that at Exulansis, they are focusing of ensuring they give hope to all HIV AIDS patients as one of the ways to improve their mental challenges.
However, according to Cabrine Mukiibi, a clinical psychologist at St.Francis Hospital in Nsambya, government ought to put more health facilities dealing with mental problems in all parts of the country since it is a big problem affecting the country.
"We have only one referral hospital at Butabika which has many patients. Government ought to construct more referrals to deal mainly with mental health. Ugandans should also visit mental psychologists, community psychologists and psychiatrists for checkup to determine their mental status. They should think that going to visit psychologists is for mad people. It should be a routine ," Mukiibi said.
According to the World Health Organisation(2006, 7.4%  of Ugandans suffer from depression, anxiety and alcohol use disorders which are all signs of mental health challenges.