In January, 2017, President Museveni appointed Col.Kaka Bagyenda as the new Director General of the Internal Security Organisation to replace Brig. Ronnie Balya who was appointed Uganda's ambassador to South Sudan.
On Thursday, the president relieved him of his duties and replaced him with Lt Col Charles Oluka who was the former director-in-charge of technical services at ISO.
Bagyenda, who had played key roles in the National Resistance Army's liberation war as an intelligence chief had however retired into private business in Kalangala island when the president appointed him the new spy chief.
On March,17, 2017, only two months after Bagyenda's appointment, AIGP Andrew Felix Kaweesi was shot dead by unknown assailants together with his bodyguard and driver as he left home in Kulambiro.
This was one of the first tasks that the new spy chief handled in a bid to try to find Kaweesi's killers.
ISO dived headlong into the investigation but it did not take long before it clashed with police's investigative team handling the same matter.
Before long, Bagyenda claimed that the police was part of the security problem
Indeed, a number of law and order enforcement officers were apprehended and detained by ISO.
The ISO chief however, defended the decision saying some of the police officers were working with criminals to terrorise members of the public.
"ISO is not taking over the role of the police neither are we in conflict with them but we are only providing support in this work of ending rampant criminality in Kampala Metropolitan and elsewhere," Bagyenda said.
"We have kawukuumi in security, businessmen, civil service and everywhere but we are trying to eliminate it. Some of it (criminality) has a political connection after being fanned by some political actors to make the country ungovernable but I can assure them it is going to boomerang. We still have a long way to go but it is soon going to be history. Some of you who are day dreaming will be surprised."
A number of people were later arrested by the Internal Security Organisation and detained in several safe houses around the country but the same would later turn out to haunt the spy agency chief.
Scandals
Consequently, Members of Parliament opened a can of worms for ISO when a number of people were paraded in the August House and claimed they had been arrested, detained and tortured in several safe houses.
MPs on the committee of Human Rights later tried to visit some of the safe houses in various parts of the city where it had been alleged that suspects were being tortured but were blocked.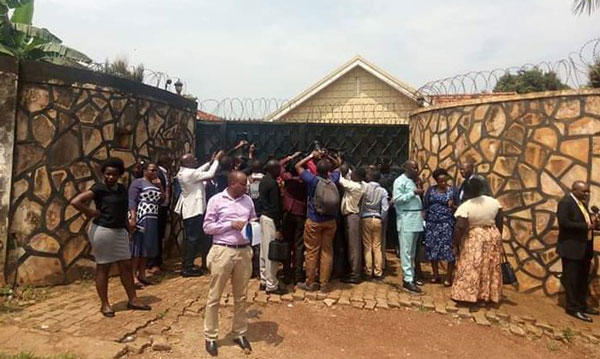 Bagyenda however denied torture allegations labeled against the organisation.
"Those houses are there for keeping those people threatened with death and others whose security is threatened," Col.Kaka said.
He said between 2017 and 2018, they initiated an operation code-named "Dumisha Usalaama" in which over 400 criminals were arrested but noted that six months later, 80 percent of these people (criminals) had returned to the streets to terrorise the public.
According to Col. Kaka, their investigations found out that the criminals were part of a well-networked syndicate including lawyers, judiciary and police officers noting that these had helped to have the criminals released.
"I said, we could not sit like clowns and watch this happen. We built intelligence positions on these groups and started harvesting the cream or hardcore criminals but at the same had to protect our assets [who gave us information about the criminals]," he said then.
Kaka said it is at this time that safe houses became more prominent but noted that they are used to protect suspects whose life is in danger or their assets who are threatened.
Kidnaps
Operatives from the Internal Security Organisation were also accused of being involved in several incidents of kidnap and unlawful detention of several members of the public.
Several people, including journalists, lawyers and businessmen accused operatives from ISO of kidnapping them and the allegations grew day by day during the tenure of Col Bagyenda.
Meanwhile, there were allegations of fabrication of intelligence reports, a move that some security sources have said didn't augur well with President Museveni.
In 2018, ISO was accused of fabricating evidence to link former Inspector General of Police, Gen.Kale Kayihura to the gruesome murder of AIGP Andrew Felix Kaweesi.
The joint security investigation team threw out the evidence saying it had been fabricated.
Col. Kaka was also accused of sidelining eight senior directors at Internal Security Organisation.
The last straw in the camel's back was the recent raid by the Chieftaincy of Military Intelligence (CMI) and Special Forces Command(SFC) on two ISO safe houses in Kyengera and Kisaasi where some suspects were arrested.
Nearly three months after this early morning raid , Col Bagyenda was replaced as ISO Director General.