In the wee hours of Sunday, Makerere University's iconic main building dubbed the Ivory Tower started to burn.
In the midst of the fires and flames, a heartbreaking wail peered out from the social media pages of the institution.
"The Police Fire Brigade is trying to put out the fire which has now covered almost half the roof. It is a trying moment for us."
PICTORIAL: How Makerere University fire destroyed 98-year history
Indeed, it was, as the blue windows that always presented themselves to the sun in the morning, reflecting pride, history, and excellence, now started falling out of their frames and bits of offices that hosted the university records in decades broke off and collapsed in turns.
"Some part of the building has just collapsed while we watch," Nile Post reporter Kenneth Kazibwe rang out at 9:00 am on Sunday. By the time, the building had been burning for six hours.
Amanda Ngabirano, an urban and regional planner could not hide her heartbreak at seeing the Ivory Tower meltdown in the scorching fires; "Why? (with tears emojis)" she sounded.
"When I was traveling miles to Kigezi High School, this building was always on my mind…when I was waking up for "winter", this building was always on my mind! When I was sitting exams, this building was always on my mind! A part of me is burnt! My heart is aching!" she added.
Why? 😭😭😭…when I was travelling miles to Kigezi High School, this building was always on my mind…when I was waking up for "winter", this building was always on my mind! When I was sitting exams, this building was always on my mind! A part of me is burnt! My heart is aching! pic.twitter.com/WnYIbB1Z0N

— Amanda Ngabirano (@mandyug) September 20, 2020
At about Midday, on of the fire brigade trucks deployed to battle a fire that is razing down a 98-year history developed engine complications, and the men supposed to put out the fire resorted to fidgeting with its wires while the burning continued.
VIDEO: This video recorded on September 20, 2020 shows police fire fighters trying to restart the engine of one of the oldest fire tender that was deployed to extinguish the Makerere University main building fire.
📹 Stephen Otage #MonitorUpdates pic.twitter.com/00FEfLm75v

— Daily Monitor (@DailyMonitor) September 20, 2020
Did the men need a reminder? Did the Police Fire Brigade need a reminder that the building they were to deploy to is only one of the rare ones still standing?
Just like the words of Prof.Buyinza Mukadasi, the Director of Research and Graduate Training; "There is no amount of money that can give the satisfaction one could get with that building. We are now a society without a history because it was part of the civilization of the country."
The fires were put out and everyone dispersed in the afternoons, but the Fire Brigade team according to Makerere University LCV woman councilor Doreen Nyanjura had been told to stay put in case of any eventualities, alas, they dragged the cars off the scene.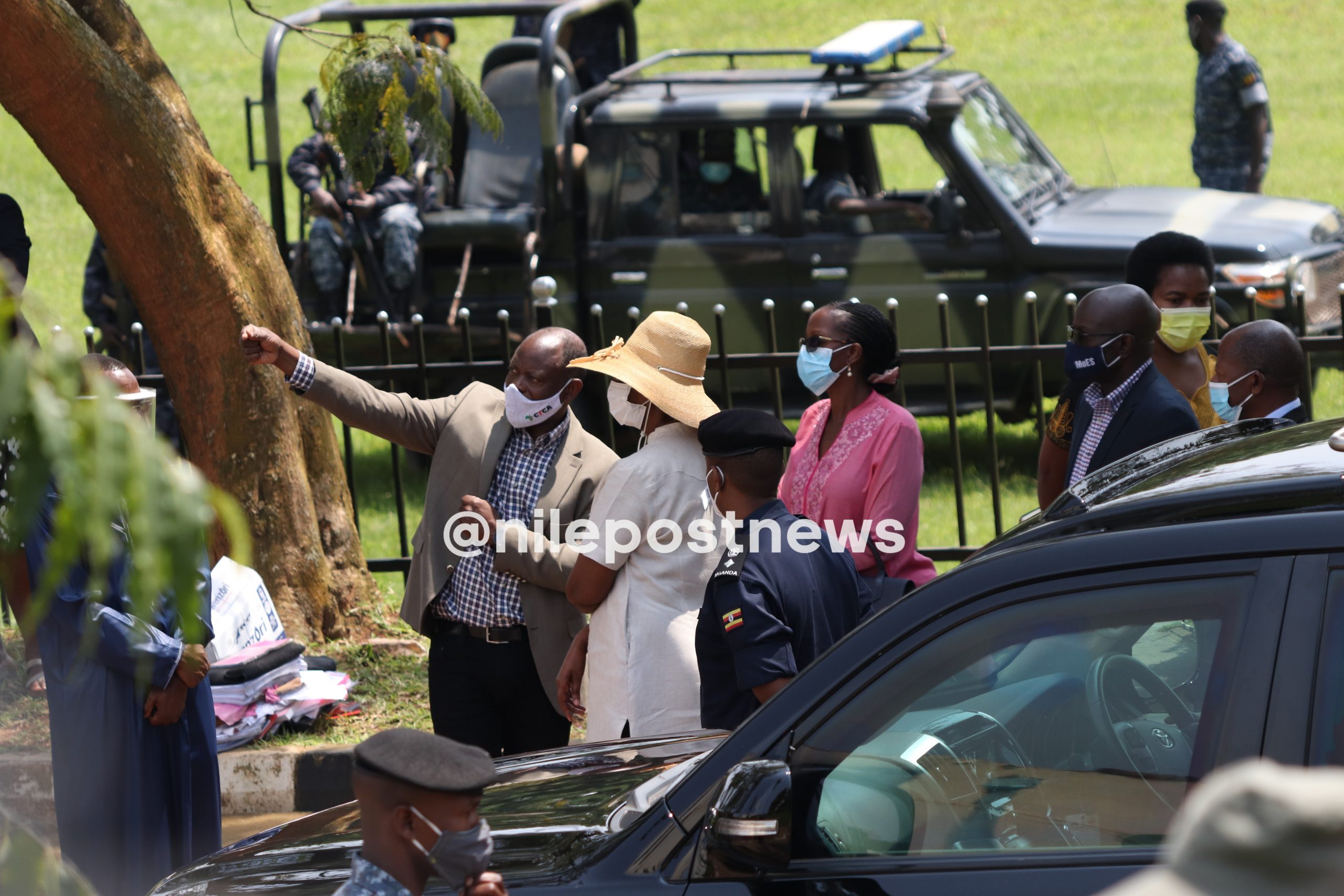 Karma struck, the fire returned and I had come to fetch the University Council room. This was immediately after a Presidential address in which Museveni warned that some people will have something done to them over the fires.
"Makerere University Council Room, one of the three remaining offices that was initially not affected by the fire outbreak is in flames now! By tomorrow, we shall probably have the entire building down, the brigade which was advised not to leave the site insisted that all was well and they left!" Nyanjura lamented.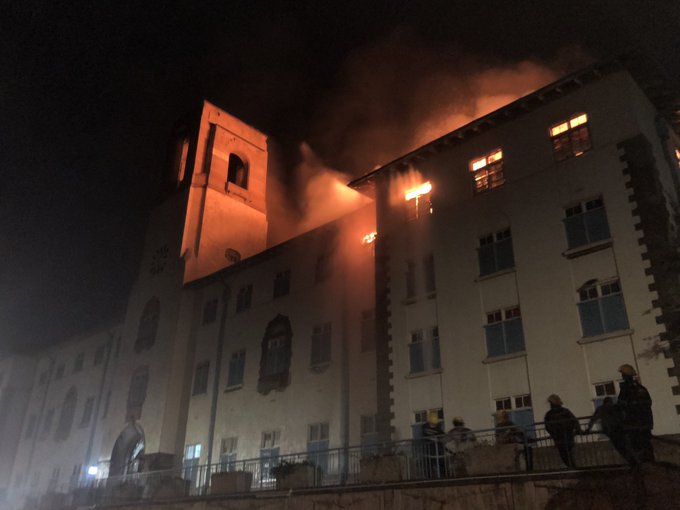 Many took to social media to express the way the Brigade handled the fires, some crafting memes showing a comparison of the water pressure used to disperse Dr. Besigye in Kireka and the weak water arc that was seen shooting above a heavily burning roof of the Ivory Tower.
Good Morning Uganda-a Ctry where @PoliceUg response is crafted around curtailing fundamental rights&freedoms of citizens especially the political opposition. This was confirmed by the difference in response &water pressure used to fight opposition vs efforts against #MakerereFire pic.twitter.com/lqKwn9v9ya

— Bireete Sarah (@SarahBireete) September 21, 2020
"The hapless firefighters are clearly overwhelmed by a fire they were too ill-equipped to handle, having brought a knife to a gun-fight. The fire started at about midnight yesterday. As I type this at 10 pm today, the building is still aflame," Marvin Saasi, a renowned government critique wrote away.
These all could be angry with the fire brigade team, we agree the emotions were flying high with the smoke, but again, we should ask; when has the Ugandan Fire Brigade ever helped?
On 11 July 2020, a fire ripped through Nyamitwobora Market destroying property worth millions. The fire is said to have started at 5:00 am, but what hurt the traders most is the fire brigade arrived several hours later, and without enough water.
Four days back, a bus that was transporting Covid-19 patients from Kitgum to Kampala went into flames on Thursday at Koro sub-county in Omoro District. By the time police fire brigade from Gulu central police station arrived to put off the fire, it was too late.
In October 2019, a fire broke out on park view arcade, claiming a apart of Uhuru restaurant and Paradise Café. The fire brigade arrived a little late, and its situation was worsened by the failure to access the building quickly due to ongoing road construction works.
In October still, fire razed down structures in Kisenyi slum, the locals blamed the Fire department for arriving so late without enough water.
In April 2019, a fire razed down offices of the director of the National Leadership Institute (NALI) located on the Ministry of Lands building. There was nothing to save yet the fire started at 4; 00 am and slowly consumed the offices till the city woke up.
In November 2018, 10 students died in the fire that claimed a dormitory at St Bernard Senior Secondary School in Manya, Rakai District. The firefighters arrived at the scene FOUR hours after it started!
In October 2015, a building housing Verma Company, the dealers of Bajaj Motorcycles, City Dental and Medical Supplies, Shankar Enterprises, and a Winery located opposite Sure House along Bombo road went up in flames and would burn down completely before the fire brigade team arrived.
It should be noted that the building was located less than 3 kilometers from Wandgeya Police station, which has a fire brigade attached to it.
In Jully 2011, residents in Masese, Jinja District pelted stones at the fire brigade team after they arrived several hours later to out a fire that had broken out at 9:00 am. Indeed, they arrived when the fire had gotten tired and flamed out.
PICTORIAL: Tears as bodies of dead students in Rakai school inferno released to parents
In March 2010, a fire destroyed the historic Kasubi tombs, the fires were not put out.
In February 2009, a raging inferno tore through Owino market at exactly 3:00 am destroying everything in its way, alas, the fire brigade team arrived two hours later with nothing to save! It should be noted that the fire brigade department is located just less than a kilometer from where the fire was happening.
In October 2012, the fire that gutted a security house at Bulange Mengo claimed two lives. The Police Fire department said the "found when the public had tried to control the fire but it had already registered substantial damage to both property and life."
There are several examples, including the Buddo Inferno (2008). Nonetheless, the fireteam has also achieved a number of missions, like they hurriedly put out the fire at NSSF last year, the Uganda Martyrs school dormitory fire was put out in time in 2020 as well as Jesco Plaza in 2020 among others.
The point however is, how is our fire rescue team prepared to fight the fires? It could be to harsh to blame them alone; also, what fire safety measures are being put in these structures? Or our entire reliance is on the fire-rescue department?