Kawempe Lord Councillor Ssegirinya Muhammed and former Democratic Party Organising Secretary Suleiman Kidandala find themselves in an unfriendly situation as each tries to wade off the other from the Kawempe North MP flag.
Kidandala is the organising secretary for the National Unity Platform (NUP) of Bobi Wine, while Ssegirinya continues to lurk in the wings of the unranked NUP comrades.
The two members have been granted a free space in Kawempe North after incumbent MP Latif Ssebagala opted to stand as Kampala Lord Mayor, a battle that places him right in the way of his brother and former Kampala Mayor, Nasser Ntege Ssebagala alias Seeya.
With the exit of Ssebagala, the race has been blown open.
While Ssegirinya insists he is the most deserving of the flag since Kidandala is busy with organisation roles at the top of NUP, the latter also claims he is most credible to appeal to the voter.
"I am so much in the race for Kawempe North. I was in DP and the term of office is still on but Mao suspended me. He therefore can not say I am still a member of the party. I am now an organising secretary for NUP," Kidandala claimed when put on spot about his subscription.
According to Kidandala, while NUP has not yet made final decisions on who will hold the flag for the top elective positions, many members have already printed posters for MP positions and pinned them in their respective constituencies.
Among them include Kidandala's competitor, Ssegirinya who said he will not step down for anybody.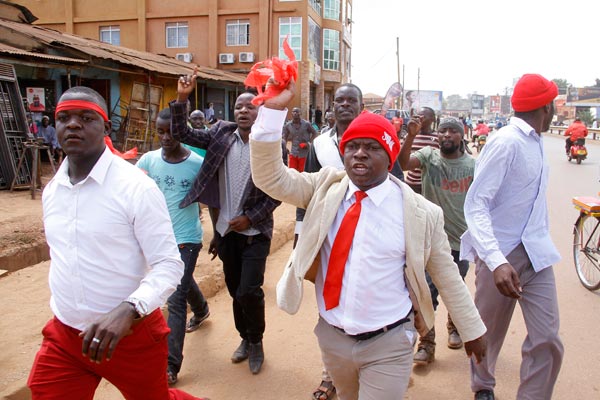 "Hon Latif Ssebagala left the position and this means I am the incumbent as the Lord Councillor. I had already made my consultations here and the people promised they will give me an opportunity to represent them for only one term," Ssegirinya said.
"I had no idea there are other people contesting on this position. As far I was concerned, I was unopposed and I had even started printing my posters," he added.
Ssegirinya accuses Kidandala of being conflicted in interest, urging him to concentrate on organising for the NUP party and their presidential flag bearer Bobi Wine.
"He (Kidandala) should concentrate on supporting the party president. You can not be the same one organising for the party and the president and again want to campaign for MP, that is mixing things, I think he should concentrate on the bigger role of the party," he said.
Enter Shifrah Lukwago
Although less mentioned in the race, former KCCA speaker Shifrah Lukwago is said to also be a formidable force in Kawempe North.
Indeed, sources claim that Latif tipped Lukwago as a successor.
But who is ready to lose?
Both Ssegirinya and Kidandala say they are willing to test their might with the ground base.
"I believe in competition, NUP should know that I have massive support in Kawempe having been the Lord Councillor. I have no other strategy except win," Ssegirinya said.
On his part, Kidandala said they are conducting procedures to determine flag bearers for MP and district chairperson positions.
"I will not leave the party because of losing primaries. I am a struggler for the past five years without an elective position. The struggle will not end just because I have not been given the NUP flag," Kidandala said.
Already NUP faces selective headache in Rubaga North where Kasibante and Abubaker Kawalya are wrestling for the flag. Kampala mayorship will also be a headache as it has Joseph Mayanja Chameleone and Latif Ssebagala.
Kawempe South is no different. Journalist Bashir Kazibwe Mbazira and Roy Ssemboga, the former Makerere university guild president, want the NUP ticket.