Kyadondo East Member of Parliament Robert Kyagulanyi, also known as Bobi Wine will later today come clean about his age and academic documents whose authenticity has been put to test by a city lawyer.
Male Mabirizi recently told journalists that Kyagulanyi's documents availed to him by the Electoral Commission used for nomination in the Kyadondo East by-election indicate that the legislator was born in 1982 yet his Makerere University transcript shows he was born in 1980.
On Sunday, the legislator announced that he would today, Monday come clean about his academic documents and real age.
"In recent days, allegations have been made about my academic documents and age intended to cast doubt on my integrity and character. For the benefit of the brothers and sisters who may be shaken by these state-sponsored attempts, I will address the nation tomorrow at 10am and clarify on a number of things,"Kyagulanyi posted on his social media accounts on Sunday afternoon.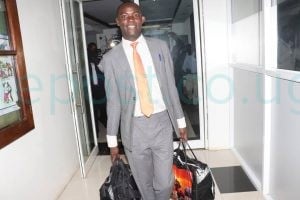 He said his address about the circumstances surrounding his age and academic documents will be carried live on his social media accounts.
On Saturday, the legislator, cum presidential hopeful for the first time broke his silence about the matter saying it is a calculated move to curtail his fast-rising political career.
"My assurance to all of you friends is that there is no cause for alarm with regard to all my records – whether academic or otherwise. Unfortunately, at every interval, they have always easily found some tools to use in these shameful maneuvers. They have done worse things and they will do more, but nothing, completely nothing will stop our revolution," he said.
Mabirizi runs to court
Kyagulanyi's address about his age and academic documents will coincide with a related development in which lawyer Male Mabirizi will be instituting private proceedings against the legislator.
"Please join me tomorrow Monday, August, 31, 2020 at Buganda Road court at 10am as I institute criminal proceedings (private prosecution) against Kyagulanyi over giving false information to parliament that he was born in 1982 instead of 1980 and obtaining registration by false pretence,"Mabirizi said in a message.
"Also to be instituted tomorrow Monday, August,31, 2020 at Buganda Road Court against Kyagulanyi are charges of false declaration for passport when he lied to the passport office that he was born in 1982."
The lawyer recently said he would fight tooth and nail to ensure Kyagulanyi doesn't appear on the ballot in the forthcoming presidential election because he is dishonest.