Musician Sheebah Karungi has celebrated her 30th birthday with a special photo shoot with her first and most dedicated fan, her mother Edith Kabazungu. 
In a touching post on her instagram account sheebahricherthisyear, the ever evolving artist explained the inspiration behind the photo shoot. 
She posted, "When I Was Growing Up, Mama Didnt Have Enough Money To Buy All Of Us Clothes So Everytime She Got A New Gomasi, I Got A New Little Dress From The Remaining Material Which I Found So Cool!! This Is All I Remember Wearing After School. Re_Creating This Moment At My Home With My Beautiful Mama Was Very Emotional For Me Thou I Couldnt Show It." 
Referencing the difficult life they have both overcome, Sheebah went on, "We Both Not Good At Being Sentimental😂 She Probably Cried In Her Bed Just Like I Did😂 Anyways, This Shoot Made Her So Uncomfortable Cause Shes Not Into This Whole Camera Life But I Had To Do It. I Have Always Wanted To Do It But I Guess This Was The Right Time. Thank You Mama For Being Brave Enough To Bring Me To This World. You Are My Hero Mama. I Respect The Woman You Chose To Be. Am So Lucky I Was Raised By A Strong Woman Like You .
She credits her independence and strong mindedness to this woman, "Your Story Turned Me Into A Strong Feminist. And It's Just The Beginning.Am Going To Make You More Proud Mama, I Promise. They Will Write About Us One Day. May God Bless Us With More Life , Health , Happiness & Wealth🙏🏽 #Not30AnyMore🍾 #30🥂"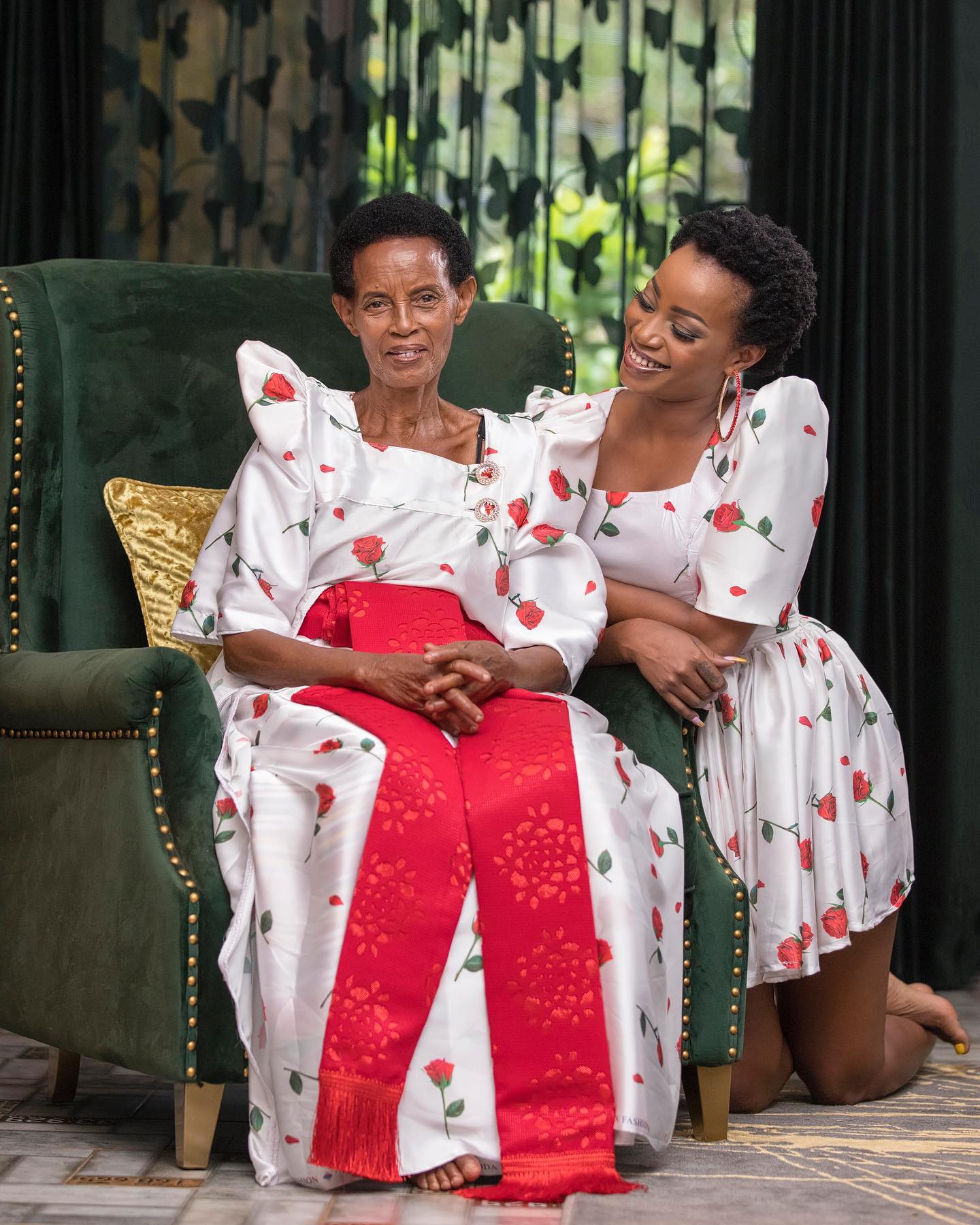 Sheebah's celebration of her mother comes a year after the death of her estranged father Ahamada Kimali Musoke in February 2018. Kimali Musoke was reportedly unhappy with Sheebah's choice of a career and repeatedly asked her to stop singing. 
However, Sheebah, who first shot to fame as a dancer with the Ronnie Mulindwa led group called Obsessions in the early 2000s ignored his wishes. Sheebah often said that Kimali had not looked after her and her mother while she was growing up and had no right to dictate how she led her life. 
At the height of a public exchange of words, Sheebah's mother alleged that Kimali did not deserve to call himself her father. 
"I was married to a man called Lutwama and we had six children together in Kayanja Buikwe district. One day, my husband's brother Ahmad Kimali Musoke picked interest in me and our secret affair resulted in a child now called Sheebah. I kept this secret from my husband until I couldn't hold it anymore. I later opened up to him one day and let the truth out," Edith narrated Sheebah's contentious origins. 
She furthermore revealed that after breaking the news to her husband Lutwama, she was shocked by his response. He was not bothered and forgave her instantly.
According to Edith, it was as a result of sibling rivalry that she was not aware of. Musoke had seduced her as a way of revenging on his brother who had had an affair with his wife.
"I later got to know that it was a revenge between the two brothers. My husband Lutwama had also had an affair with Musoke's wife and the two had agreed that revenge would settle all," she said.
" After giving birth to Sheebah, Musoke ( Sheeba's father) started ordering me around something I couldn't take in. We fell out. Even when my daughter was grown and started singing, he used to send orders that she should stop pursuing her music career. Remember, he hadn't contributed anything during my daughter's growth. Actually, it's my husband Lutwama ( Musoke's brother) who cared so much for her. He even paid  her school fees," she said at the time.
Sheebah is known for songs like Ice Cream, John Rambo, Silwana, Nkwatako, Farmer, and Twesana. She celebrates her birthday on November 11.
Twitter: @DavidTumusiime