Many Ugandan employees continue to fall prey to fraudsters while seeking to access to their savings from the National Social Security Fund (NSSF).
Grace (not her real name) is one of those accusing a city lawyer of manipulating the law to secure 20% of her savings with no contractual agreement signed.
In November 2018, Grace lost her job after 15 years and decided to return to Kenya. But before she exited, she thought of claiming her savings from NSSF.
With no idea of how they could access the savings before retirement, Grace along with her husband Moses Lukwago sought the help of a lawyer.
In May this year, Grace and her husband met John Isabirye, a lawyer working for Isabirye and company Advocates.
Isabirye requested for a 15% payment as legal charge to help her access her benefits, money that she did not have.
And since no contractual agreement was signed, the negotiations were shelved.
Isabirye however advised Grace to present the necessary documents to help in the processing of her savings, documents that Grace submitted to the NSSF Kampala Offices days later.
Grace was also advised to also provide a workers permit.
But with no workers Permit, Irene one of Isabirye's workmates, told Grace that she would be slapped a fine of $5000 by immigration to process the work permit.
Since she had no money, Grace gave up and returned home.
New Twist
In July Grace received a call from Irene that she had acquired a loan from a moneylender to clear immigration but this would be outside the office jurisdiction.
The Shs 12 million loan would be used to pay for a work permit fine to Immigration. This meant that Grace would clear once her NSSF benefits are released.
A month later, Shs 136 million was wired to Grace's account.
Grace paid shs 18 million to Irene to clear the 12 million loan and an extra shs 6m as 50% interest accruing for the period of one month.
But despite paying what she thought was the outstanding debt, Grace was sent a Whatsapp message with intention to sue for failure to pay a 15% legal fees.  
Bewildered by the lawyers' response, Grace sought the intervention of NBS' investigative desk.
We contacted NSSF to verify whether Grace was saving with the fund.
And according to Barbara Arima the Head marketing and communications at NSSF, the Act does not allow third parties to claim benefits save for survivors.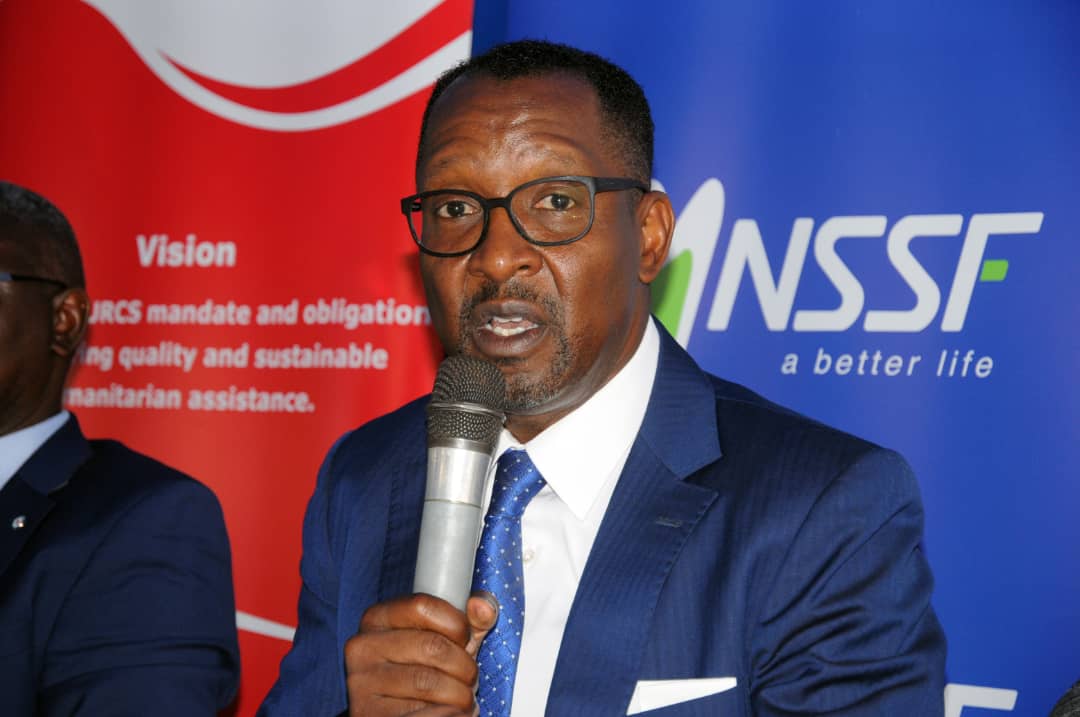 Isabirye told us he has helped two clients receive their NSSF benefits. Surprisingly, Isabirye was able to locate the 2017 case file but couldn't locate Grace's file.
And for Grace's case, Isabirye confirms there was no formal agreement.
 One however wonders, how Irene collected shs 18 million from Grace to repay a moneylender she never authorised.
Geoffrey Kambere, the commissioner for immigration at internal affairs, says the fact that Grace is a Kenyan; she is exempted from such fines.
Under the East African community, some member states agreed to scrap work permits to allow free movement of labour and services.
Isabirye denies knowledge of the Shs.18 million transaction between his colleague Irene and Grace.
Our under cover investigator recorded Irene on two occasions accepting receipt of the money.
Irene even forwarded a word document to Grace as proof of payment from the moneylender.
Even more confusing is why was Irene opposed to Grace meeting the money lender and the commissioner.
Kambere says all fees paid for services offered at immigration are non-cash.
When we requested to speak to Irene to clarify on the matter Isabirye declined saying the matter is before court.
We proceeded to Mengo High court, to inquire about this case.
Among the many documents we saw was Grace's NSSF claim details, a receipt of $ 5000 from Internal Affairs, and a letter with intention to sue Grace.
But question is: If indeed NSSF has no connection with these lawyers, how were they able to acquire sensitive information about the date the money was paid and bank account to which it was paid?
We still seek for the answers.
In 2018, NSSF paid Shs 450 billion to over 24, 000 beneficiaries with over 2000 people.
The least paid were in the survivors' beneficiaries category at 3% and yet it is the only one that caters for thrid parties.
NSSF and Internal Affairs say they have a zero tolerance policy to fraud.
Grace is one of the many who haven fallen prey of similar circumstances hoping that justice will prevail.