Former Citizens' Coalition for Electoral Democracy in Uganda (CCEDU) country director Crispin Kaheru is part of a short-term observation (STO) Mission chosen by the African Union as election observers in Mozambique.
More trouble rocks CCEDU as country coordinator, Kaheru resigns; Staff not paid for 9 months
The Chairperson of the African Union Commission (AUC), H.E. Moussa Faki Mahamat, approved the deployment of forty (40) short-term observers and 4 electoral experts from 9 October 2019 until the conclusion of the election process, following an invitation from the Government of Mozambique.
The observation team is led by His Excellency Goodluck Ebele Azikiwe Jonathan, former President of the Federal Republic of Nigeria. The 44-member delegation includes ambassadors from the Permanent Representatives' Committee (PRC) of the AU, parliamentarians from the Pan-African Parliament (PAP), election administrators, civil society, media and electoral experts.
The AU Election Observation Mission (AUEOM) is in line with the African Union (AU)'s mandate of promoting democracy and democratic elections in Africa. To that effect, the deployment of an AUEOM to Mozambique demonstrates the AU's commitment to supporting credible, transparent, inclusive and peaceful electoral processes in its Member States by providing an objective assessment of the process and the political environment surrounding it.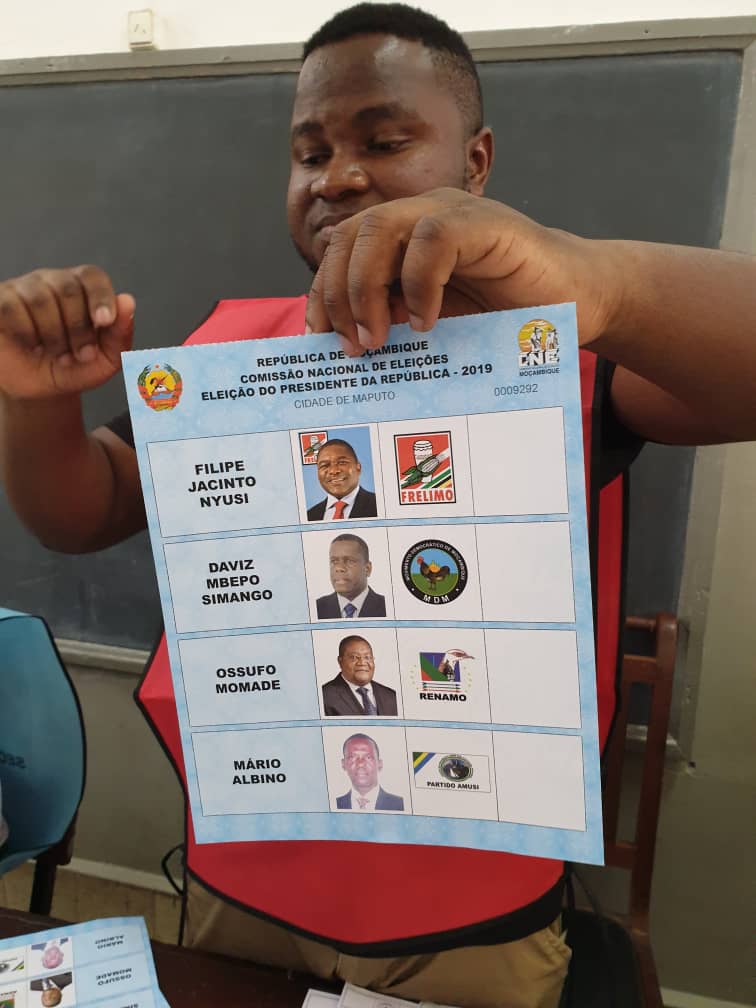 Voting proceeded relatively smoothly across the country on Tuesday, but security fears kept some people from the polls while scattered incidents of ballot-stuffing were reported. Observers in several provinces also said they were restricted from doing their work.
The elections are widely expected to extend Frelimo's decades-long rule over Mozambique, and Nyusi is all but certain to be re-elected for a second term.
But the peace deal has given Renamo hope of winning more political power in a country dominated by Frelimo since its independence from Portugal in 1975.
"Mozambique has chosen peace," Nyusi said after casting his ballot at a school in the capital, Maputo.
He praised Mozambicans for deciding their destiny in elections and called for peace and calm to continue.
His rival, Ossufo Momade, meanwhile warned against any fraud. "If [the vote] is manipulated, we will never accept it," the Renamo presidential candidate said.
"We have to do whatever we can do, if the people want us to," he said, without elaborating on the warning.
Preliminary results are expected Wednesday, with full provisional results before the end of the week. A runoff will be held if no presidential candidate wins a majority.
An estimated 13 million people are registered to vote in the nation of nearly 30 million.
Additional reporting from Al Jazeera