As the world converges to celebrate World Poverty Eradication day, it's important to note that lack of adequate knowledge on sexual reproductive health and rights is one of the biggest contributors to poverty in Uganda and world over.
Many young girls continue to fall into the 'sex' trap in search of a better life, a trap that doesn't differentiate between age or social status.
Standing next to Margaret Nnanyombi the Get up Speak Out project Coordinator with Family Life Education Program, Busoga Diocese is 19 year old Zuena Dite who confidently tells her story of how poverty forced her into early sex.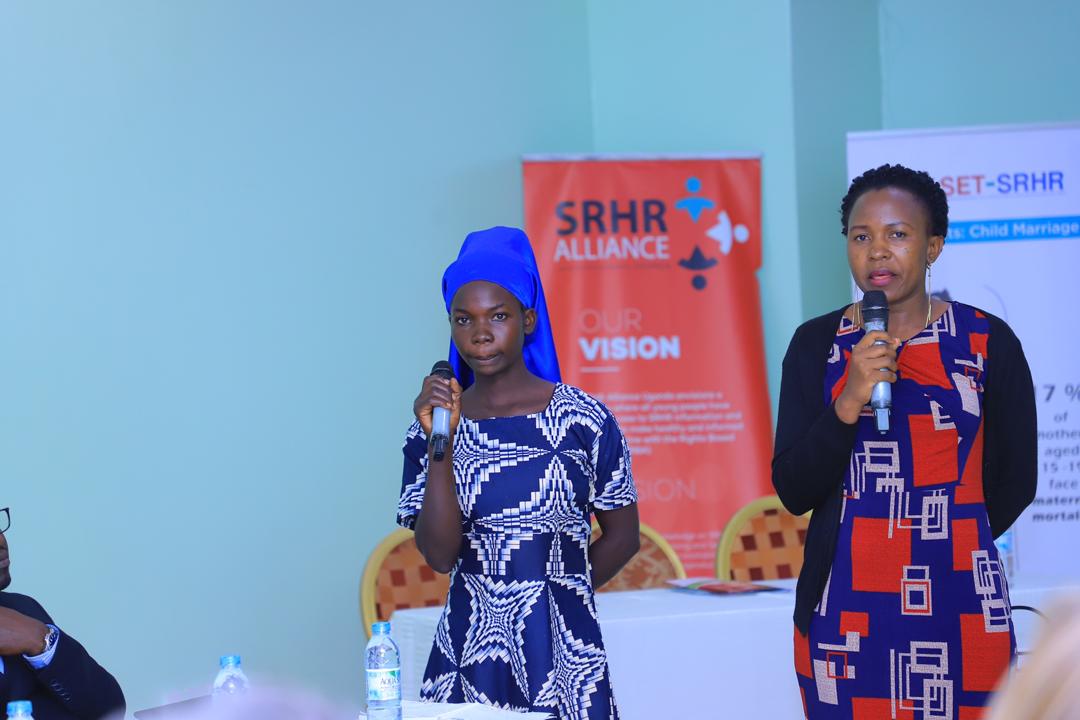 She lost her father at the age of two and was left under the care of her mother who was never there for she was a soldier on duty. He mother decided to keep her in a school hostel. While there, life became harder than expected, she hardly accessed any basic needs like pads, food, clothing tec.
A close classmate told her about a boy who would willing provide, she took up the offer little knowing that this offer was to make her a child mother .
The relationship was a dream come true until payback time, having little or no knowledge about safe sex, Zuena gave in to her loving boyfriend ! A night that still rings fresh in her mind, a night that she made the worst decision of her life.
Her first sexual encounter came with an unwanted pregnancy at the age of 16, the father to be was just another 17-year-old child. A child got another child pregnant! Waooo!
The search for a sweeter life got sour!
A month later, pregnancy symptoms started to show, this made the school matron suspicious, she did a pregnancy test , and alas, she was pregnant!, her punishment an expulsion not only from school but at home too.
Zuena's mother was so bitter and disappointed, she beat her to near death, broke her arm and asked her to leave her home right away, She sought refuge at her maternal mother''s house, this didn't last long for, her mother followed up to ensure no relative comes to her rescue, her 17 year old boyfriend ran away from home too.
She rushed to her brother's house, the story wasn't any different, he mother swung in again! she then ran to her paternal uncle's home, who instead connived with her mother to forcefully terminate the pregnancy, she was now 5 months old.
This was a thorn in a wound, he uncle hired a quack doctor, who unsafely tried to terminate her pregnancy, according to Zuena, sharp instruments were used to pierce through her vagina, the sharp objects terminated her bladder instead of her uterus, Zuena could no longer control her urine or fecal matter.
She was bleeding uncontrollably and every one feared she could die soon, when her mother, learnt of her fate, she instructed her uncle to send her off to the streets so that there was no one to blame incase of her death. She was given shs. 15000 to disappear as first as she could! She decided to move to the city, with hopes of a better life but in vain.
Homeless and pregnant with Fistula, this was Zuena's life now!
Weeks later, She decided to return to Mayuge district and seek refuge at her boyfriend's place despite his whereabouts still unknown months later.
Her soon to be mother in-law took her in but on condition that she supports her with house work! Zuena who had never received any medical attention like treatment for fistula or antenatal services was to support her boyfriend's mother in the garden every morning! Well, this was the best option available, she took it .
9 months later, she was ready to give birth. Her now mother in-law took her to Mayuge Health center iii, the facility couldn't handle her condition, with an infected bladder, she needed better medical attention, she was referred to Mayuge hospital where she gave birth successful and received treatment for fistula.
At just 16, Zuena received her bundle of joy and was ready to start a new life, this didn't last long, months later her boyfriend returned into her life, they rekindled the love relationship which got her another a second pregnancy at 17 years.
This time round her mother in-law offered her all the support needed till she gave birth.
Zuena's story is a story 25% of underage girls in Uganda subscribe to, Teenage pregnancy!
This is partly attributed to poverty and lack of comprehensive sexuality education.
As we join the rest of the world celebrate World poverty eradication day and Safe motherhood day, we need to understand that we cannot achieve the latter without the former.
Poverty is the leading cause of teenage pregnancy in Uganda, it's time for us to think back and reflect if we are to attain the sustainable development goal 1 (No poverty) and 3 (Good health and wellbeing)
Nabaasa Innocent, Program Officer SRHR Alliance Uganda