Yesterday, while Uganda celebrated her 57th independence day anniversary, the United Arab Emirates seized the chance when they used the façade of the tallest building Burj Khalifa, to display Uganda's flag for at least three minutes.
The display done in honor of Uganda's independence started at exactly 8:50pm UAE time, blasting Uganda's flag 830 meters high and 148 floors in the sky.
The display, however, generated mixed feelings from Ugandans on social media. While others marveled at the beauty and thought with it, the rest claimed the country had spent a whole lot of taxpayers' money on led lights to form a flag for just three minutes.
A section of Uganda's on social media made the claim that Uganda must have spent at least $6 million to light up Burj Khalifa for the given three minutes.
DYK @BurjKhalifa in UAE🇦🇪has charged Uganda a crazy cost of AED 1 million ($272,255) for only a 3 minute impression on its tall iconic facade to celebrate our 57th inDEPENDENCE. Thought we could do the same at a zero cost with the new Jinja bridge #UGat57 #UgandaAt57 #TWEBEREREMU pic.twitter.com/4leY8uEWz8

— #FreeBobiWine 🇺🇬🇺🇸 (@HillaryTaylorVI) October 9, 2019
When Nile Post contacted officials from the Ministry of Foreign Affairs, they laughed off the suggestion and insisted: "We have not paid for or know of anyone who has paid for us."
Nile Post also contacted Uganda's ambassador to UAE, Kibedi Zaake Wanume but he was unavailable for comment.
Nile Post contacted Emaar Properties, the owners of Burj Khalifah who indicated they did not receive any pay from Uganda for the display.
"Usually, this is done as an honour from our end and there will not be any payment involved."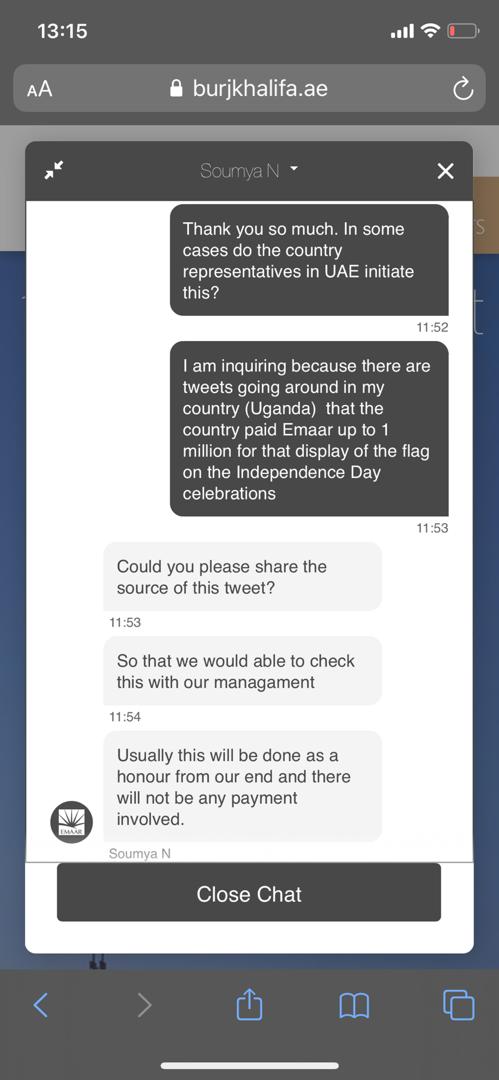 Does one have to pay?
On further inquiry, Nile Post understands that the cost of an advert on Burj Khalifa ranges between $68,000 (Shs200m, according to MullenLowe MENA, the marketing agency that handles promotions for the building. This cost is charged on every three minutes the advert runs.
According to Emaar Properties, the owners of Burj Khalifa; "The content for display should be submitted early enough, at least four weeks before display to enable the technical team enough preparations."
Burj Khalifa has had a number of product displays before, however, there has lately been a trend to display flags of countries at the world's tallest building.
Emaar also indicated that they run a number of free campaigns including general wishes from the public free of charge.
Who else has appeared on Burj Khalifa.
On August 15, 2019, Burj Khalifa owners announced they would display the Indian flag in honor of the country's independence day celebrations.
However, while people gathered, there was not a display. The owners would later apologize citing a 'technical glitch"
Indian ambassador to UAE would later state that "they learnt from friends in Emmar that on account of a major technical snag, they won't be able to light up Burj Khalifa with the Indian tricolor tonight to mark #IndependenceDayIndia A bit of a disappointment for friends who were expecting this!
India, however, did not pay any money ahead or did not ask for any refund in case they had paid.
Pakistan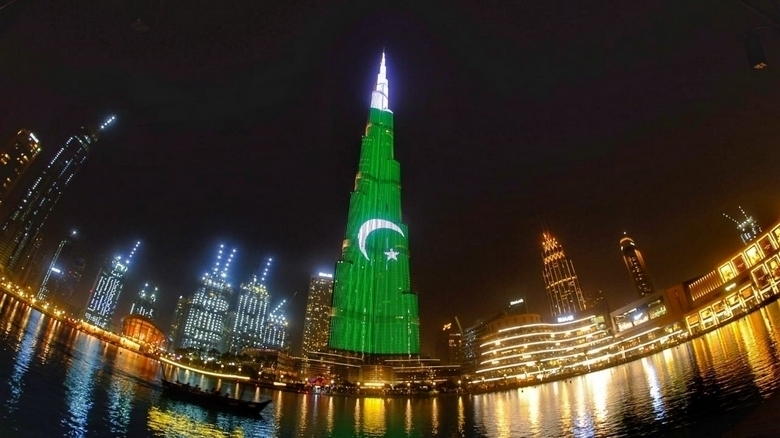 A day later, on August 16, Burj Khalifa lit up with the colors of the Pakistan flag at exactly 8:42 pm. According to the Pakistan consulate in UAE, the country did not spend any money on the display but rather a 'friendship sign from our friends".
Philippines
On June 12, 2019, Burj Khalifah for the first time lit up with colors of Philippines flag at exactly 9:40pm, to honor the independence day celebrations of the Philippines. The display took only one minute.
Canada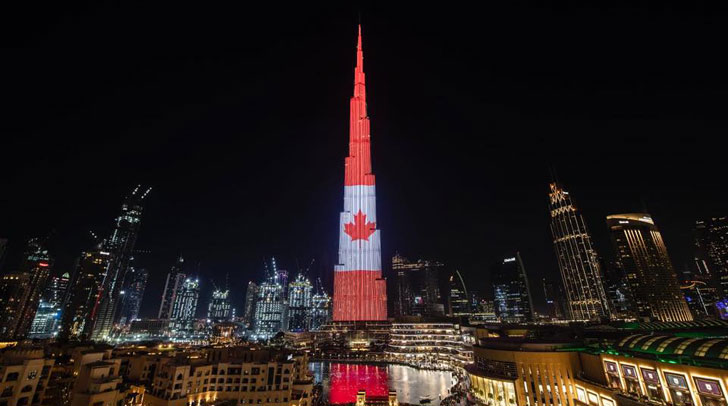 On July 1, Burj Khalifa lit up with the flag of Canada as a show of friendship on their national day celebrations. The display started at exactly 8:25 pm and took one minute and 25 seconds.
Masud Hussein, the ambassador of Canada to UAE said after the display that there was "no greater validation of both our missions' efforts to build links between our countries than to see our flag projected sky-high on the Burj Khalifa"
"It is all the more fitting that it should happen during the Year of Tolerance. Let this moment inspire Canadians, Emiratis, and all UAE residents, and let it remind them that the future belongs to societies which welcome and include all, no matter their ethnicity, culture or religion," he added.
India and Gandhi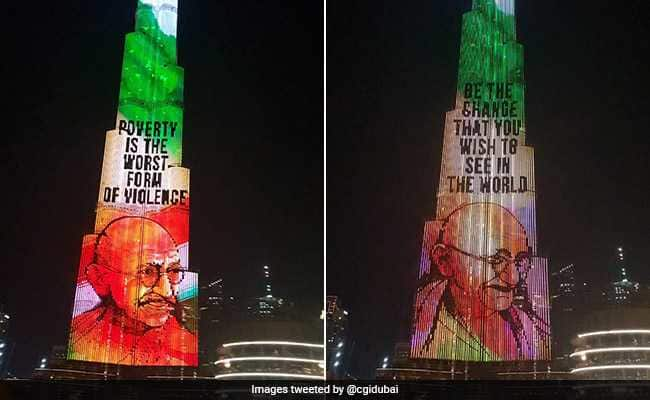 On October 3, 2019, Burj Khalifa displayed the Indian flag and later a picture of India's founding father Mahtma Gandhi to celebrate his 150th birth anniversary. The display lasted 3 minutes.
The Indian consulate general to Dubai in a tweet later thanked UAE and Burj Khalifa for a grea display of friendship.
Others?
Other flags displayed on Burj Khalifah include UK, Naples, Egypt, USA among others.
So who pays anyway?
According to media in Dubai, Burj Khalifa owners do not charge to display country flags. But they do so as a sign of friendship.
Timing?
A section of Ugandans insist the timing of the display is in itself dubious. The chice to have Uganda's flag on top of the world's tallest building is only aimed at making a better image on the day when Bobi Wine was arrested and all the media was focused on the bad about Uganda.
"I am sure they paid for it, nothing is impossible in Uganda," a government critic said on twitter.
The questions though are; did Uganda have to pay? Have other countries paid before? And how much was the cost?