The speaker of Malaysia's state of Kedah has paid a courtesy visit to the offices of the House of Zakat and Waqf Uganda (HZWU) in Old Kampala and appreciated them for the good work
The amiable YB Dato' Ahmad Bin Kasim was invited by the board of directors of HZWU, Sheikh Abdu Obeid Kamulegeya.
Ahmad Bin Kasim was flanked by his deputy, Juhari Bin Bulat, the secretary, Nasrun Bin Mohd Sheriff and Mohd Razihan Bin Hamid.
It was a reciprocal visit following the visit by HZWU to the Kedah International Zakat Conference (KEIZAC 2019) organized by the Lembaga Zakat Negeri Kedah (LZNK) at the Menara Zakat, Kedah state.
HZWU's Namungo Hamzah presented a paper at the Conference whereupon he met Ahmad Bin Kasim through the leadership and guidance of Sheikh Zakaria Bin Othman, CEO of LZNK.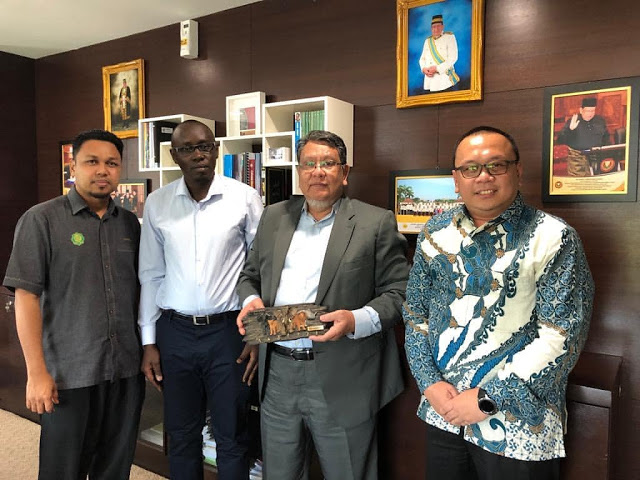 In the meeting at HZWU, the Malaysian delegation met Sheikh Kamulegeya, Sheikh Hussein Rajab Kakooza, Sheikh Yusuf I. Byekwaso, Dr. Ibrahim Matovu, Dr. Muhamed Ahmed Kisuule, and Haji Lutta J. Musoke and Dr. Hanifah Namala all board members of HZWU.
They discussed facilitation of capacity building, education, technology and linkages with philanthropic organisations in Malaysia.
HZWU extended its compliments and gratitude to Dorothy S. Hyuha, Uganda's Ambassador/High Commissioner to Malaysia, the Speaker of Parliament of Uganda, Rebecca A. Kadaga for facilitating Ahmad Bin Kasim's visit to the House of Zakat and Waqf Uganda.